Trying to lose weight seems like an impossible task for most of us. It's like the more you try to lose weight, the more weight you gain. And the worst part is, stepping outside only to feel like everyone's looking at you. If you're facing the same problem as I did, then you're in the right place.

Today, we're going to do a Teeter FreeStep Reviews, which will provide you with all the information on this amazing cross-trainer. If you're interested in purchasing this product, make sure to read the full review.
Things you should consider before buying a Teeter FreeStep
The Teeter FreeStep comes with a very affordable price tag and is one of the most budget-friendly home workout machines you will ever find. It is specially designed for comfort and has a user-friendly operation. If you're looking to lose some weight fast at the comfort of your home, you should consider this product seriously.

It is important to note that this product does not have a fancy console. If you're looking for something more modern with features like Bluetooth, WI-Fi, and an in-built music system, you should go for something else.

The resistance on this product is light and is more suitable for seniors or people who want a gentle workout. It is not for those people looking for an extreme workout.

Before you purchase a trainer, you should keep in mind some of the few points mentioned below:

Space: Most trainers can be large so before you buy one, make sure you have enough space at home.

Weight Limit: It is important to check the weight limit of a trainer before you buy it. If you weigh more than the limit, then you might end up damaging the unit.

Adjustable seat and handles: The seats and the handlebars should be adjustable to accommodate all sizes of people.
Features
Here are the features of The Teeter FreeStep to give you a better understanding of the product:
Build and Frame Construction:
The build and frame construction is probably my favorite thing about Teeter FreeStep. This trainer is extremely durable and consists of a heavy-duty steel frame that can support up to 300 lbs. However, it is important to note that all the parts of this trainer are not made of steel. For example, the drive system covers, foot pedals, and other covers are of non-metallic materials.
Despite not being fully metallic, the trainer is still extremely durable, and you will definitely love the overall sturdiness.

Coming back to the metallic parts, you will find that most of them have a rust-resistant coating which will increase the longevity of the product. The moveable metal parts on this trainer like the arms and the seat adjusting post also come with a chrome finish, which enhances the look and design of this trainer.

Talking about the frame's design and size, the FreeStep does not take a lot of space. It's a bit on the heavier side weighing at around 110 lbs. However, the trainer does come with a set of wheels, so you won't find it difficult to move the product around.

It is recommended that you have at least two feet of areas around the unit while you're using it.
Seat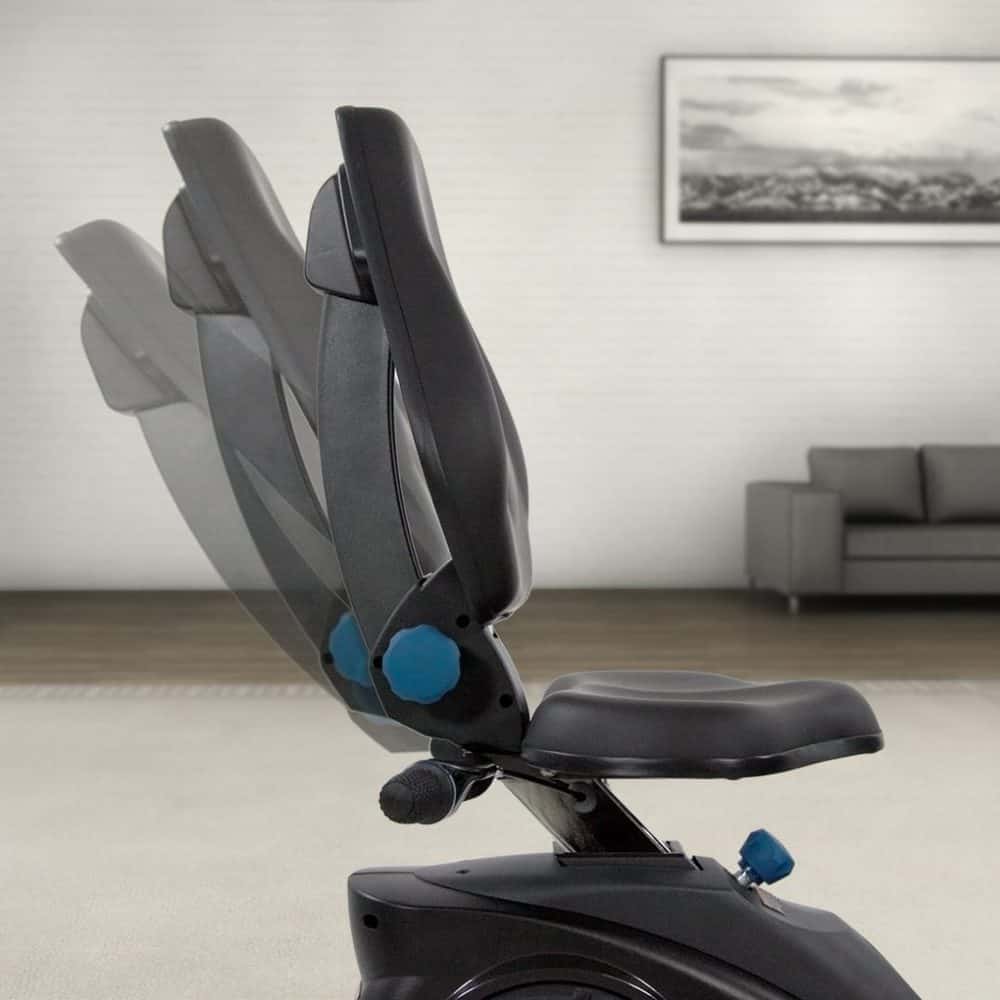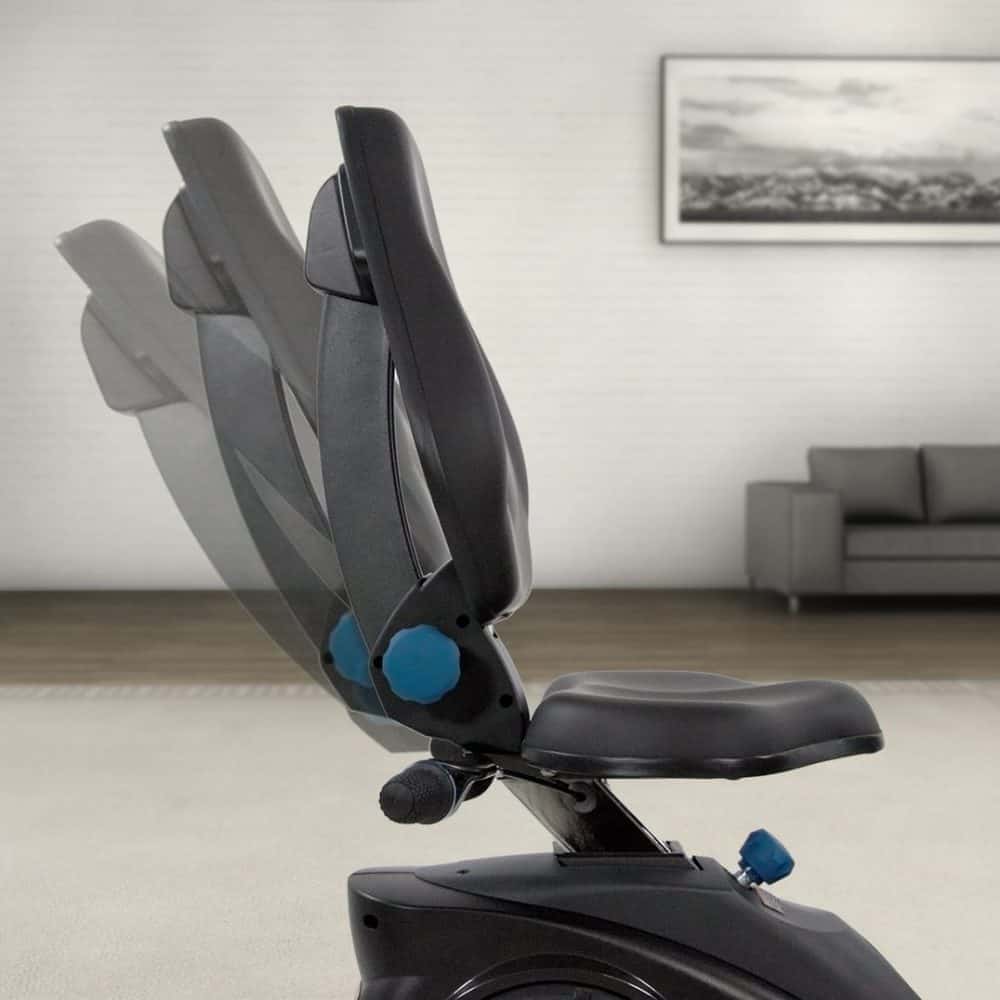 When I got on the trainer to test it for the first time, the first thing I noticed was the comfort of the seat. It is certainly among the most comfortable seats that I've sat on a trainer. Even though the seat does not have an air cushioning technology, the foam padding coupled with the contour gives you great support and comfort.

The bottom part of the seat is fairly wide and provides enough room for you to sit comfortably regardless of your size. On the other hand, the backrest contours to the shape of your back perfectly. This gives you the back support you need when you're working out.

Also, you can adjust the seat in multiple positions. The angle is also set in a way so that taller people can also use this trainer. People anywhere from 4'11 to 6'6 can use this product easily. The backrest also includes three different positions that are not available in most trainers. It has a durable lock system that will provide firm support for your back.
Handlebars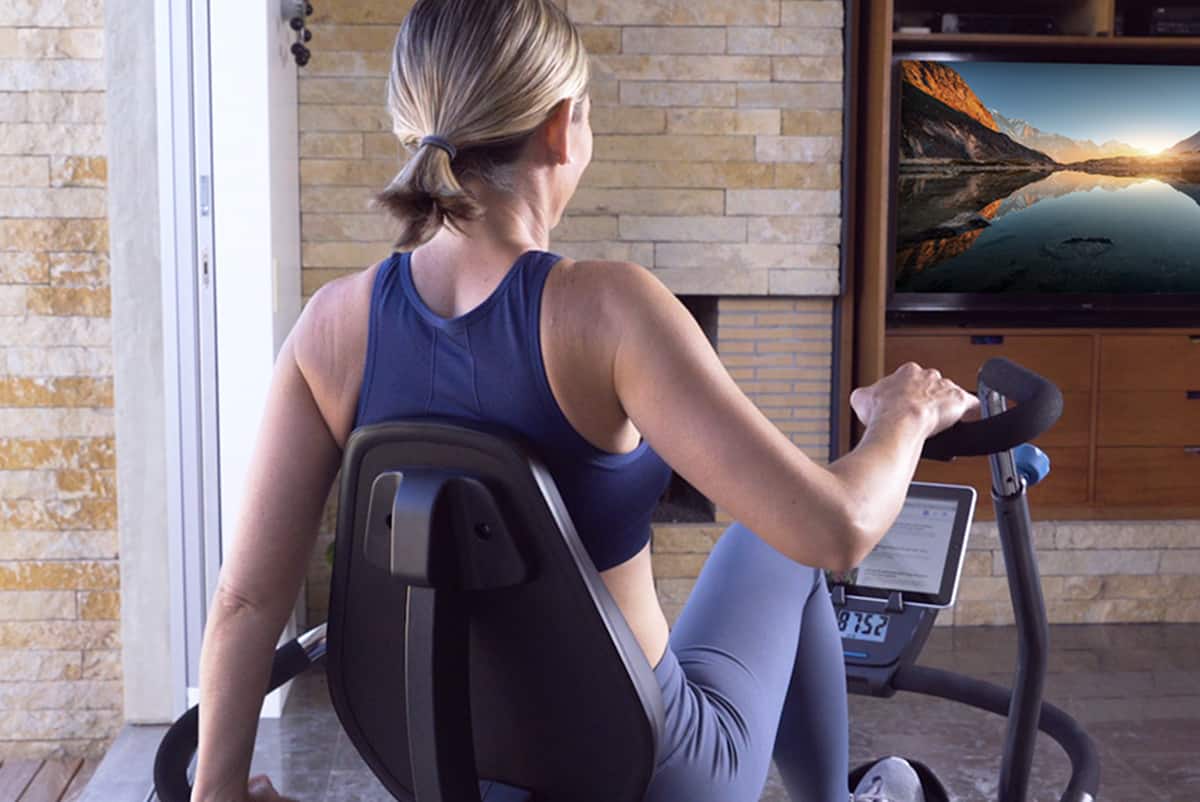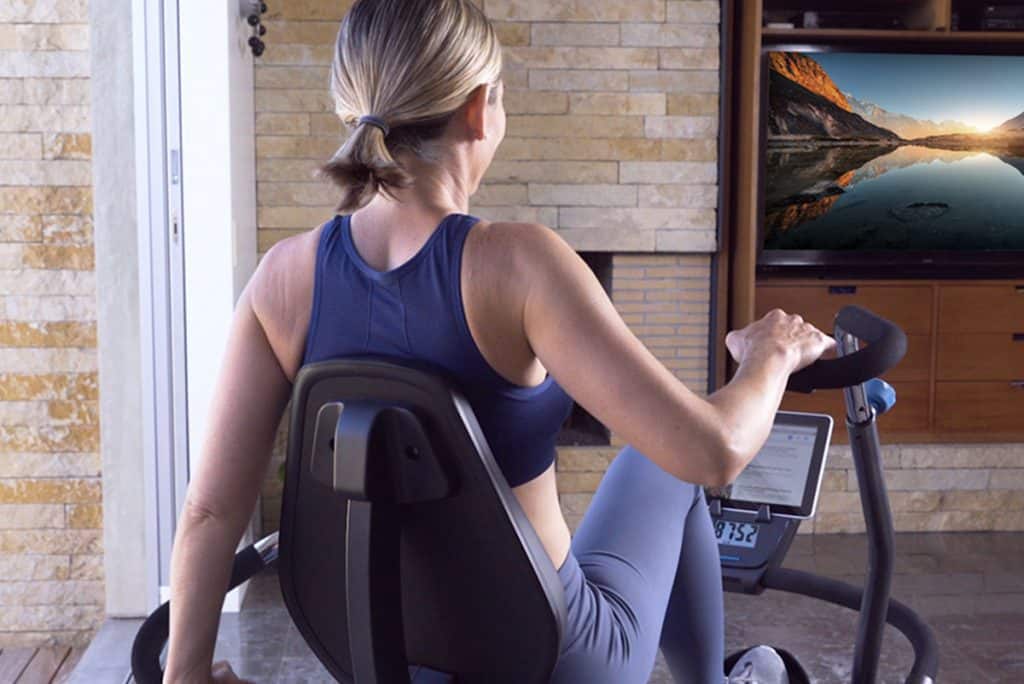 This cardio trainer comes with two handlebars: one is fixed, and the other one is moveable. The moveable handlebar is connected to the pedals and moves as long as you are pedaling. The pedals also move when you move the handlebar.
One of the best things about these handlebars is that they have dual adjustability. First, their length can be adjusted into three different positions. Second, they can be locked into outward or inward settings. The first adjustment allows you to set the arms based on your size, and the second adjustment allows you to diversify your workout regime.
Resistance system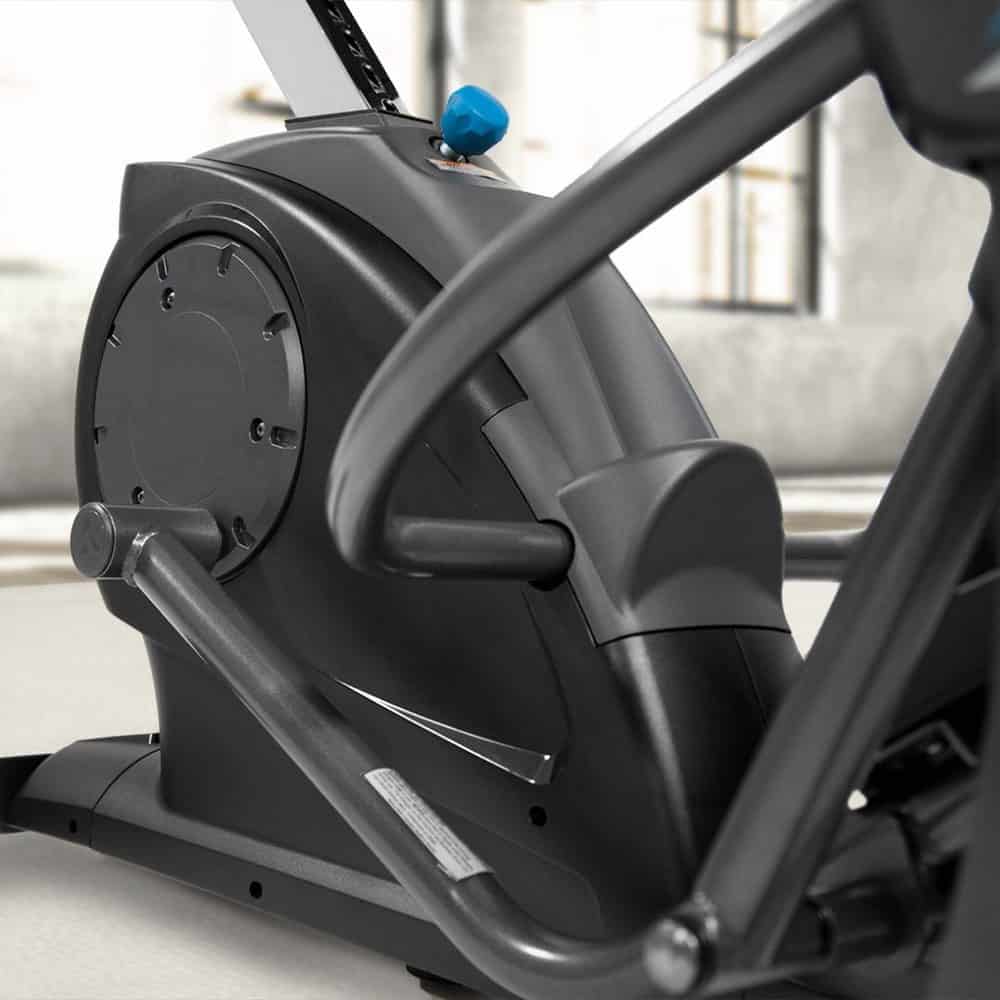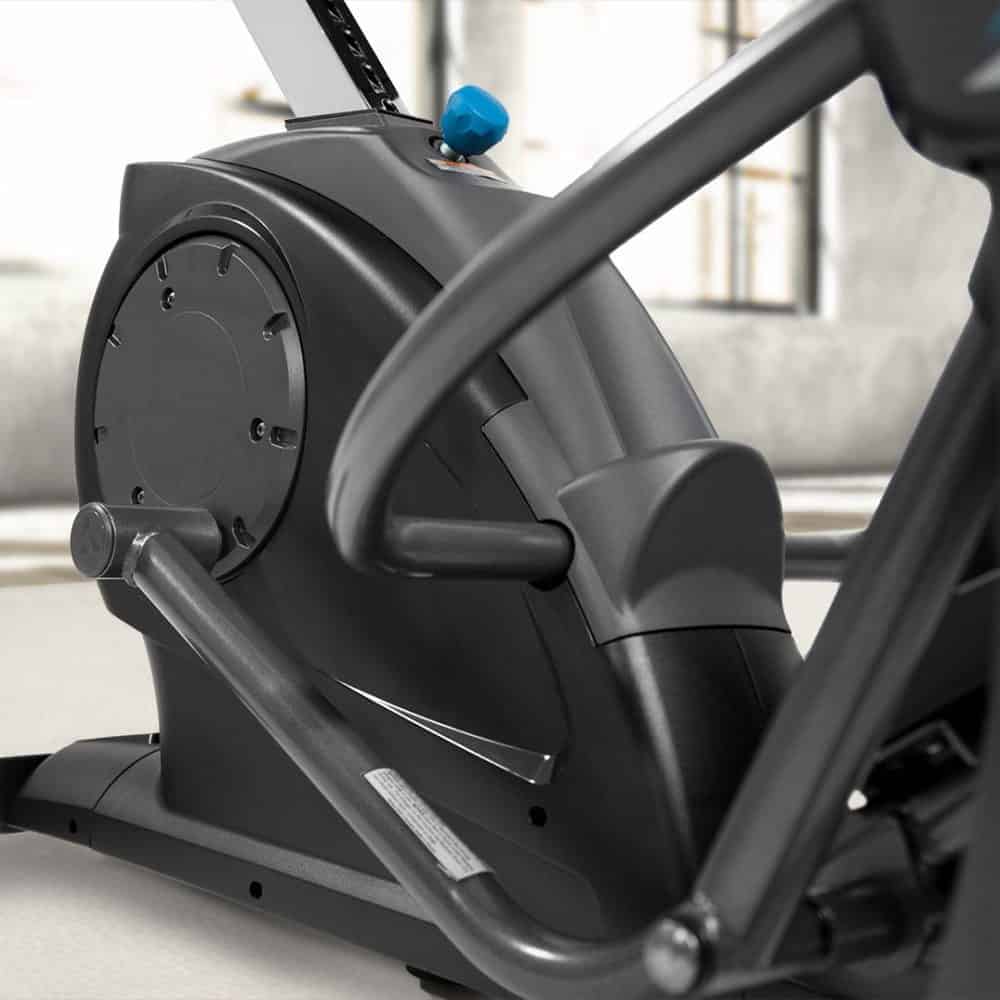 The Teeter FreeStep does not have any internal motor for resistance adjustment. What it has is a magnetic resistance system along with manual action. This means that the unit will not require any power source to adjust the resistance.

The resistance system of this cardio machine consists of a magnetic brake connected to a knob. When you turn the knob, the magnetic brakes move towards or away from the wheel. And in this way, the resistance is increased or decreased.

The unit has eight different levels of resistance but is not marked anywhere on the knob. You just have to test it out for yourself. However, it is important to note that the maximum level of resistance is still not extreme enough. It is more suitable for people who are looking for a light to midrange cardio.
Drive System
This machine has a large set of pedals, which I personally like very much. They are made of high-quality materials and come with a tray-like design on the edges to prevent your foot from slipping off. They also have riblike texture on their surface to prevent your feet from sliding.

However, the foot pedals do not come with any kind of cushioning. But they're not really required since there's not much of impact on your feet due to the pedaling motion.

The machine allows reverse motion, but with the absence of pedal straps, it becomes rather difficult to pedal backward.

A major plus point of the drive system is that it has an internal poly-v belt that does not require you to lubricate it. It also makes the operation of this machine super quiet.
Console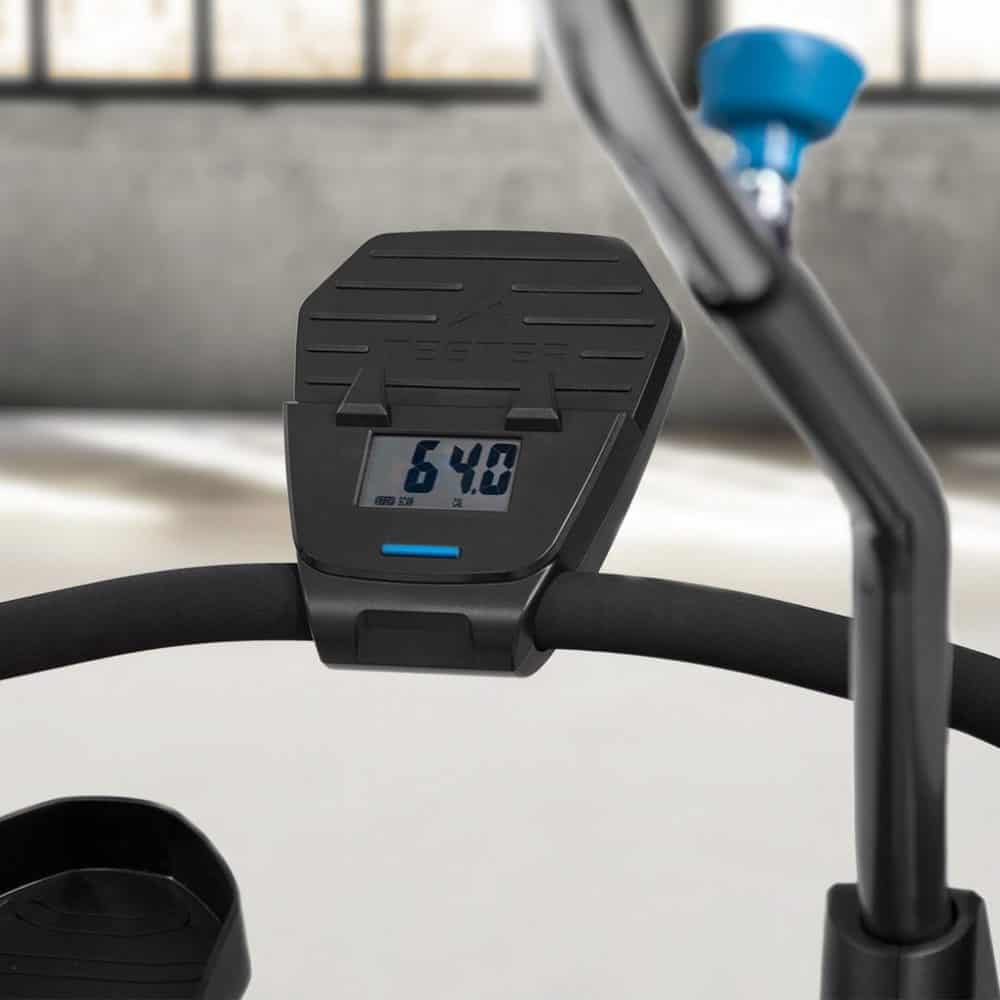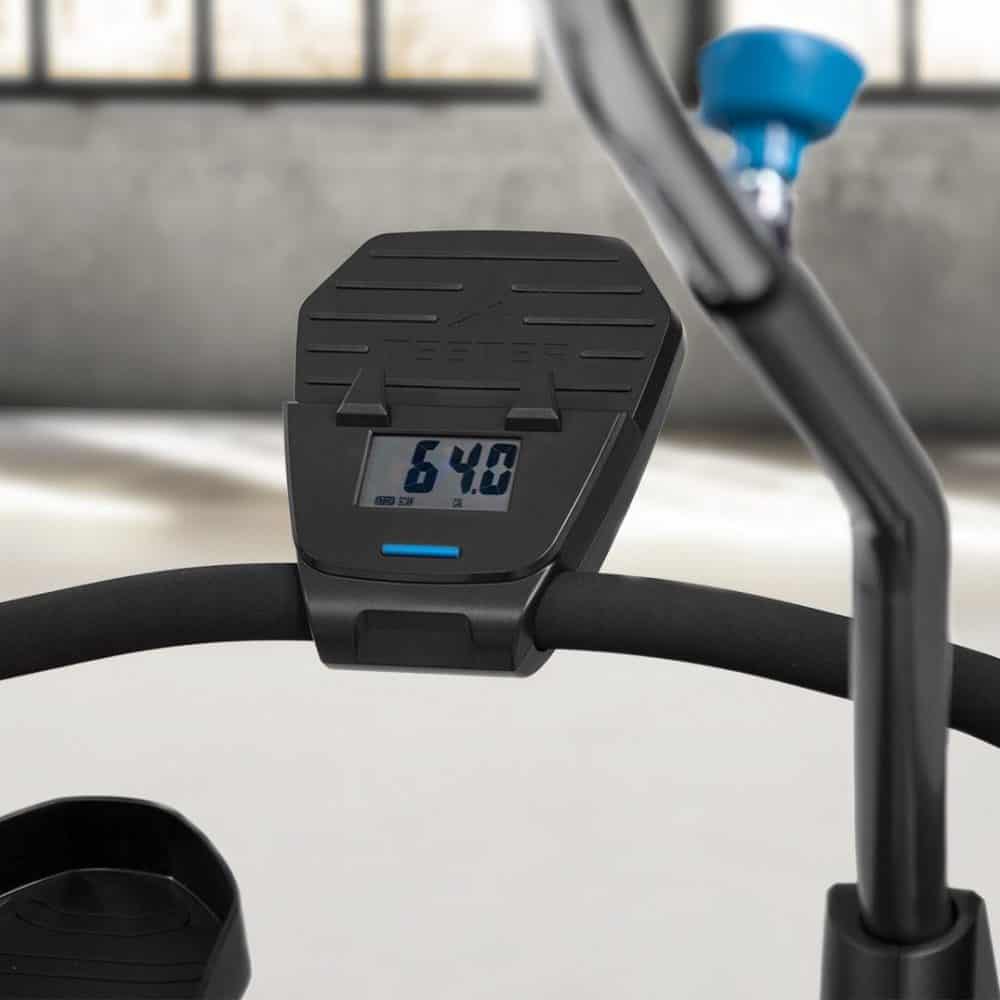 The Console on this unit is pretty basic, which means that you won't find any of the fancy stuff like Bluetooth, music, internet connectivity, or resistance control. However, it does allow you to do some important aspect of a workout like tracking your time, speed, distance traveled, and calories burned.

The measurement unit in this console adopts the imperial system. Which means that the distance traveled is shown in miles instead of kilometers.

You'll find that the console is pretty easy to use and suitable for all age groups that can operate it. But the console could have been better if it came with a pulse reading option. Besides that, the console is pretty decent, and you'll have all the information you need right before in front of you.
Weight Capacity
If your weight is on the heavier side, you might want to know its weight limit. This unit can accommodate up to 300lb, which is great since most people who are trying to lose weight are usually heavy. This machine will definitely hold up since it is made of durable materials, as long as you're under the weight limit.
Social Proof
The Teeter FreeStep is a very popular trainer and has good reviews for happy customers. Most of the reviews I found were positive, and people were happy about how easy it was to assemble and use.
Teeter FreeStep is an effective cross trainer for home workouts. Teeter promises it as the most effective Low-impact cardio workout, which holds true to a certain extend. It is designed for comfort so you won't end up feeling too fatigued, making it a "low-impact."

It is also very effective and can help you lose that extra pound, but you will need to have a regular workout routine and follow a proper diet.

Here are the Pros and Cons of the Teeter FreeStep
Pros
Comes with an adjustable seat
Has an affordable price
Comes with a built-in transport wheels
Compact size for easy storage
Adjustable handles
Cons
Not the best warranty
Absence of preset programs
Does not have any internet connectivity
No pulse reading
Wrapping Up
Overall the Teeter FreeStep is a great trainer that will give you a good cardio workout at a very affordable price. The level of comfort provided by this product is truly amazing, and if you're looking for something easy to use, then you might want to consider this product.

It does have some flaws regarding its console and resistance, but besides that, it is still an amazing trainer that will do the job. If you're interested in this product, you can click here and buy your own home-workout trainer.
Thanks for your feedback!