Our modern iteration of reckless lifestyle has become so chaotic that scheduling a separate gym time has become a luxury. But that does not eliminate the fact that we still need to maintain our optimal fitness profile.

Luckily, we have an extra bow in our quicker in the form of home gym equipment.

Home fitness equipment like the Prosourcefit multi-grip chin-up/pull-up bar helps you stay optimally fit.

This write-up will take a comprehensive look at the Prosourcefit multi-grip chin-up/pull-up bar and see what it brings to the table for fitness enthusiasts.
Buying guide: Things to consider before buying a chin-up/ pull-up bar
Buying a home exercise gear can be quite a strenuous task, especially for rookie shoppers.
The number of options you get in the home fitness section can be quite overwhelming. As a result, it is relatively easy to make the wrong purchase resolution.
We have prepared a simple guide to help you avoid the pitfalls of buying the wrong chin-up/pull-up bar.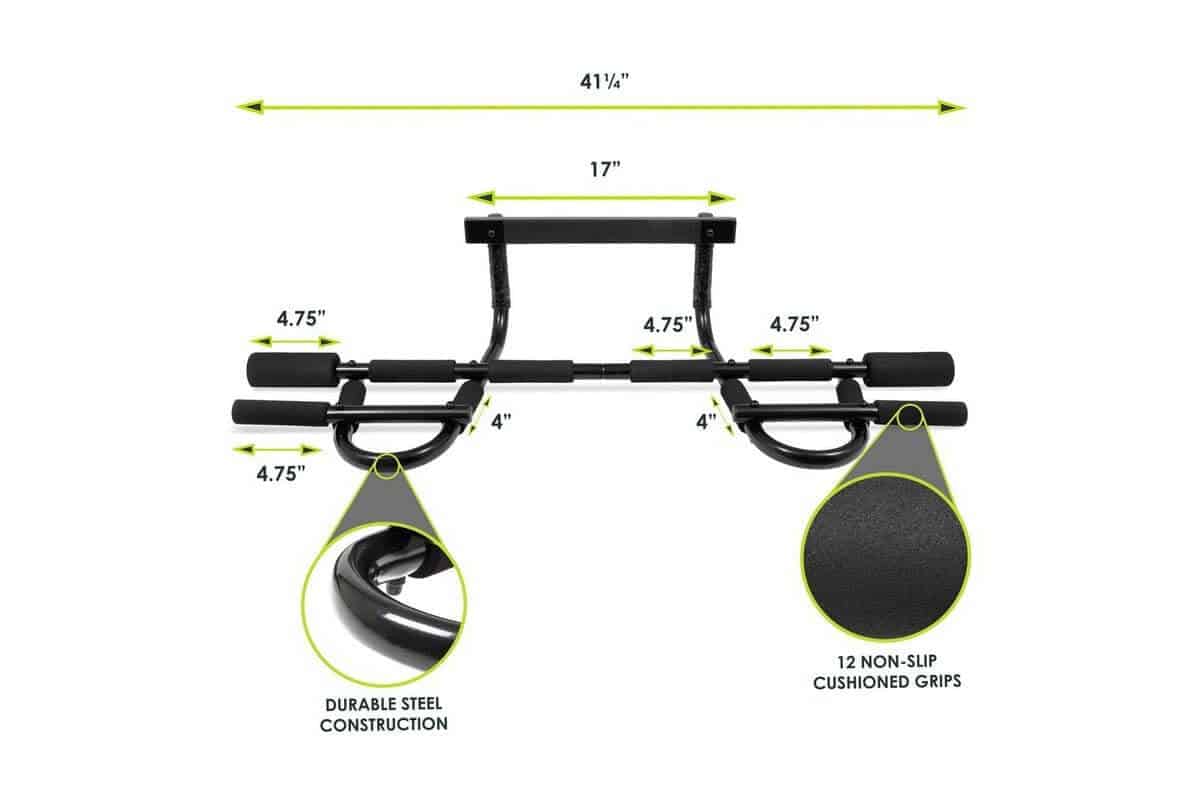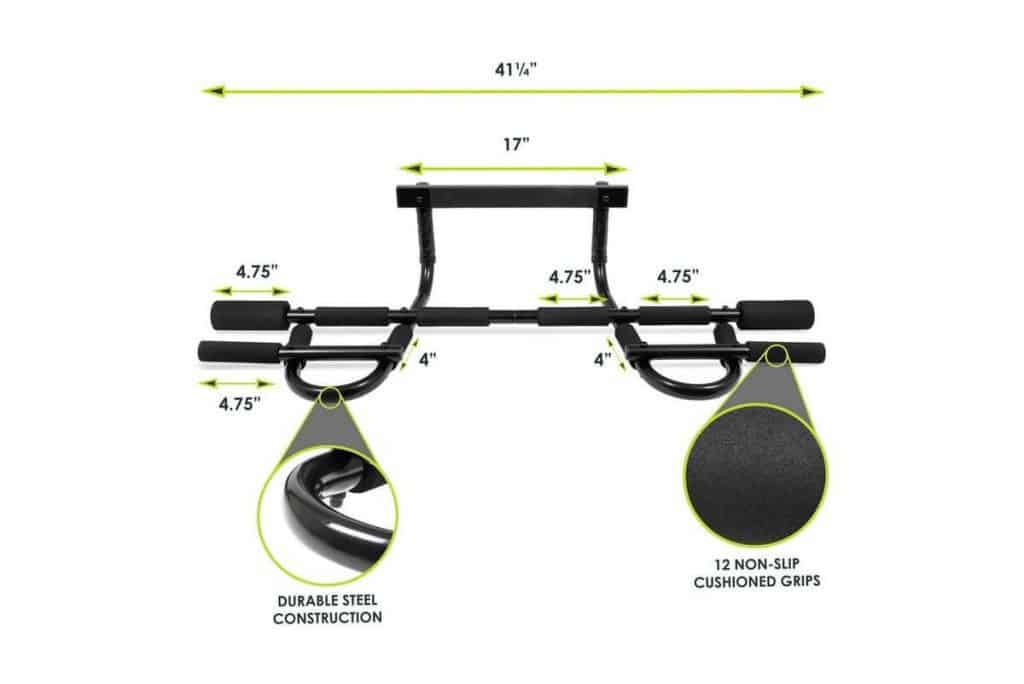 Frame
The frame is quite possibly the most important aspect of a chin-up/pull-up bar. After all, you're going to apply a tremendous amount of pressure to it.

A poorly constructed pull-up bar can easily break or bend under pressure. To avoid such a nuisance, it is best to choose bars that are made of steel.
Grip
Another crucial factor to consider in a chin-up/pull-up bar is its grip comfort. At least, not if you do not want to cripple your hands doing pull-ups.

Some budget-oriented bars may not offer handgrips, which can be quite inconvenient for long workout sessions.

Instead, look for bars that offer multiple grips so you can exercise for a long duration without comprising your comfort.
Maximum weight capacity
Every chin-up/pull-up bar will have its specific maximum weight capacity. This figure represents the maximum weight that the bar can support safely.

Any weight beyond the maximum capacity can bend or break the bar, which, in turn, can put you at great risk.

Door mounted bars, in specific usually come with less weight capacity due to their peculiar design. So, if you're considering buying one, you should certainly check out its optimum weight capacity.
Pricing
As it is with any other traditional shopping venture, the pricing of a chin-up pull bar is extremely critical.

There are tons of economic options in the market. However, with such products, you are most likely to compromise a great deal of comfort and functionality.

On the other hand, you may also find some gimmicky products that may burn a hole in your pocket for no good reason. The best way is to find products that offer the best value for its price tag.

This way, you can work out efficiently while also saving some extra bucks.
Key Feature and Benefits of Prosourcefit multi-grip chin-up/pull-up bar
A brief overview of its features
Supports a maximum weight of up to 300lbs
Premium-grade steel construction
12 cushioned grip positions
2 optional slip-on PVC/foam grips for outer handles
Easy to assemble
Ideal for regular doorway size ranging from 27"-36"
Optional wall-mount brackets included
Versatile workout options
Does not require permanent fixings
30-day money-back guarantee
Ideal for strengthening the shoulder, back muscle, and chest
Build Quality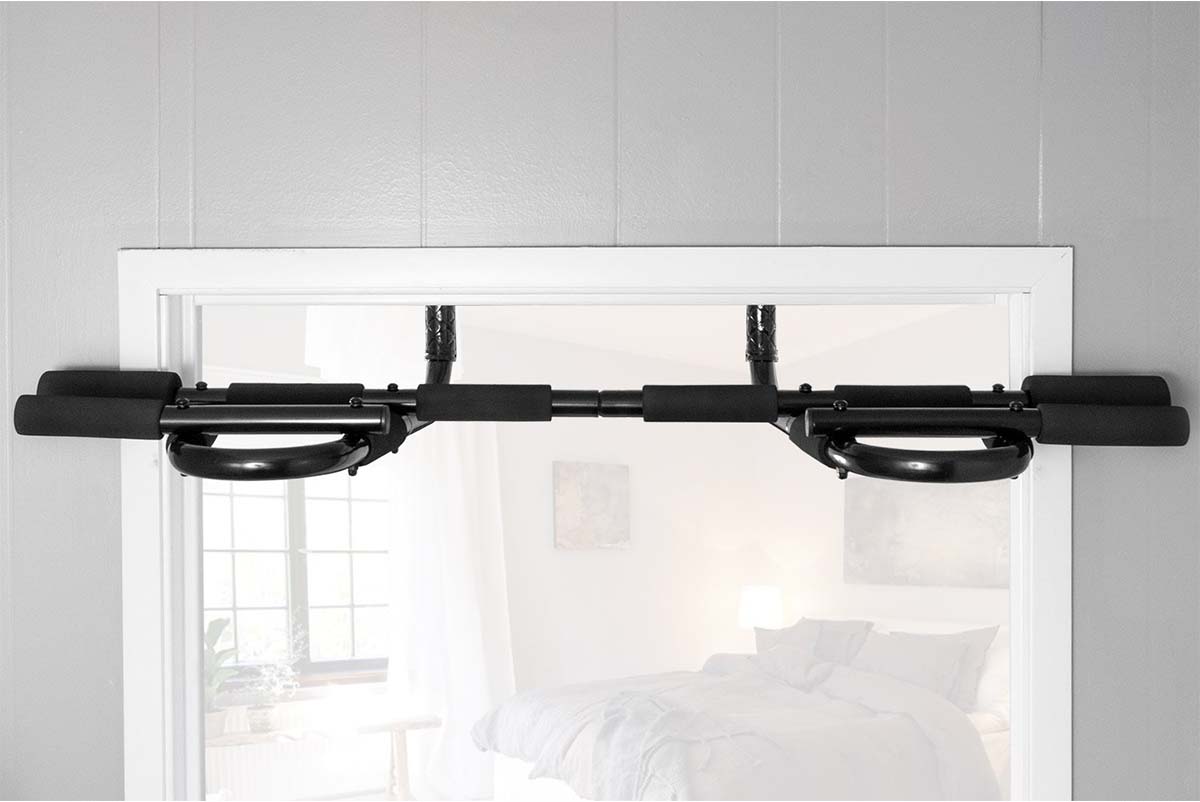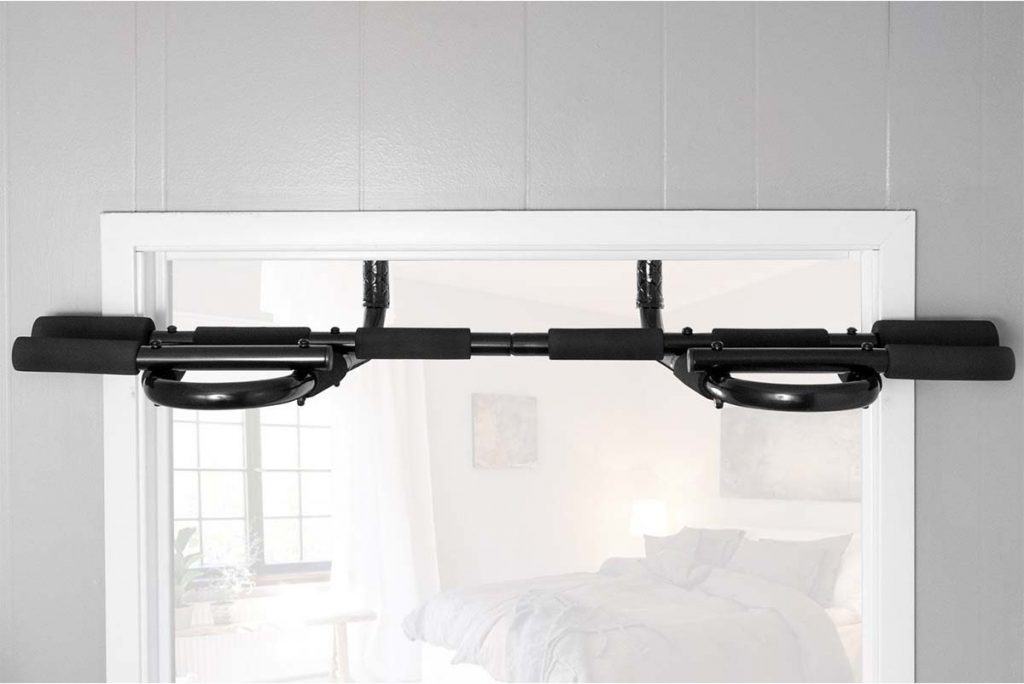 The build quality of the Prosourcefit multi-grip chin-up/pull-up bar is something that we think will attract a lot of fitness junkies.

The bar features a heavy-duty steel construction that ensures optimum durability. This comes as great news considering that most fitness gears do not offer such high-end build quality at this price point.

I find this to be one of its key feature highlights, considering how I have dealt with my fair share of mediocre bars shopping in this price range.

The product is fairly lightweight. You can carry it around the house looking for a suitable doorway without tiring yourself before the actual workout.

The product can effectively support a maximum weight of up to 300lbs, or 136kilograms. The number may fluctuate slightly depending on the structural integrity of your doorway.

However, if you want a sturdier unit that can support higher body weight, you may want to take a look at free-standing pull-up bars.

As an overall package, the Procsourcefit pull-up bar should be more than capable of supporting any average-size person with great ease.

In a nutshell, if you're looking for something solid and reliable at this price point, this pull-up bar ranks up high on our recommendation list.
Comfort
Another great feature of the Prosourcefit multi-grip chin-up/pull-up bar that gravitates the audience toward it is its exceptional comfort.

Prosourcefit claims its proprietary comfort grip technology offers superior support than standard cushioning. And, while that sound gimmicky, it actually does a fair job of promoting a soft and comfy hand grip.

You may not even need to put on your workout gloves as the handles themselves provide a very firm and robust grip. The cushioning quality on the grips is also on the plus side, considering most similar units do not come with any padding at all.

This feature is massively advantageous as it can help you to work out for long hours without dealing with wrist or hand fatigue.

Another welcoming aspect of this product is that it comes packed with comfy hand pads in 12-different strategic locations. This is great as it gives you the option to explore different chin-up/ pull-up exercises all at once.

You also get two optional non-slip PVC/foam grips for the outermost handles as an added bonus. The main advantage of this is that it ensures optimum bar stability and also protects your door frame from picking up any significant dents.
Exercise options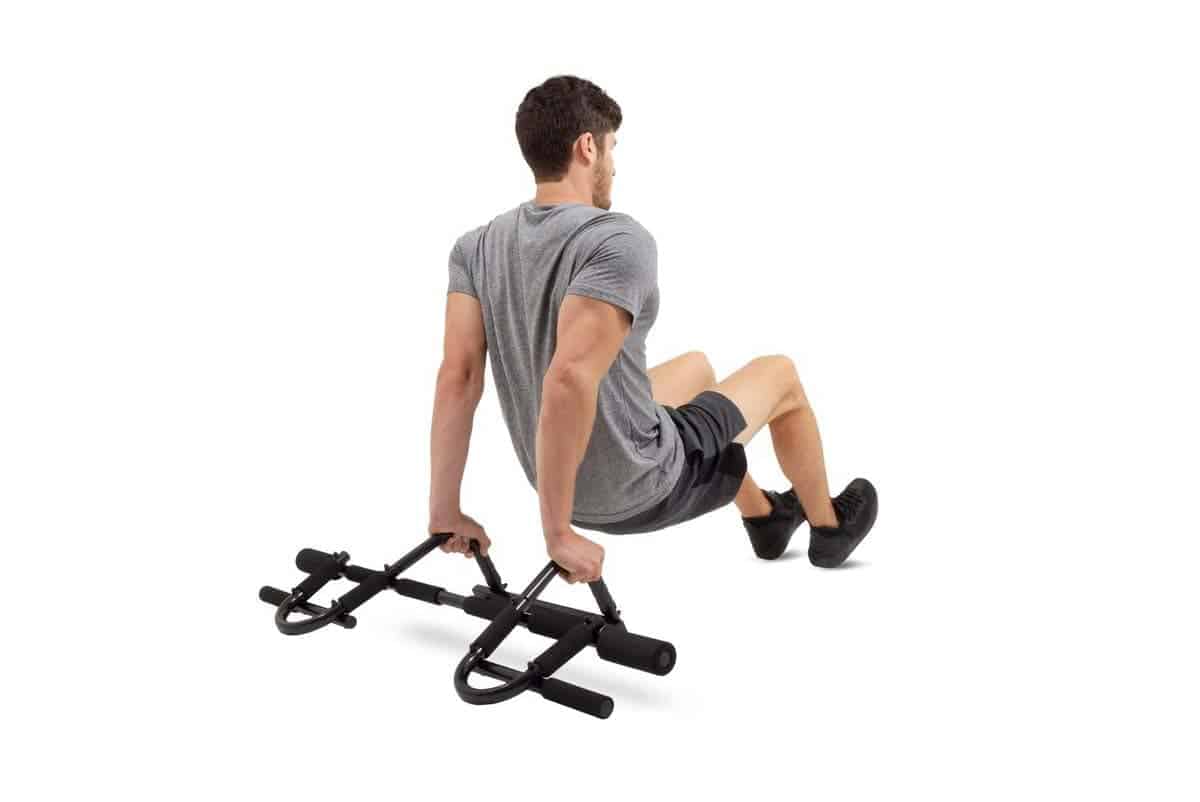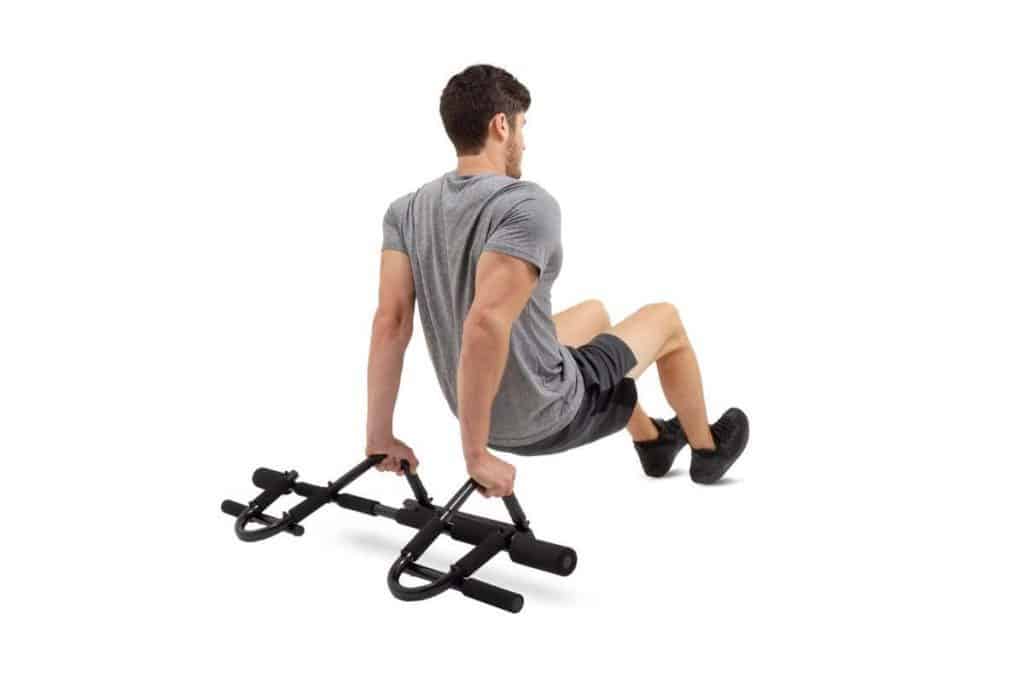 If you're searching for a home fitness kit that can offer versatile exercise options, this product may easily be one of the top contenders.

It offers you a complete upper body and mid-section workout with great ease. Its eccentric design helps you to concentrate all your intensity on your shoulder, arm, and back muscles.

I highly appreciate this feature as I do not have to burn a hole in my pocket, buying separate fitness equipment for different target areas.

Its diverse workout functionality is mainly due to the placement of non-slip grips in several key areas. Every grip placement offers a unique advantage to different parts of the body.

For instance, the hammer or neutral grip is great for people looking to pump some muscle into their forearm and upper arm.

What's more, is that you can perform both the underhand and overhand grips from three separate areas. This is another unique feature that may help you explore a broad spectrum of narrow, neutral, and wide exercise options.

Owing to its lightweight design, it does not require any permanent attachments. As a result, you can use it away from the door and perform various workouts like push-ups, crunches, triceps dips, oblique curls, and leg raises.

One downside, however, is that tall people may not find this unit particularly ideal. For instance, a 6+ft person may find it difficult to execute a full-extension pull-up without their toes touching the floor.
Ease of use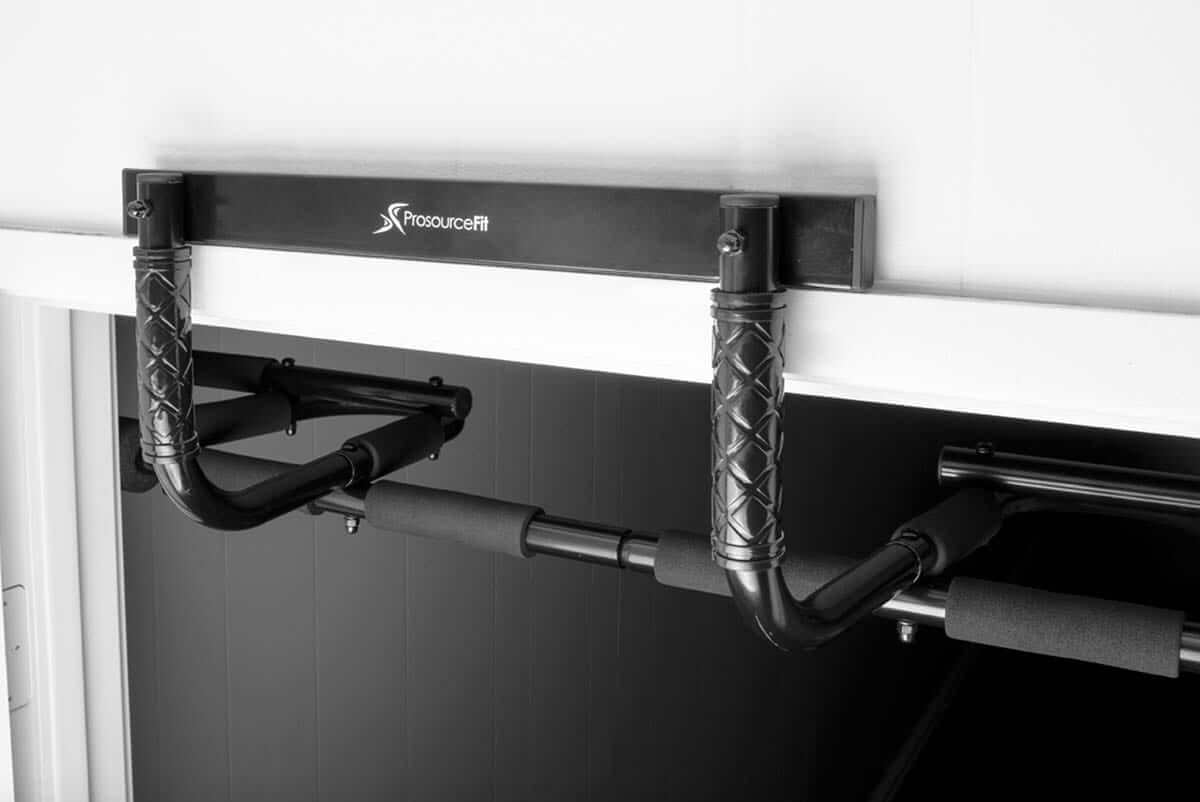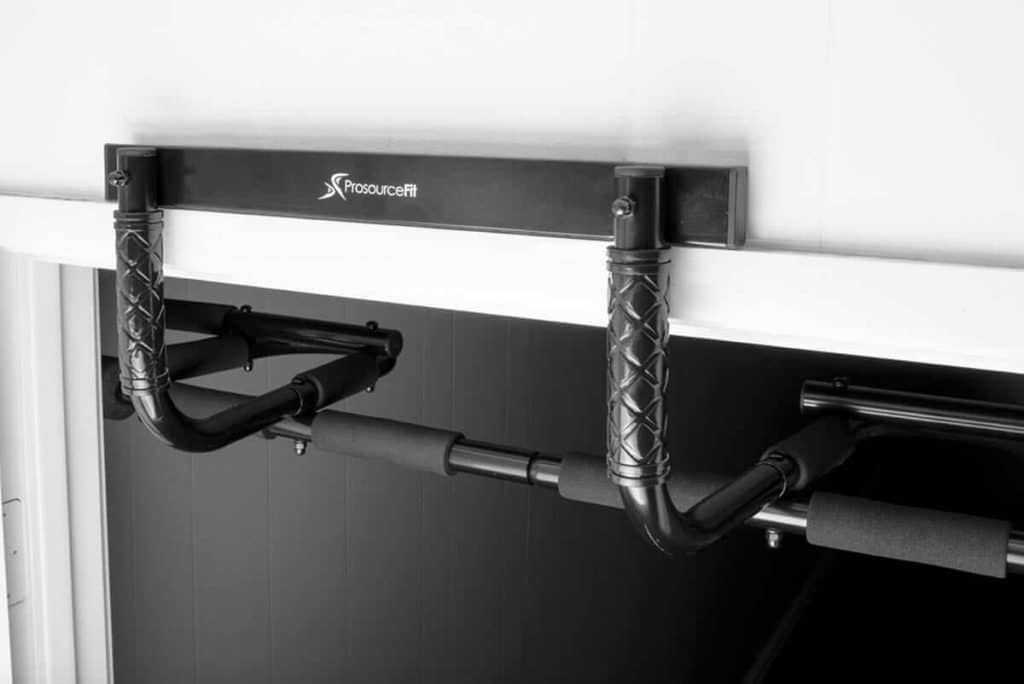 How hard could it be to put together a simple piece of home fitness gear, right?
Well, very hard! Or at least, that is what the majority of indoor exercise equipment makes you feel like.

Some home gym kits can put your patience to test with their sophisticated assembly procedure. Fortunately, you wouldn't have to worry about the same with the Prosourcefit multi-grip chin-up/pull-up bar.

Assembling the entire unit seems fairly simple and straightforward. In fact, the entire process of putting the unit together should not take you more than 20 minutes.

The assembly diagram is crisp and clear. This may come as a huge relief for many fitness junkies who are sick and tired of dealing with unintuitive home gym installations.

What speeds up the process, even more, is that it comes with all the standard installation kits like the Allen key and wrench out-of-the-box. This is specifically helpful for people who might not have such minor tools lying around their house.

Even after the full installation, it is exceptionally easy to mount them on your doorway. The unit is ideal for door frame sizes ranging from 24"-36" (width) and up to 6" in thickness.

As long as your doorway's dimension does not differ by a substantial number, you should not have any problem getting the bar snuggly mounted on it.
Pricing
When you shop around for home gym equipment, the rule of thumb is to check if the product quality justifies its price tag.

There are quite a generous number of pull-up bars in the market that may be slightly overpriced. You may want to steer clear of such dishonest products and save yourself some extra cash.

Luckily, the pricing of this product falls under the budget segment. Imagine this unit as being identical to a high-end fitness bar like the P90x, just with a significantly lower price tag.

This is my top pick for a budget-oriented home pull-up bar simply because it is an overall solid package.

There are not many products in the market that offer as much as this unit does, especially considering its affordable price tag.

Of course, it is not the cheapest option by any stretch. But, if you fancy a pull-up bar that offers exceptional value for your money, we would highly recommend you to check out this product.
Social Proof
From the features and advantages listed above, it is quite clear that I think this product is bang on for its price tag. But, you shouldn't just take our word for it!

After all, bragging about a product and presenting practical proof are two completely different things!

We scoured the internet to see what customers think about the product. Not surprising enough, we found some rather encouraging and positive reviews.

Here are some user review screenshots about how the Prosourcefit multi-grip chin-up/pull-up bar works in the real world.
User review#1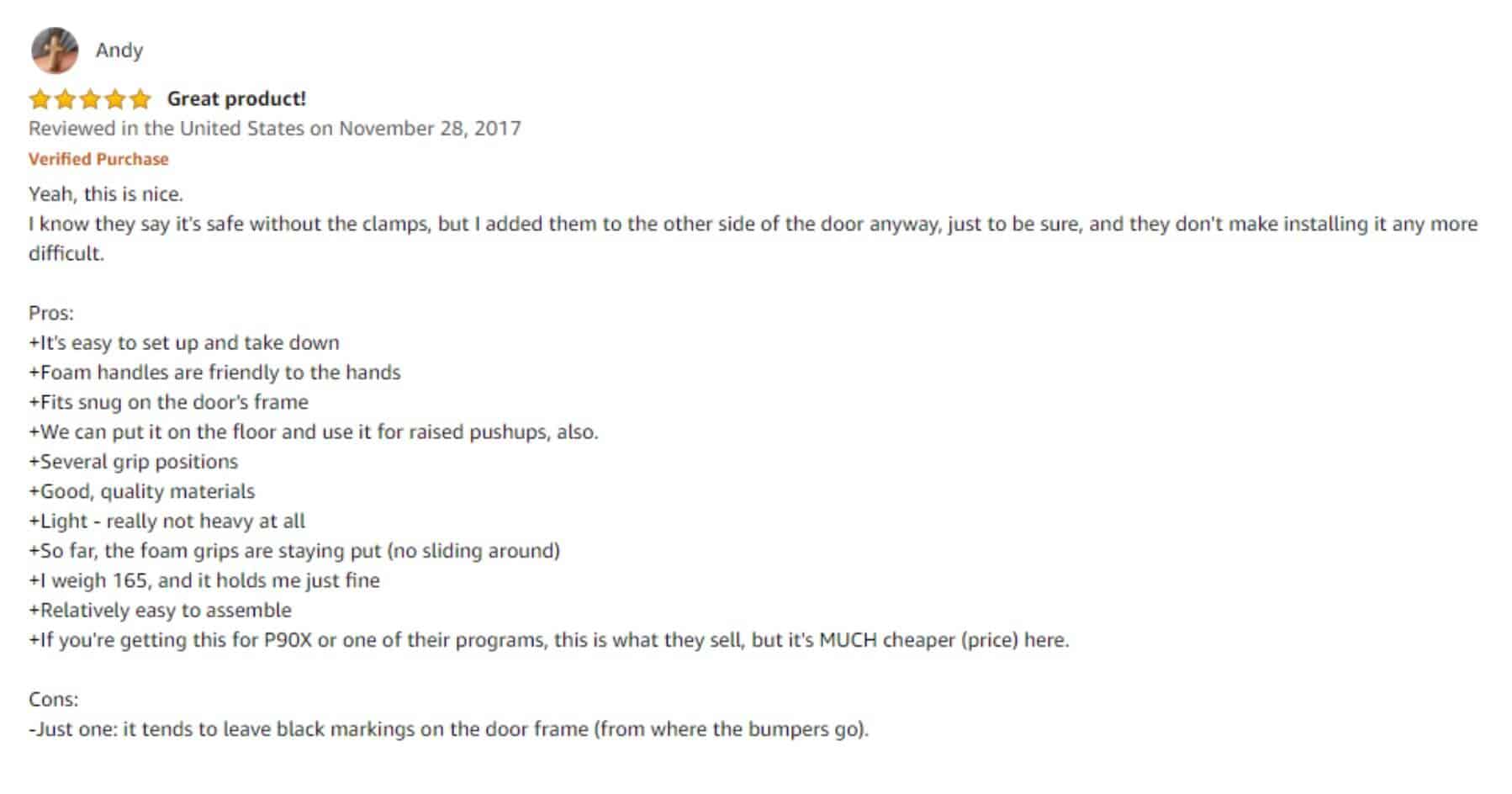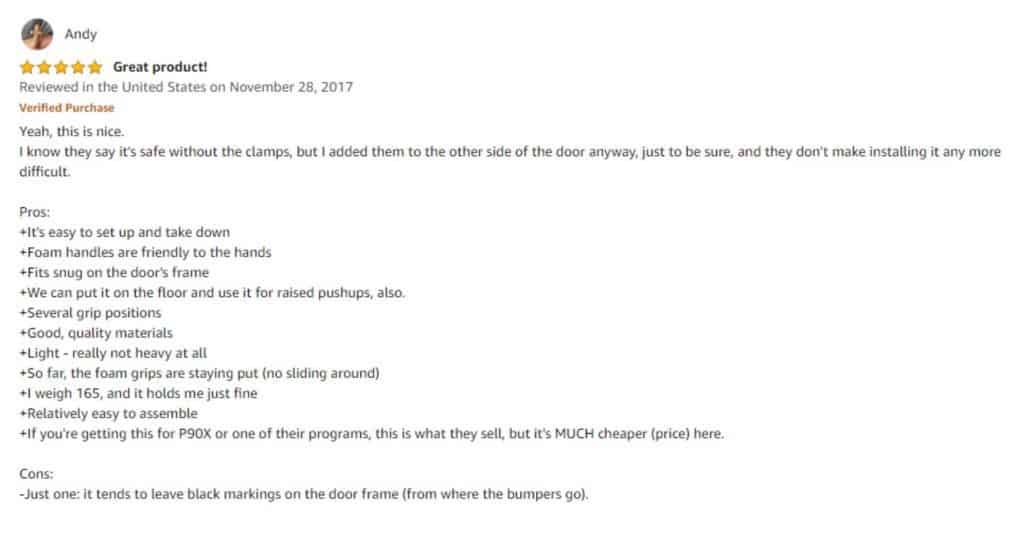 User review#2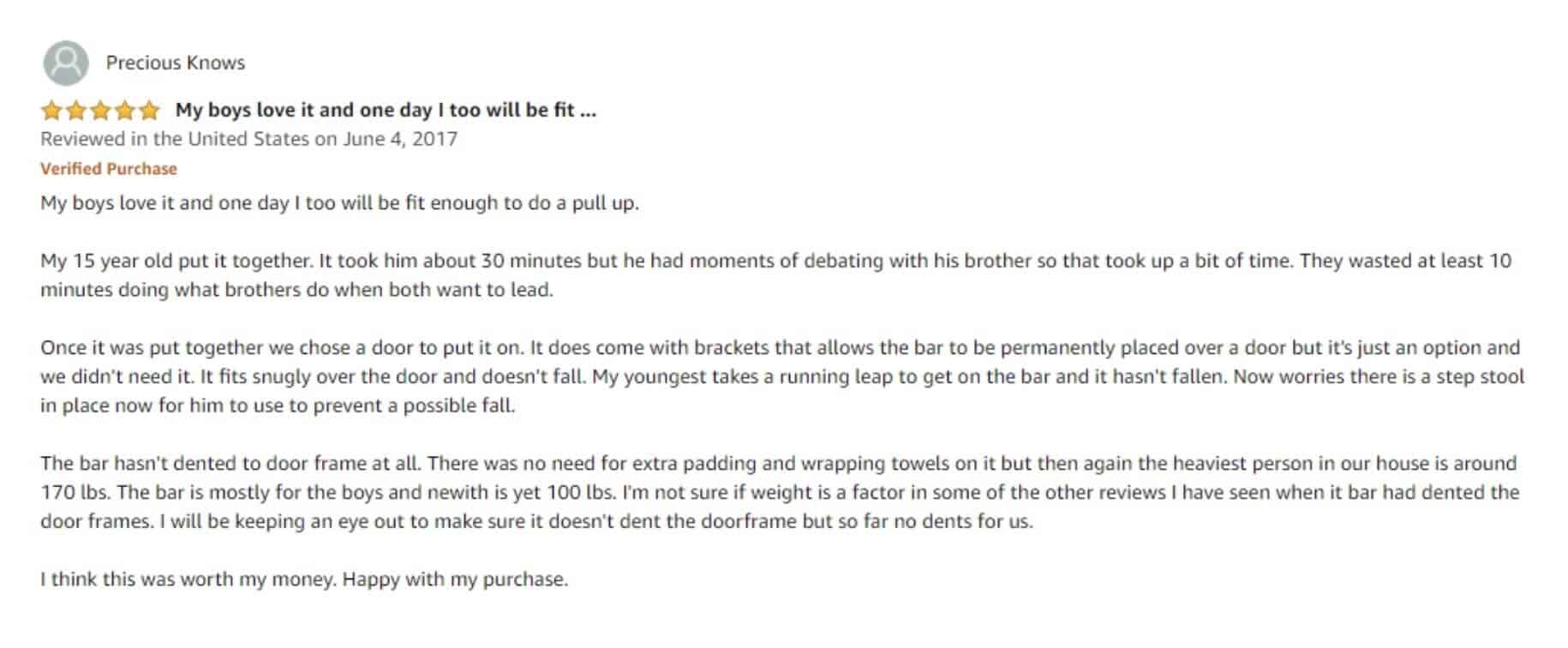 User review#3


User review#4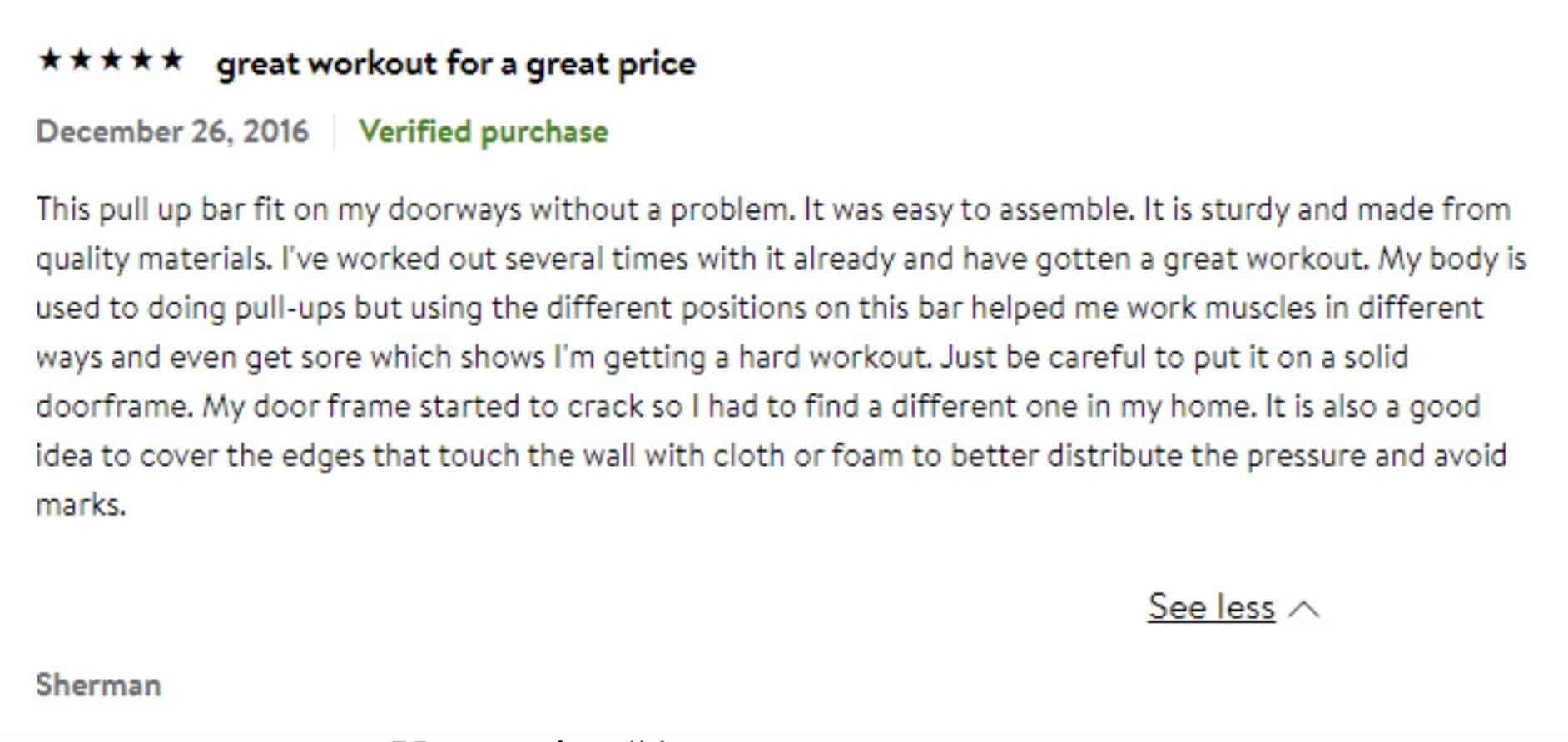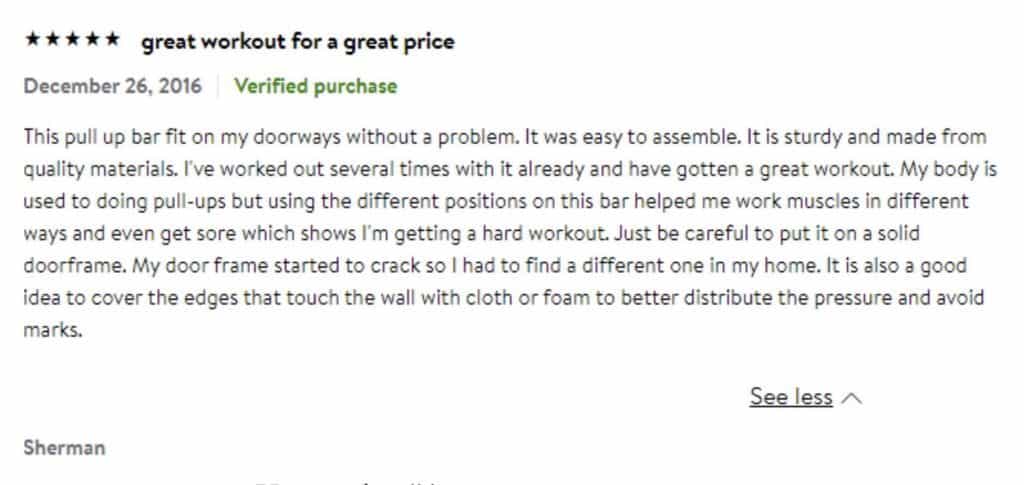 Prosourcefit enjoys a good reputation in the market for its line of premium fitness gears. Their philosophy is simple – to inspire a healthy and active lifestyle through attainable and enjoyable workout products.

This multiple grip chin-up doorway trainer is no different!

If you're looking for a great all-rounder home fitness kit, this chin-up/pull-up bar from Prosourcefit should help kick-start your search on a good note.

Prosourcefit claims its eccentric design is ideal for people looking to work on their upper body and mid-section area.

Another thing that stands out about this pull-up bar is its multiple hand grip placements. This is great as it allows you to focus on all areas of your muscle areas like shoulders, biceps, chest, and back.

However, the product may not be quite ideal for people who want to focus on leg workouts. So, if you're particularly interested in exercise regimes like leg raise, you may want to look elsewhere!
Pros
Sturdy steel construction
Exceptional workout versatility
A total of 12 comfortable hand grips
Quick and easy to assemble
Cons
Tall persons (6ft+) may find it difficult to perform pull-ups properly
You cannot perform leg stretched without bending your legs
As it is with any doorway mounted bars, it can leave a dent on your door frame on constant usage
Summing it Up
In a market filled with run-of-the-mill products, this multi-grip pull-up bar from Prosourcefit offers a very well-rounded package.

It is both super-easy to assemble and also to mount it on your door frame. This is critical because it lets you get down to business (workout) without wasting much time.

The plethora of non-slip cushioned grips (12 in total) is particularly decisive as it allows you to perform diverse workouts at once.

It may also not be the most premium choice, but considering its affordable price tag, I think it will surpass your expectation by quite a substantial margin.

One more game-changing aspect of the product is its premium-grade steel construction. It is reasonably sturdy and rigid, which promotes a great sense of reliability and security.

Overall, if you want to buy a pull-up bar that can solve your upper body workout conundrum at a reasonable cost, you may want to give this product a try.

If you're interested in checking the product out, you can click here and proceed.
Thanks for your feedback!