In addition to testing, reviewing and recommending the best products, we may earn a small commission if you purchase through our affiliate links.
Both TRX and Monkii Bars 2 are effective for working out, however TRX is better for beginners. It really just comes down to individual priorities and aspirations.
If you want to know which one is better for you, I suggest trying them both.
In the following paragraphs, I'll tell you more about my experience.
This is the second generation of the original Monkii Bars designed for killer workouts on the move. The Monkii Bars 2 is relatively new compared to the TRX suspension system but works on the same principle of body weight exercises.
The Monkii Bars 2 stands out because of its fantastic design, sturdy construction, and versatility. This all-in-one suspension training system is also a champ in portability, making it a fantastic choice for outdoor workouts.
In addition to the Monkii Bars 2, this suspension system also comes in different variations, including the Tactical Kit, Ultralight Kit, and the Pocket Monkii.
With the Monkii Bars 2 in your arsenal, you only need a stable structure, such as a door or a tree branch, to hook up the straps for a great bodyweight workout.
Pros:
Very portable friendly.
Free access to the Monkii app.
Compact and easy to pack/store.
High-quality materials for construction.
Lightweight and easy to set up.
Comes with a lifetime guarantee.
Cons:
The weight capacity of 250 lbs might not work for everyone.
The TRX is the grandfather of suspension training systems and is known for its versatility. The collection of exercises you can get from this complete bodyweight training system is simply unbeatable in the industry.
TRX also has provisions to hook up with multiple attachments, making it a top fitness gear for beginners and veterans.
This high-quality, suspension-style workout system is also portable, effortless to set up indoors or outdoors, and provides the ultimate full-body workout solution.
Research has shown that suspension training improves muscular fitness and several cardiovascular diseases, which is fantastic. Depending on your fitness levels, you can customize the TRX system for an amazing workout targeting every body part.
TRX comes with a workout guide, suspension anchor, adjustable strap, foot cradles, handles, and door anchor in a mesh carry bag.
TRX is available in four different versions – Home2 System, Pro4 System, Pro4 System Digi Camo, and Tactical Gym.
Pros:
Single anchor point for easy setup.
Adjustable foot straps and handles.
Provides a full-body resistance workout.
Easy to transport and store.
Excellent design with premium quality materials.
Cons:
TRX is among the higher-priced suspension trainer systems, so it is not affordable for everyone.
In-Depth Comparison: Monkii Bars vs. TRX Suspension Training System
Specifications
| Specs | TRX | Monkii Bars 2 |
| --- | --- | --- |
| Style | All-in-One | All-in-One |
| Grips | Plastic | Aluminum |
| Straps length | NA | 16 feet |
| Tension Level | 350 | NA |
Travel-Friendly
Of the two suspension training systems, Monkii Bars 2 is more travel friendly due to its compact and extra-light design. This great workout system for the outdoor adventurer weighs no more than 3 lbs that fit snugly into the mesh carry bag.
Setup
TRX is known as a no-hassle, simple bodyweight workout system and is effortless to set up with its single anchor design. To set up the TRX indoors, all you need is a sturdy door, and outdoors, you can hook it up on a pull-up bar, a door, or a high beam, and you're ready for a session of bodyweight exercises.
Great for Beginners
TRX is an effective suspension training system that works great for beginners as it is very easy to set up and use. Monkii Bars 2, on the other hand, is more suited for those familiar with suspension or some form of resistance training.
Mobile App
The TRX and the Monkii Bars 2 suspension trainers come with a very handy mobile app. The instructional videos on both brands of suspension trainers are a great way to start for beginners, but experts can also benefit from them.
The free access to the functional trainers' mobile apps also reduces the system's overall price, which is a bonus.
Workouts and Exercises
TRX and Monkii Bars 2 are a complete bodyweight training system meaning you can perform several types of workouts and exercises.
Monkii Bars 2 workout
With the Monkii Bars 2, you can execute more than 250 types of exercises, including yoga, pilates, gymnastics, and core stability exercises. Some of the common workouts you can do with the Monkii Bars 2 are:
Pull-ups
Incline press-ups
Tricep dips
Mountain climber
Bulgarian split squat
Chest flys
Knees to chest
Body saw with crunch
TRX workout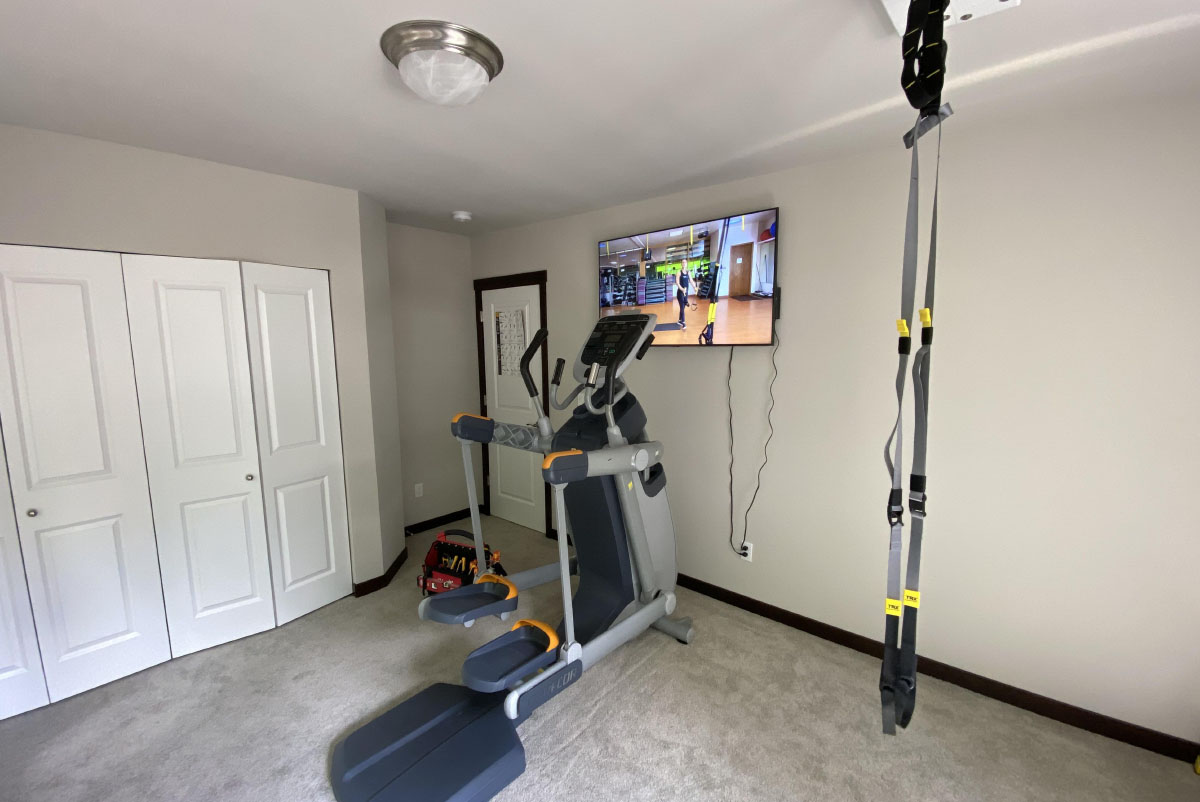 TRX system is a standalone personal trainer, and you can perform over 100 exercises with it. Some of the popular TRX workouts include:
Chest press
Push up
Kneeling triceps press
Inverted row
Triceps extension
Chest flys
Clock pull
Lunges
Squats
Mountain climber/reverse mountain climber
Planks
That being said, TRX is great for at-home workouts, and Monkii Bars 2 are great for advanced workouts on the road.
Warranty
The one-year warranty on the TRX is limited and covers manufacturing defects that are eligible for replacement.
Monkii Bars 2, on the other hand, comes with a lifetime warranty, and you can replace/refund them within 30 days of purchase.
Price
TRX and Monkii Bars 2 have a similar price range, which is fantastic considering the range of exercises you can get from them.
The Monkii Bars 2 cost a few dollars more than the TRX, but it has a gamut of features that make up for it.
Are they worth it?
Absolutely. The TRX and the Monkii are excellent all-in-one systems that have options for training anywhere you want. The arsenal of bodyweight exercises you get from these systems is simply unbeatable.
Everything from the cushioned door anchor and the easy-adjust suspension trainer straps to exercise videos in the mobile apps make them the top choice for beginners and athletes.
These suspension training systems have several exercise variations and great-quality construction, making them great value for money.
Who is it Best for?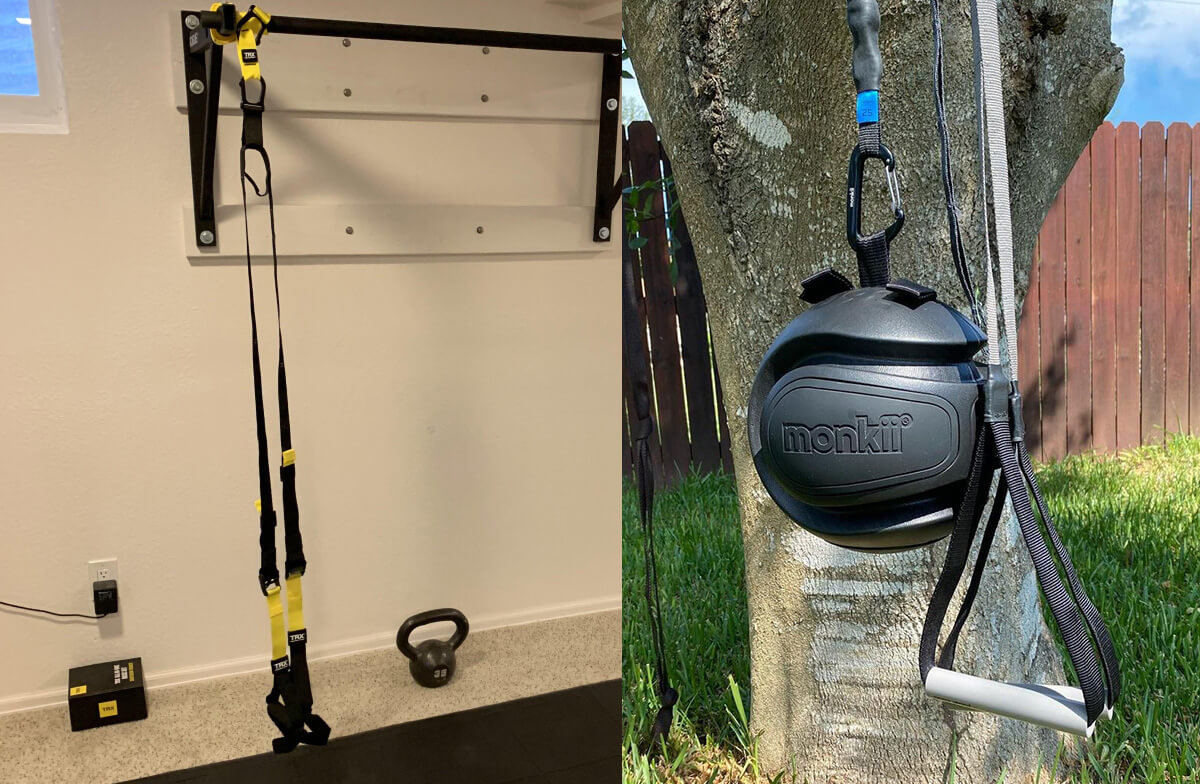 TRX is a fantastic exercise solution for beginners or fitness enthusiasts who want to get fit and stay in shape. This innovative suspension system is easy to set up, effortless to transport and store and provides an efficient workout whenever you want it.
The Monkii Bars 2 is for athletes, multitaskers, travelers, and life hackers that thrive on an intensive workout even on the move. With this compact suspension trainer, you get to enjoy the versatility of suspension trainers and the functionality of muscle rings, making it perfect for bodyweight exercises.
Final Verdict: Which One Should You Buy?
TRX is a budget-friendly suspension trainer option for beginners. It has adjustable straps, heavy-duty material, durable handles, and versatile uses for core conditioning and muscle activation.
Monkii Bars 2 is ideal for advanced athletes and fitness enthusiasts who love outdoor training. It has additional features and well-made components, making it a great mobile gym alternative to weights.
Ultimately, the decision on which suspension trainer to buy depends on your fitness level, budget, and training goals.