Adjustable dumbbells are among the most versatile pieces of equipment in a fitness arsenal, and PowerBlock is one of the most credible brands in the community.

I was excited to test their PowerBlock Sport and Elite adjustable dumbbells, and after using them for a while, I am sharing my thoughts with you today.

Working out with dumbbells offers several health benefits, including improved health for cancer survivors. In fact, a randomized study reveals that light resistance exercise with a dumbbell can improve health outcomes.

So if you've been wondering whether PowerBlock's adjustable dumbbells are worth the hype, this post is perfect for you!
Comparison between PowerBlock Sport vs Elite
We earn a commission if you make a purchase, at no additional cost to you.
Here's a quick reference dumbbell comparison table if you're pressed for time.
| Features | Elite Series | Sport 24 | Sport 50 | Sport EXP |
| --- | --- | --- | --- | --- |
| Expandability | Yes | No | No | Yes |
| Adder weight | Yes | No | No | Yes |
| Handle design | Close | Open | Open | Open |
| Handle Grip | Straight | Contour | Contour | Contour |
| Handle Material | Thermoplastic rubber | Thermoplastic rubber | Thermoplastic rubber | Thermoplastic rubber |
| Handle Diameter | 33mm | 30mm | 38mm | 38mm |
| Lock mechanism | Manual | NA | NA | Auto-lock |
| Lb increments | 2.5 | 3 | 5 | 2.5 |
| Max weight | 90 | 24 | 50 | 90 |
| Weight block | 10lbs | 3lbs | 5lbs | 10lbs |
| Block shape | Boxy | Curved | Curved | Curved |
| Compatibility | NA | NA | NA | NA |
| Color code | Multi-color bands, grey handle, black blocks | Multi-color bands, grey blocks, black handle | Black handle and bands, grey blocks | Black handle and bands, metallic grey blocks |
| Made in | USA | China | China | China |
| Warranty | 5 years | 5 years | 5 years | 5 years |
| Price | $419/$608/$797 | $199 | $399 | $409/$588/$76 |
PowerBlock Sport vs. Elite: Overview
The above table summarizes the main similarities and differences between the dumbbells from PowerBlock.
Please join me as I discuss each dumbbell model so that you can make an informed decision.
Sport Series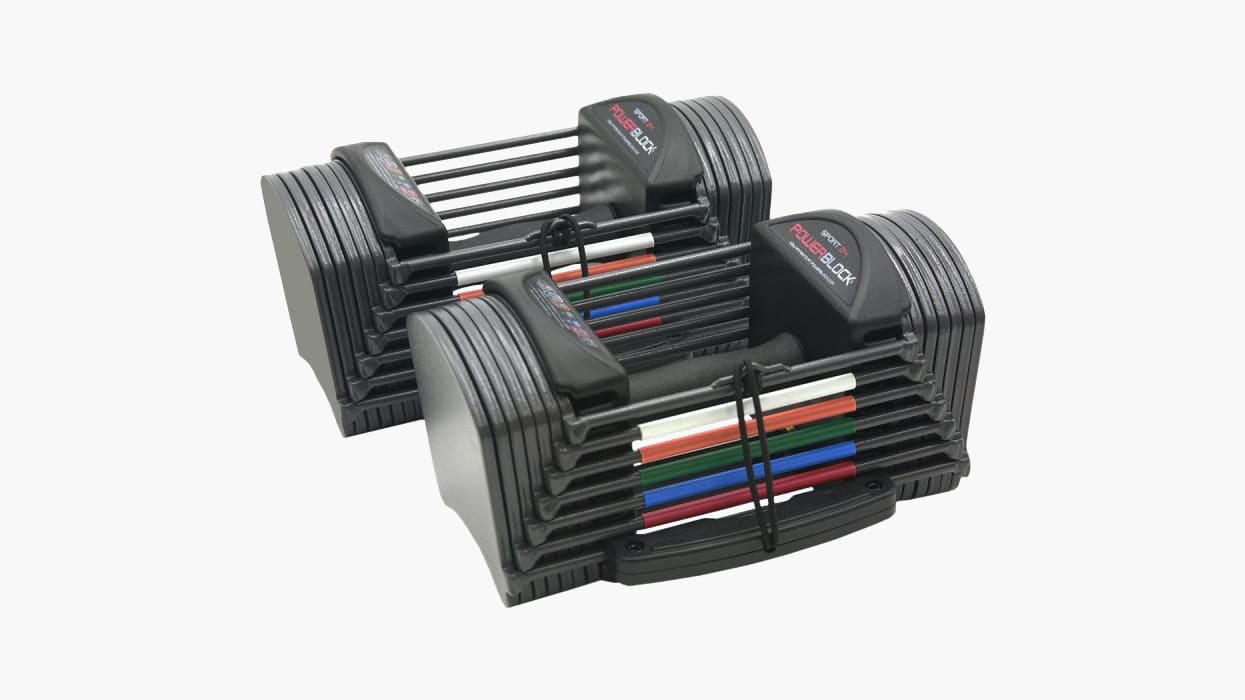 PowerBlock's Sport Series have a defined contour, giving them a sleek and modern appearance.
The dumbbells in this series are also separate models as opposed to a single group in the Elite Series.
Unlike the other series, these adjustable dumbbells do not have support bars on the handle.
PowerBlock also imports the Sport models instead of manufacturing them in the states.
Sport EXP
The EXP model is the only one from the Sport Series that is expandable, so they are compatible with Stage 1, 2, and 3 sets.
Because of this feature, the Sport EXP works similarly to the Elite 50, meaning you can upgrade the EXP Stage 1 set of 50 to 70 lbs using the Stage 2 kit and up to 90 lbs with Stage 3 kits.
The straight handle of the EXP weighs 5 lbs when it is empty, and the nested block is 10 lbs.
This model in the Sport Series comes with a pair of 2.4 lb adder weights so that you can customize it for smaller increments.
Sport 50
Sport 50 is a non-expandable model with weights between 5 and 50 lbs, which does not exceed that limit.
It has 5 lb increments making this model the right choice if you prefer to bulk up your biceps.
The empty handles of the Sport 50 are 10 lbs, while the nested block is 5 lbs and does not come with adder weights.
Sport 24
In the Sports Series, the 24 is the smallest model. It is also a non-expandable set so expect no more than 24 lbs with this dumbbell.
The lb increments of the Sport 24 are 3 lbs, and so are the empty handle and the blocks, which weigh 3 lbs each.
In terms of appearance, the Sport 24 is the only model in the Sport series that bears a similar look to the iconic color-coded band against a full body of grey.
Elite Series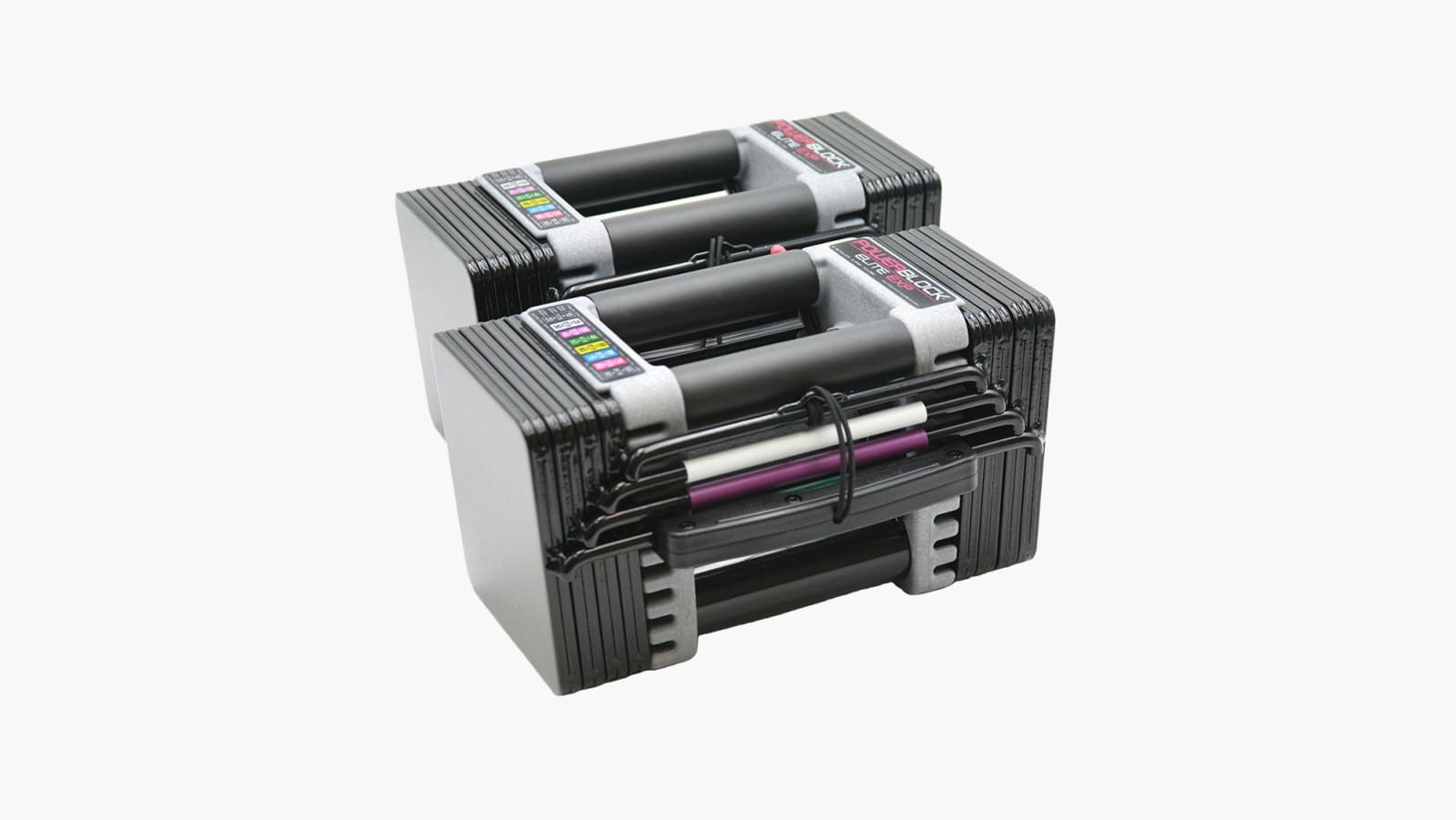 PowerBlock was initially called the Elite Series, which you might be familiar with – Classic Series.
The dumbbells in this series have a distinct look because of the pair of padded wrist supports on the handle.
The Elite Series dumbbells are also color-coded, which indicates the weight, and they look more like a clunky box.
The adjustable dumbbells in this series are manufactured exclusively in the US. Moreover, the Elite Series blocks are also compatible with each other – meaning that you can transform Elite 50 into 70 and so on, with the Elite expansion kits.
The components of the center handle have different weights – the empty handle is 5 lbs, while the nested block is 10 lbs and the removable adder weights are 2.5 lbs each.
Elite 50
The Elite 50 dumbbell from PowerBlock is the first in this series and comes with 5 to 50 lbs per dumbbell.
However, with the adder weights, you can customize the lb increments to as low as 2.5, which is fantastic if you are just getting started with weights.
You will love that the Elite 50 upgrades effortlessly to Elite 70 and Elite 90 with Stage 2 and 3 kits, respectively.
The only minor drawback of the Elite 50 is the inability to use 12.5, 22.5, 32.5, and 42.5 lb weights. Nevertheless, considering this dumbbell's overall features, it is not a deal breaker.
Elite 70
This adjustable dumbbell from PowerBlock comes with a dumbbell weight from 5 to 70 lbs with lb increments as low as 2.5 lbs, with adder weights.
With the Stage 3 kit, the Elite 70 upgrades effortlessly to the Elite 90. But similar to the Elite 50, this dumbbell also lacks some weight options, such as 12.5, 22.5, 32.5, 42.5, 52.5, and 62.5 lbs.
Elite 90
The Elite 90 set comes with 5 to 90 lbs per dumbbell and can drop to 2.5 lbs with adder weights.
However, 90 is the heaviest in the Elite Series, so an upgrade is not possible. In addition, it also misses the half weights ranging from 12.5 to 82.5 lbs.
PowerBlock Sport vs. Elite: In-Depth Comparison
I will discuss each feature in this section of the in-depth PowerBlock Sport vs. Elite comparison.
Design & Material
In terms of design, the Elite dumbbells have a square shape, while those in the Sport Series feature a sleeker and contoured look.
But the Sport 70 can look similar to the Elite ones when you add the weight using the expandable kits.
Both the series of dumbbells, however, are similar when it comes to the material of construction.
So you have a welded steel dumbbell with powdered coated paint on all of them. The Sport models also have some plastic components on their bars.
Quality and Durability
PowerBlock dumbbells are made from high-quality materials, making them durable and high-quality.
With their powder coating and welded steel construction, these adjustable dumbbells will last a lifetime.
In addition to the welded plates, the powder coating makes them exceptionally robust, which means they will last you a very long time.
Ability to expand
The ability to expand these dumbbells is one area where you will see a marked difference. Allow me to explain.
You can expand the Elite dumbbells by using the 50-70 lbs or the 70-90 lbs expansion kits, which is great if you plan to change your weight-lifting requirements.
Among the Sport models, however, only the EXP can be expanded to 70 or 90 lbs with the Stage 2 and/or Stage 3 kits, respectively. Sport 24 and 50 are not expandable, making them an ideal choice if you are not a heavy lifter.
These two models also do not have adder weights, so adjusting them during your workout sessions is easier as all you have to do is move the selector pin.
Chrome Adder Weights
True to their name, the adder weights from this brand are chrome coated and have a cylindrical shape.
Each adder weight is 2.5 lbs and included with most models, so you don't need to buy them separately.
Using the adder weights in your training is quite easy – simply insert them into the hollow steel tubes located at the handle's bottom.
The number of adder weights you choose will depend on your fitness goals but starting with smaller increments is always a great idea.
Handle Design & Grip
The handle design and the grip in the Elite and Sport also display a visible difference.
The Elite dumbbells have a closed design and padded support for the wrists. The dumbbells in this series also bear a straight appearance, unlike the much contoured-looking handles in the Sport Series.
So you can expect a couple of advantages – better comfort for your wrists and the ease of maintaining a neutral position while you curl them.
In addition, the closed-handle design of the Elite dumbbells also allows you to target specific areas with curl and lateral moves.
However, the closed-handle adjustable dumbbell does not have enough space inside the handle, which can be an issue if you are a lifter with big hands.
On the other hand, the Sport dumbbells have an open handle design, which is a fantastic feature if you have larger hands.
The open handle will allow your hands to move inside without restricting movement.
This design in the Sport dumbbells also comes in very handy if you prefer lifting hooks on the dumbbells. The Sport models also allow you to get a better grip, which is very helpful during longer exercise sessions.
The diameter of the grip in the Sports Series measures 30mm, and 38mm, respectively, and are made of contoured TPR. All the dumbbells in the Elite Series have a diameter of 33mm and feature straight TPR.
Locking Mechanism
Safety features in a fitness tool are paramount whether you exercise at home or the gym, and PowerBlock dumbbells do not disappoint.
The locking mechanism is one of the best features of adjustable dumbbells, as it keeps the weights from rattling and steadies the handle when you want to remove them.
The Elite dumbbells come with a manual lock, meaning you must move the lever to the "closed" position every time you put the adder weights. To remove the weights, flip the level to "open," located at the top of the handle.
In the Sports Series, only the EXP has a lock mechanism since the 24 and 50 are not expandable; therefore, you cannot add extra weight.
The Sport EXP features an auto-lock, which makes it effortless to work out with adder weights. This special level is on the side of the dumbbell's handle, which opens and closes depending on whether you flip the lever up or down.
The biggest advantage of the EXP's auto-lock feature is that you don't need to worry about locking them. If you're curious, the auto-locking mechanism kicks in once you place the handle inside the nested weights and push it against the weight rail.
Weight Ranges and Color-code
Between the Elite and the Sport dumbbells, the weight range is not a lot. The Elite ranges between 3 and 24 lbs, which you can expand to 90 lbs. With the Sports dumbbells, the weight range is 5 to 50, expandable up to 90 lbs.
Regarding the weight blocks, Elite dumbbells and Sport EXP have the same weight of 10 lbs. Sport 24, on the other hand, comes with a 3 lb per weight block, and Sport 50 with 5 lbs.
The color code in PowerBlock's dumbbells is a unique feature, and you won't find it with other brands. Let's look further.
The Elite dumbbells sport a solid black body with black nested blocks, support bars, and adder weights. Only the handle is grey, making them look similar to the older models from the brand.
On the side rail, you will find multi-colored bands corresponding to the dumbbells' weight plate. These color bands make it easy to decide which weight block you want to use for that day.
Dimensions/Size
Next, let's look at the dimension/size of each model.
The Elite Series
90: 16″Lenght x 6″Width x 6″Height
70: 14″Lenght x 6″Width x 6″Height
50: 12″Lenght x 6″Width x 6″Height
Sports Series
24: 10.5″Lenght x 5.25″Width x 5″Height
50: 12.5″Lenght x 6.5″Width x 6.5″Height
EXP Stage 1: 12″Lenght x 6.5″Width x 6.5″Height
EXP Stage 2: 14″Lenght x 6.5″Width x 6.5″Height
EXP Stage 1: 12″Lenght x 6.5″Width x 6.5″Height
Adaptability
You can adapt the Elite Series dumbbells and the Sport EXP using the expansion kits from PowerBlock. E.g., turn the Elite 50 into the 70 or 90 using the Elite USA Stage 2 and/or 3 kits with absolute ease. You can do the same with the EXP model, which is a great feature if you are a heavy lifter.
However, there is no adaptability between the two series, i.e., Elite and Sport. If you were wondering whether PowerBlock has an accessory to hook the dumbbells from the different series, unfortunately, there is none.
Beginner friendliness
Adjustable dumbbells are a fantastic choice for your fitness gear since they are compact and give you more options. And PowerBlock's dumbbells are beginner-friendly, as you can adjust the weight according to your needs and fitness goals.
For those who aren't interested in lifting heavy weights as soon as they begin working out, PowerBlock also has lighter and compact dumbbells.
Particularly, the Sport 24 and other models in the series are lightweight and compact enough for anyone looking to tone their muscles.
Manufacturing
PowerBlock manufactures its Elite dumbbells at a manufacturing unit in Minnesota, USA, the company's headquarters. On the other hand, the Sport Series comes from a manufacturing facility in China.
Warranty
The Sport and the Elite Series warranty lasts 5 years, covering manufacturing defects, drops below 12 inches, and damage due to normal usage.
However, these dumbbells from PowerBlock are intended for a home gym, so if you use them for commercial purposes, you forfeit the warranty coverage.
In addition, if you drop the dumbbells from above 12 inches, the PowerBlock warranty will not be valid either.
Price
On powerblock.com, these are the prices of their adjustable dumbbells. Elite 50 USA Series with Stage 2 and 3 expansion kits – $419-$797
24 – $199
50 – $399
EXP with Stage 2 and 3 expansion kits – $409-$767
The PowerBlock's dumbbell price is much higher on third-party sellers such as Walmart
PowerBlock Sport Vs. Elite: Added features
In the above sections, I have covered almost every feature of the Elite and Sport models from PowerBlock. But here are additional features that did not fit in.
The Elite dumbbells have a black powder coat finish and are easily the best seller from the PowerBlock fitness gear inventory.
Similar to other dumbbells, the Elite ones do not come with any accessory, but PowerBlock recommends a home rack stand while using this to tone your arms.
The Sport models have different finishes – the 24 model has a grey powder coat, while the 50 and EXP have a metallic gray powder coat.
PowerBlock also recommends using a small compact stand for Sport 24, a PowerStand for 50, and a large column stands for the EXP model.
PowerBlock Sport Vs. Elite: Pros & Cons
This section summarizes the pros and cons of the dumbbells above that I have tested and reviewed.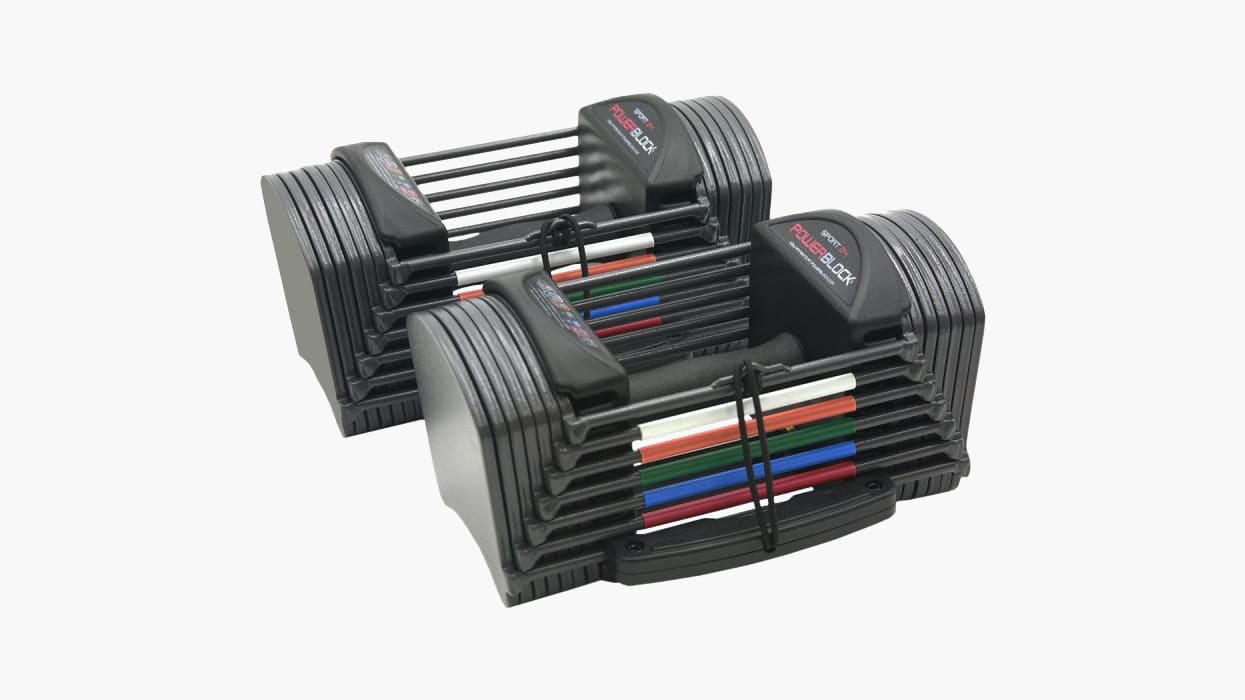 Pros
High-quality entry-level dumbbells.
Sleeker look with a modern design.
Open handle design offers a firmer grip for larger hands.
ideal for lighter as well as mid-level lifters
Easy to use and store
Compact design for portability
Cons
Two models from the series are not expandable
Plastic components in the weight bar are a bit substandard
Expansion kits must be purchased separately, which can increase the final price.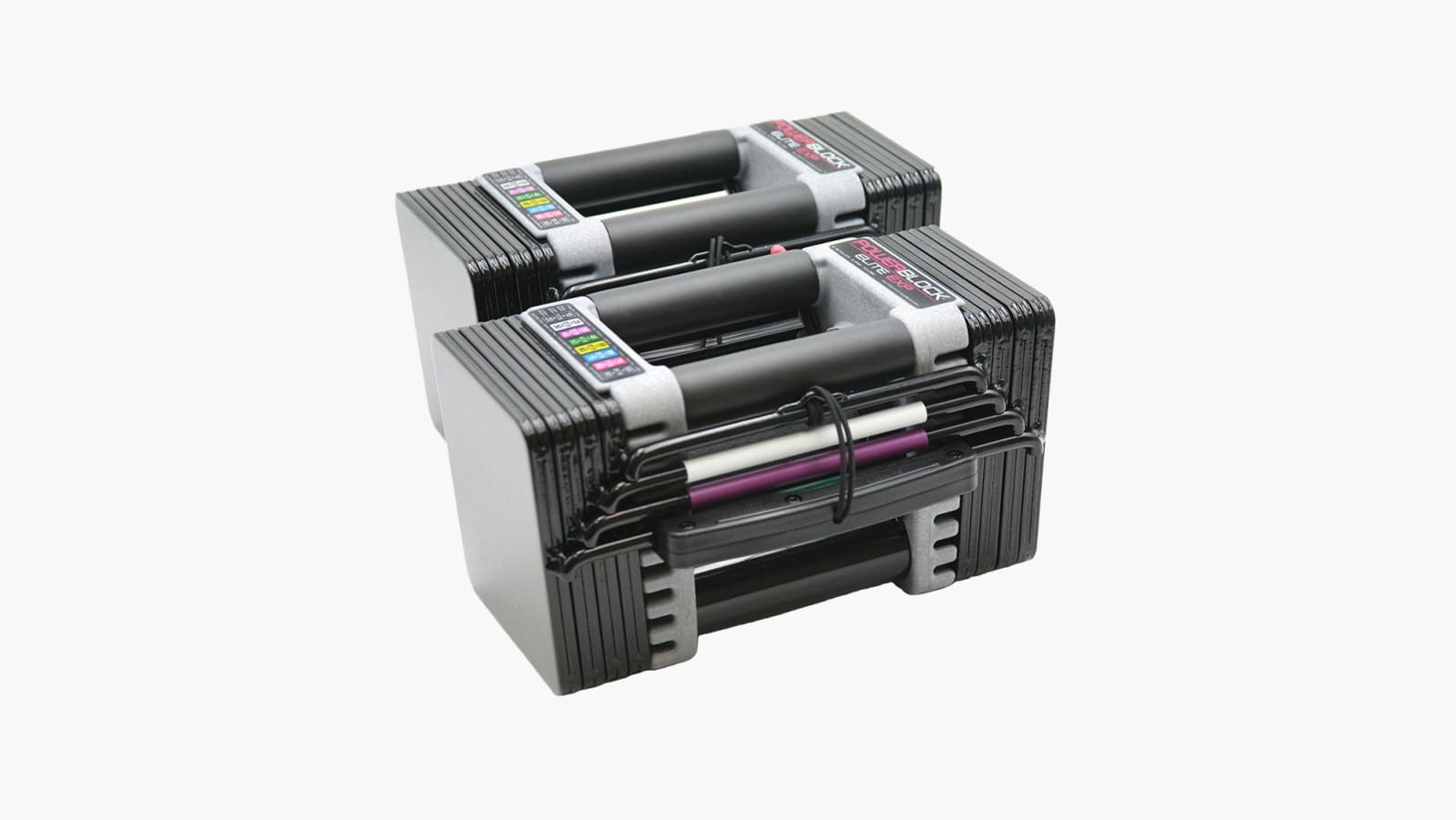 Pros
The dumbbells work with each other, making them more versatile.
Padded wrist support works excellent for beginners and those with weak wrists.
The ability to work with smaller weight increments is great
Suitable for heavy lifters without the need to invest in multiple gears
Has excellent customer reviews and is the brand's best-seller.
Cons
The closed-handle design is not suitable if you have big hands and wrists
The straight grip of the handle takes some time to get used to
Looks very bulky and takes up more storage space
PowerBlock Sport Vs. Elite: What Other People Say
You can view customer reviews for PowerBlock Sport and PowerBlock Elite by following the given links.
PowerBlock Sport vs.Elite: Which one is best for you?
Now that we have discussed PowerBlock Elite vs. Sport at length, which of these dumbbells is the ideal fit for you? Here are some of my top pointers to help you make the final decision.
Your hands are larger than average, and you need the space inside the handle while working out.
You like to lift hooks and straps to keep your training challenging.
The space in your home gym is constrained.
You are not too fastidious about locking the weight bars every time you add one.
You want a modern-looking dumbbell that is a bang for your tight budget.
Your wrists are not as strong, and your hands are on the smaller side.
You prefer the padded support bars as opposed to a straight-bare bar.
The classic PowerBlock aesthetics appeal to you.
You like the variety of weights to keep your upper body workouts in top shape.
The idea of having PowerBlock's best-selling fitness gear in your fitness gear collection.
We earn a commission if you make a purchase, at no additional cost to you.