Powerblock is a well-known dumbbell brand based in the United States. This brand came into being after the founder observed that the traditional dumbbells were making a mess and clutter on the gym floors. This issue paved the way for adjustable weight dumbbells.

Two of the best Powerblock dumbbells in the market right now are the Powerblock Sport and the Powerblock Elite. You must be thinking which dumbbell is the best choice for you.
You are in the right place because today, we will be keeping up with Powerblock vs. Elite. Is there a clear winner between the two? Continue reading to find out.
PowerBlock Elite vs Sport – Which one to Choose?
Either series hold the possibility to extend, and both produce the same weight ranges. The Elite model is less expensive; however, the Sport model has a broader space for the movement of your arms and higher built quality. Nevertheless, the PowerBlock Dumbbells have a reputation for lasting longer when put to the test.
Powerblock Sport vs. Elite – Comparison
What are the benefits of using a dumbbell?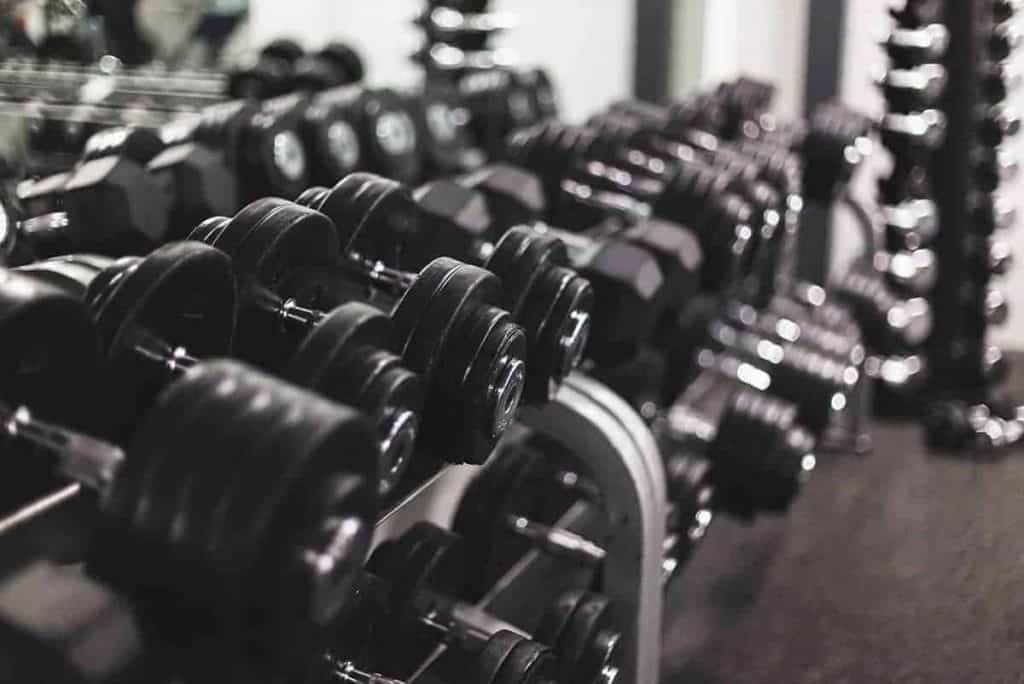 Dumbbells are affordable, compact, convenient, and safe pieces of gym equipment that you can use at home. Given below are some of the benefits of using a dumbbell:
Dumbbells are very flexible in the sense that you can engage in many exercises using just one device.
You can balance your strength on both arms with dumbbells.
Some dumbbell exercises help in improving balance and stability.
Dumbbells do not take up as much space as other home gym machines or pieces of home gym equipment.
Strength training is affordable, with the help of dumbbell exercises.
You burn more calories if you add dumbbells into your workout sessions.
Dumbbells are safe and do not require an expert to figure out how to use them.
You have a range of motion and freedom of movement when using dumbbells, unlike other types of gym equipment.
Dumbbell workouts are an excellent method to build lean muscle mass.
Why buy Powerblock dumbbells?
Powerblock is a very innovative and trustworthy brand when it comes to the dumbbell industry. If you are worried about whether the dumbbells will be durable and easy to maintain, you do not have to worry. Powerblock dumbbells are convenient and offer many benefits such as:
The price range of Powerblock products is extensive, and thus, you will get one for every budget, whether low or high.
They have adjustable weights. You do not have to buy a broad set of different weights.
You have the option to exchange a low weight range for a higher one in the future from the expansion set menu.
You can get a rack stand and power bench for the same dependable quality, specifically for use with their dumbbells.
How to use PowerBlock dumbbell for a full-body workout?
As mentioned earlier, adding dumbbells to your workout routine helps you to intensify your exercises and burn more calories. You can give your whole body proper shredding by doing squats, lunges, split squats, incline dumbbell presses, and dumbbell bench presses.

If you are not sure what these exercises look like, you can click on this video and get a visual demonstration of a full-body workout with dumbbells.
How to buy the best Powerblock dumbbell for yourself?
Keep the following points and tips in mind while buying a dumbbell:
Price
Since you are comparing two products under the same brand, we suggest you set a budget and then continue with the other points.

We say this because you may not be able to buy the dumbbell even if it suits all your needs if it is priced much higher than what you are willing to spend.
Size
The next thing to check is the size of the dumbbell. Buying a full dumbbell set may not be very convenient if you have a small space or room.

Going for adjustable weight dumbbells like the Powerblock dumbbells will allow you to own a full weight set in just one product.
Weight
If a weight is too heavy for you, you will end up hurting yourself. At the same time, if it is too light, you will not get enough gains from it.

The best thing to do here is to make sure that the weight corresponds to your strength and experience before finalizing your purchase decision.
The material of the dumbbell
Almost all the dumbbells in the market are either steel or rubber. You can also get neoprene and plastic dumbbells.

The good thing about rubber dumbbells is that they are durable and do not cause as much damage as steel dumbbells when you drop it. On the other hand, steel dumbbells are very sturdy, and the chances of these product breaking are very low.
Feature comparisons
There are very few features to compare because both the products are from the same brand and have similar qualities. But for your convenience, we have made some possible comparisons to help you choose:
Price
The Powerblock Sport is more affordable than the Powerblock Elite dumbbell. If you are on a tight budget, it will be best to go for the Sport.
Weight range
Both the Powerblock Sport and Elite have adjustable weights. However, the Elite has a more extensive range of weight from 5 pounds to 50 pounds for a single hand. Meanwhile, the weight range of the Sport is limited to 3 to 24 pounds.
Added features
There are some added features like an auto-lock handle and two chrome adder weights. You do not get these on the Powerblock Sport.
Beginner friendliness
We can safely say that the Powerblock Sport is more beginner-friendly solely based on the fact that it has a lower minimum weight of 2 pounds.
The Powerblock Sport Dumbbells are known for their quality and aesthetics. These dumbbells come with specially designed handles for allowing an increased range of motion, with contoured rubber grips for increased comfort, solid steel, and powder-coated weight stacks.

The bands on the side rails are color-coded and also have weight indication, which makes it very easy to see which weights the dumbbells are set in at any given time. The "auto-lock" feature helps to make even the smallest adjustments by 2.5 or 5 lbs.

It also has a selector pin for easy and efficient selection of desired weight. Not only these, but the Powerblock Sport Dumbbells also come in a very convenient and handy size, with the following dimensions for the Sport EXP model (90 lbs configuration):

16" L x 6.5" W x 6.5" H Sport 50
12.5" L x 6.5" W x 6.5" H Sport 24
10.5" L x 5.25" W x 5" H

This product is super compact and can replace up to 8 pairs of dumbbells or free weights. Its design also helps to maximize balance and control over the arms movement and muscle development focus. Manufacturers sell this product in pairs.
Pros
Simple and easy to use, even for beginners
High ease in switching the weights
High-quality body and parts
It is a long-lasting product with high durability and minimal signs of wear and tear
Perfect size and applicability for home-use
Cons
A low value for money
Some design issue in terms of practicality
Jamming issue
It can get misaligned even after inserting the pin correctly
Product shipment issues
The Powerblock Elite Dumbbells are also equally compact, efficient, and aesthetically pleasing. This dumbbell design offers maximum efficiency and helps to replace up to 16, 22, and 28 pairs of dumbbells depending on the weight of dumbbells per hand.

Like its Sport counterpart, the Elite dumbbells come with weight stacks made of welded steel construction with powder-coated paint.

The handles come in a cylindrical design that is straight and covered with padding to add extra comfort while gripping.

The side rails also come with weight indications and corresponding color-codes, making it extremely convenient to identify the current weight setting on the dumbbells.

Also, to help change the weights quickly and effortlessly, we can use the selector pin, which can hold a weight load of 500 lbs.

To add to its already attractive features, the Powerblock Elite Dumbbells come with a dial lock that can assist in making small adjustments up to 2.5 lbs.

Like its Powerblock Sport counterparts, the manufacturers also sell the Powerblock Elite Dumbells in pairs of two.
Pros
Easy to store
Easy to use and extremely convenient
It is the perfect equipment for home-gyms
Good quality
It is very long-lasting and durable
Cons
Can be cumbersome
Shape and design flaws which limit versatility
Noice issues relating to clanking when in use
Not very appropriate for weights above 100 lbs
Product shipping issues
The Bottom Line
Although the Powerblock Sport is more affordable than the Elite, we pick Powerblock Elite as the winner in this comparison because it makes up for the higher price with attractive features. You get a broader and higher range ion weights and auto-lock handle.

However, both the products are durable and of high quality. You will not regret buying either of them.