You've always wanted a home gym, but you're intimidated by the prices or the effort that will go into what sounds like a really massive home renovation project. It's not as hard or as expensive as you think.
In this article, we'll cover everything you need to know about how to build a home gym:
How to plan a home gym that suits your needs
The best gym equipment to start with and what to look for in each one
Where to find the best bargains and sales
How to renovate your area
So even if you only have a hundred dollars, this guide will help you make the most of each purchase—and create the best home gym you can get on your budget.
P
How to build a home gym
I'll be frank: a home gym takes money, space, and time. If you're just looking for something light to do a few times per week, it's not worth it.

But a home gym has several benefits over a health club membership if you're serious about lifting, training for a sport, or committed to long-term fitness goals.
You save money
A local gym membership charges an average of $507 in the first year and about $479 for the next years (source: RunRepeat). More premium clubs with better facilities and fewer crowds will cost two or three times more.

In contrast, you can already build a pretty decent home gym at about $1,030 to $3,200. So it pays for itself in 2 years—possibly faster, considering the money you save on gas, parking, branded gym clothes, and ridiculously overpriced workout snacks at the health club's juice bar.
You have more motivation
According to LiveStrong, the most common reasons that people skip the gym are:
They don't have time (39.46%)
They feel insecure or self-conscious (16.55%)
The gym is too crowded (14.28%)
They have other conflicting duties like childcare (10.11%)
A home gym resolves all those issues. You can work out at your own convenience, and you don't have to worry about people judging your form or hogging the dumbbells.
You have more control
Gyms have a lot of machines, but they also have a lot more people. During peak hours, you'll spend more time waiting for your turn than actually lifting weights.

At a home gym, it's just you and your workout. You can focus, build momentum, and maintain the right pace and pauses between intervals—for a better burn and more gains.
You reinforce your commitment
The investment you make into building a home gym can be the push you need to take your fitness to the next level.

You no longer have excuses to skip your workout or miss your 10,000 steps, and any guilt from spending money on machines can be channeled into making sure that you're getting the most out of them.

If any of these reasons resonate with you, then do it. Don't let worries about the budget, space, or the logistics just yet—with this guide on building a home gym, we'll figure out a setup that works for you.
Step 1: How do I plan my home gym?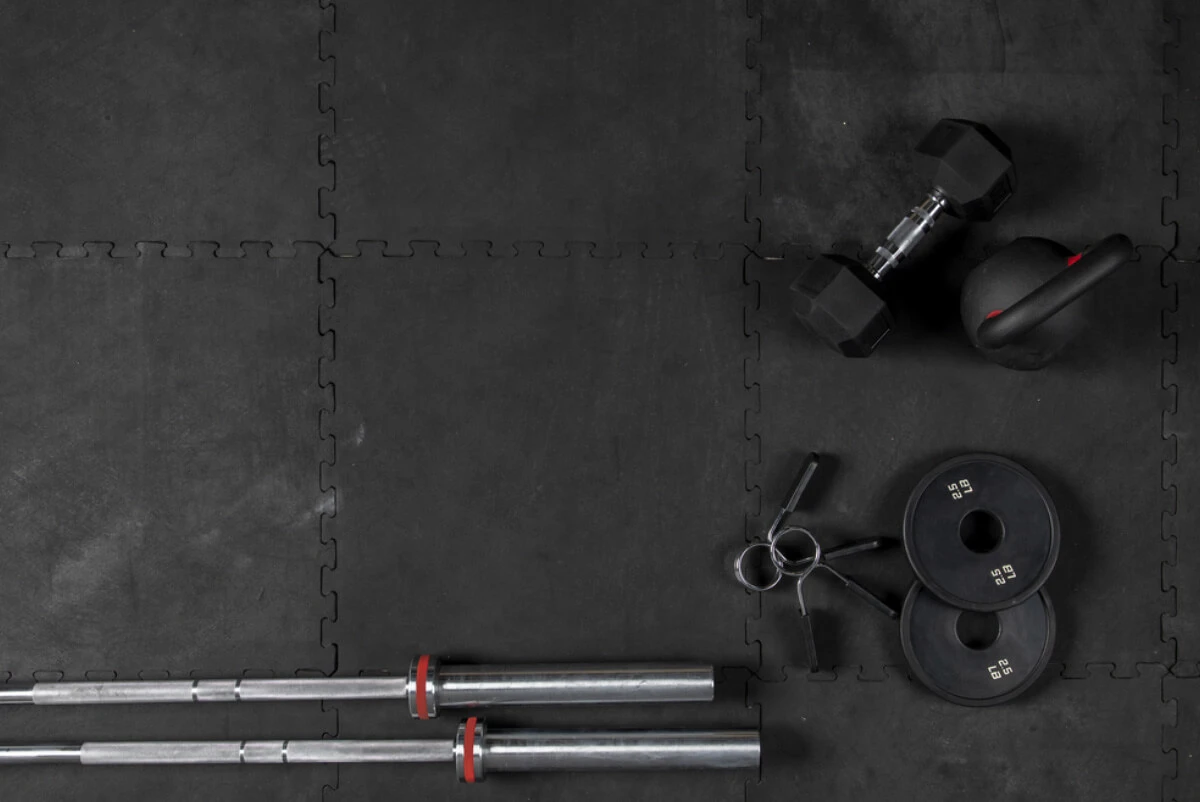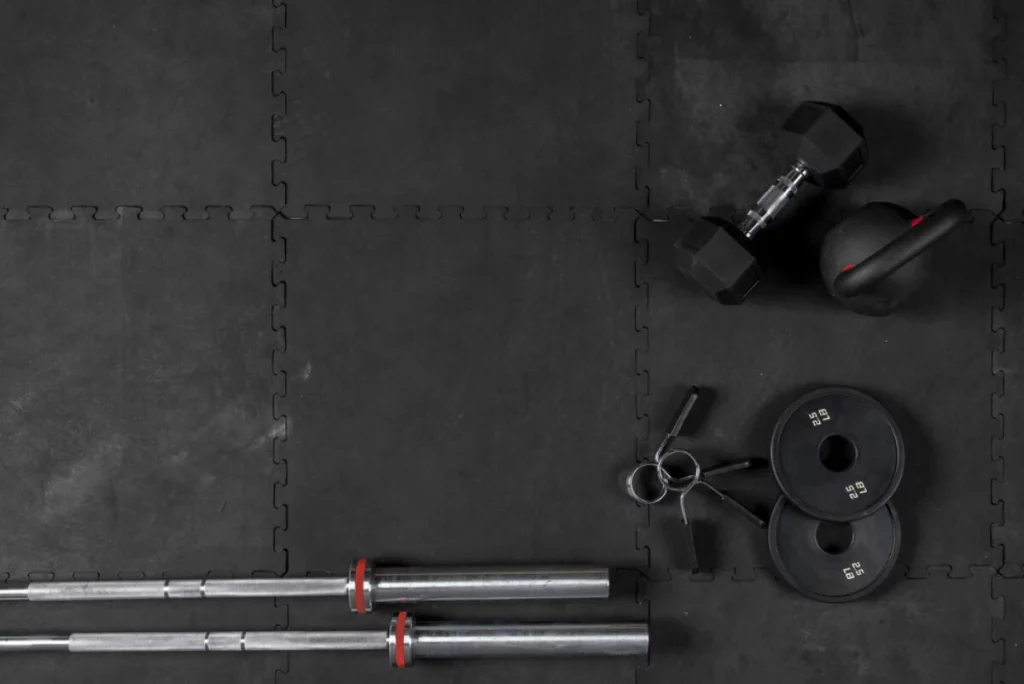 This is your personal gym, so it should reflect your needs and preferences.
What kind of workouts will you do? Generally, exercise routines fall under strength training, cardio, stretching, and mobility work. Under each category, list the types of workouts you want to be able to do in your home gym, i.e., weightlifting, calisthenics/body weight exercises, running, dance, yoga, pilates, etc.
How much space do you have? Identify the room/area and its dimensions (length, width, and height). Consider the type of flooring and special considerations like privacy or downstairs neighbors who may complain about the noise.
What is your starting budget? The key word is starting budget because you can always make additional purchases or upgrades later on. Write down must-haves (or what you will need to get a workout that you're happy with) and nice-to-haves (what you can put off or buy if there is money to spare).
These questions can help you identify what you need, but you're probably also asking a lot of questions about whether you have enough space and money to accomplish it.

You can check out this Reddit forum on planning how to build a home gym to see the considerations people make when deciding what to prioritize. There's another forum on the biggest mistakes people make when they plan what to buy – listen and learn!

But we also researched specs and prices for you, so let's jump into that now.
Step 2: How much does a home gym cost, and how do I save?
What are the typical price ranges?
If you're buying totally new equipment, you'll spend between $500 to $3,000—depending, of course, on the brand and model.

It's expensive, but at least you enjoy a full warranty. Some machines, like treadmills, also come with free subscriptions like iFit.
| Price range | Weight plates | Barbell | Bench | Squat rack | Treadmill | Elliptical | Rowing machine |
| --- | --- | --- | --- | --- | --- | --- | --- |
| Budget | $250 | $75 | $50 | $155 | $500 | $500 | $270 |
| Medium | $500 | $250 | $250 | $350 | $1,300 | $1,000 | $500 |
| Premium | $750 | $500 | $500 | $650 | $2,000 | $1,500 | $1,100 |
| Professional | $1,700 | $1,100 | $950 | $2,000 | $2,500 | $2,000 | $2,000 |
Small equipment
Dumbbells. Average of $1.5 to $4 per pound
Kettlebells. The average cost of $1.86 per pound
Resistance bands. Ranges from $13 to $40
Jump rope. Ranges from $10 to $20
Yoga mat. Ranges from $50 to $100
Punching bags. Ranges from $100 to $250
Digital fitness mirrors. Ranges from $1,000 to $1,500
If all those numbers are freaking you out, don't worry about it. Even if you're starting at a small budget, you can still get a good setup. This video explains how to build a home gym for $500 with equipment from Amazon,
and this video does it for less than $1,000. So yes, it's possible if you know what you want and where to get it.
Where is the best place to buy my equipment?
If you're buying new, either go to a physical sporting goods store or shop online.
Where can I buy used gym equipment?
Best Used Equipment: Save up to 70% by buying refurbished equipment from this site.
Global Fitness: It's been selling secondhand gym equipment for 20 years, so you can trust the site.
Craigslist. You can get fantastic deals if you're willing to check regularly and wait until you find what you want.
Facebook Marketplace. Search for the specific equipment you're looking for, and find the nearest local sellers.
Estate sales, garage sales, and fitness forums
When are the best home gym equipment sales?
When looking for the best deals, you don't just need to know where to go, but when to buy. Mark your calendars for the typical months when sports brands go on sale, according to Live Strong and Home Gym.
End-of-year and early January
Around food-based holidays like Thanksgiving, Memorial Day, and Labor Day
Black Friday – check some of these links to special sales on Reddit
June, when brands hold mid-year sales to make room for new, incoming models
When local gyms close down
Brand anniversaries (follow their website or social media to stay updated)
How can I build a DIY home gym?
You can make your own home gym equipment if you're good with tools—or know someone who does.

The benefits of going DIY are that you can save money and customize the size and specs according to your space.

Here are some tutorials that can help you DIY popular gym equipment. Just remember that safety comes first, so pay extra attention to the quality of construction and materials.

Wobbly equipment can lead to injuries that are much more expensive to treat down the road.
You can also visit this link for tutorials for other home gym equipment and accessories, such as kettlebells, gymnastic rings, parallettes, and more.
Step 3: Where should you put your home gym?
When you're selecting an area, consider the following pros and cons.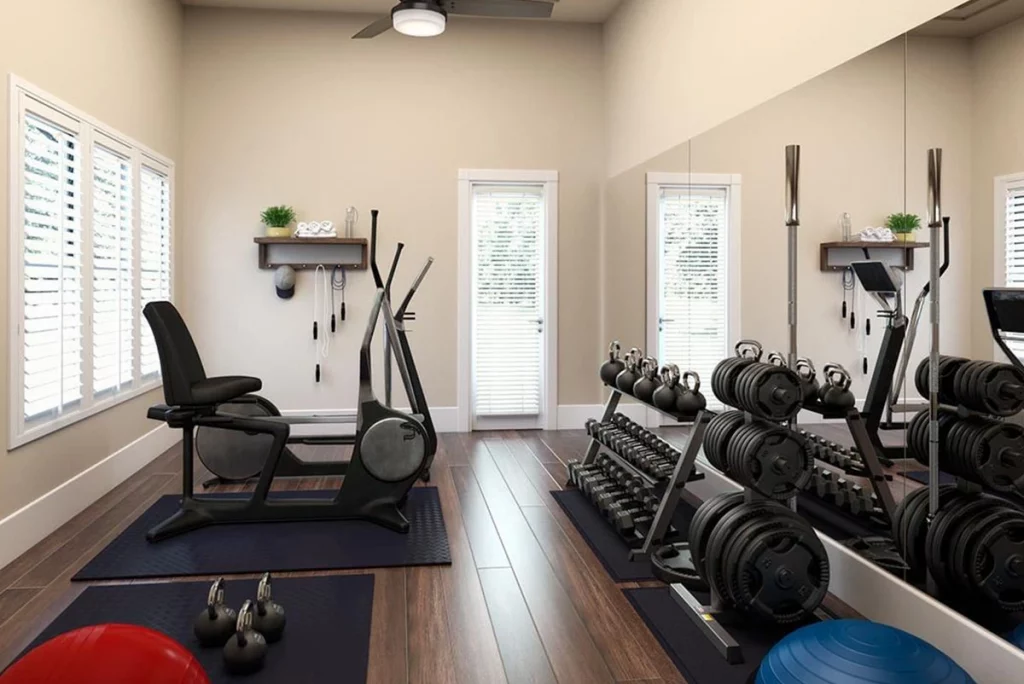 Garage or basement
This area is usually spacious and made of sturdy concrete floors that won't be damaged by dropped weights and other wear-and-tear.

However, you will need to invest in insulation and a heater or air-conditioner, so it doesn't get too cold in the winter or hot in the summer.
Spare room
An extra room will generally be easier to access and decorate. If it's got windows, you also have natural sunlight and ventilation—and a great outdoor view to enjoy while exercising.

You will just have to protect the flooring. If you work out late at night, consider soundproofing to prevent waking up neighbors or family, and make sure that pets or kids can't get in when you're not around.
Balcony
A small balcony can fit a bench, weights, and other portable gym equipment. You just have to check the space's load limit.

If you're lifting weights above 300 pounds, it's safer to ask a certified engineer. But you're good to go if you're using a few free weights and a cardio machine.
Outdoors
Turn your yard into your personal workout space. You get fresh air and plenty of space. However, you will need to invest in a covered area to protect equipment from rust and weather damage and lighting for night-time workouts.

And contrary to popular belief, you can't just work out on plain yard soil. You need a non-slip surface, such as artificial grass, rubber playground surfaces, or paving stones.
Step 4: What are the best home gym equipment to start with?
For powerlifting and bodybuilding, a basic gym setup will usually include:
A bench.
A squat rack with a pull-up bar that's already attached.
An Olympic barbell.
About 300 pounds worth of weight.
With these alone, you can already do four important kinds of lifts (squats, bench press, deadlift, and overhead press) and many different kinds of barbell moves such as curls, rows, shrugs, and tricep press.

If you're on a tight budget or new to weightlifting, start with adjustable dumbbells instead of a barbell and plates.

For cardio, you don't necessarily have to splurge on a treadmill just yet. Aside from running outdoors, you can get the same kind of workout with a jump rope, high-intensity interval training, or calisthenics like burpees.

We recommend getting an exercise mat and resistance bands, which can allow you to add a variety of moves for strengthening, stretching, and developing mobility and stability. And even if you already have a lot of plates, get a few dumbbells.

We find that many of the free exercise videos on Youtube and fitness apps will require these four items in their workouts.
What should I consider before purchasing home gym equipment?
If you're on a tight budget, buying high-quality items is better than getting cheap ones you'll eventually toss out. You can also wait for sales or take advantage of installment payments.

While you can find good equipment from unknown brands, if you're new to fitness, it's better to stick to brands that have earned a good reputation.

Some examples are Bowflex, Titan Fitness, Rep Fitness, Rogue, Fringe, Kabuki, American Barbell, Eleiko, etc.

When comparing products, you can look for these features to know that you're getting a good buy.
Barbell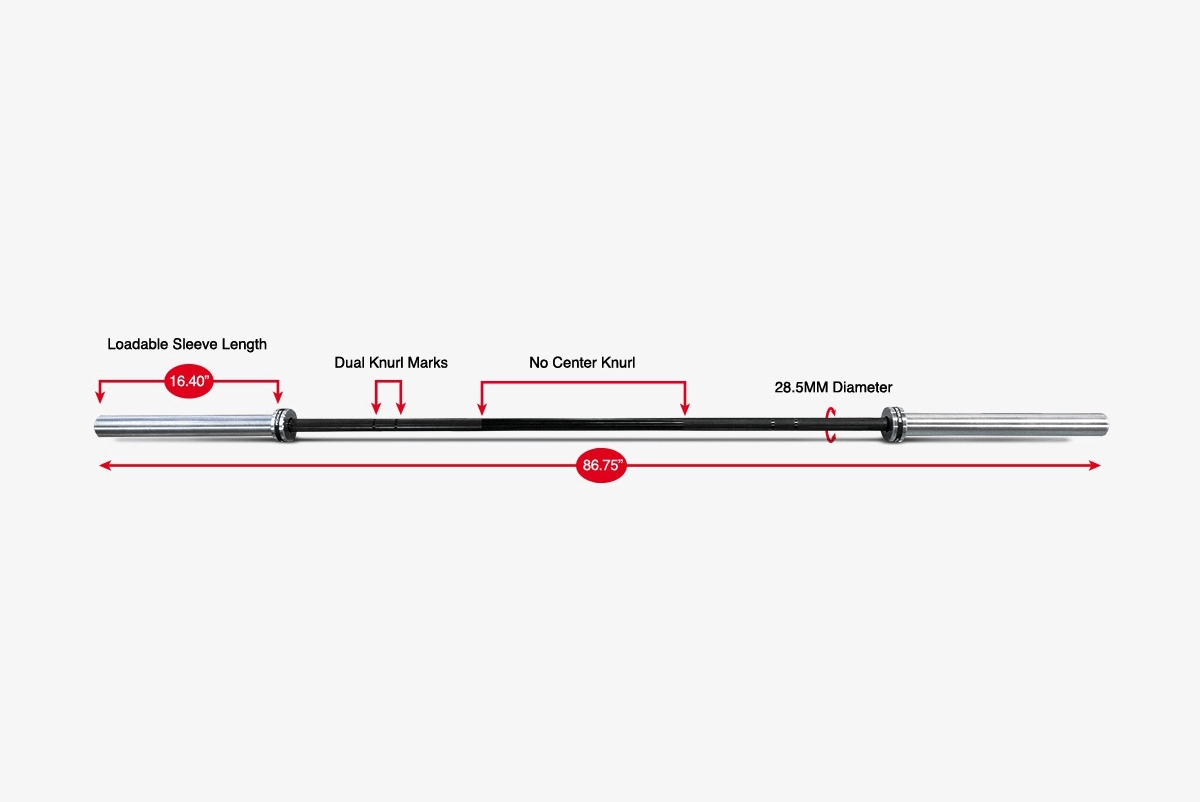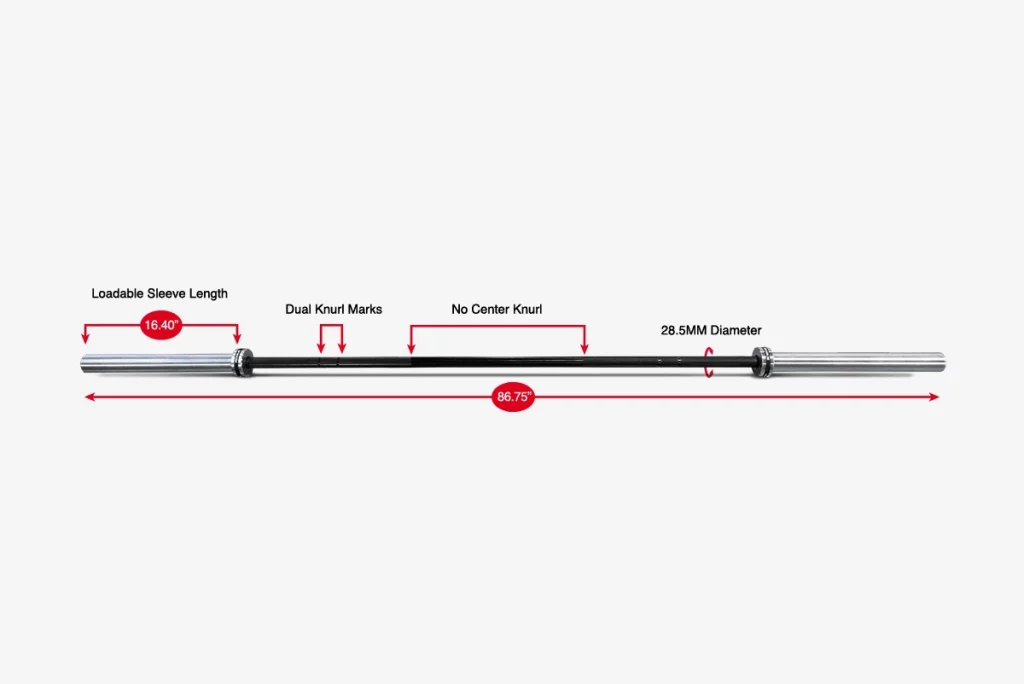 The barbell is one of the most important things you will buy for your home gym. The average weightlifter will need an Olympic bar with two inches diameter sleeves, a medium knurl, and a length of 28.5 to 29mm. Most bars sold on Craigslifts are standard bars, so check carefully before buying.

Look for a barbell that can carry 700 pounds or more and has a tensile strength of over 180,000 PSI. It should have a durable hard chrome or stainless steel finish.

Bars with a black finish are a bit cheaper but will rust easily and are difficult to grip, especially if you lift heavy weights.

Make sure it gives you a good grip and feels comfortable to hold. Aggressive knurling can give an incredibly good grip but can feel sharp and hard unless you wear gloves. Medium knurling is ideal for most people.

Lastly, a good barbell should have sleeves that can spin, so the bar (instead of the weights themselves) spin as you lift. This safety feature becomes more important as you lift heavier weights.
Squat rack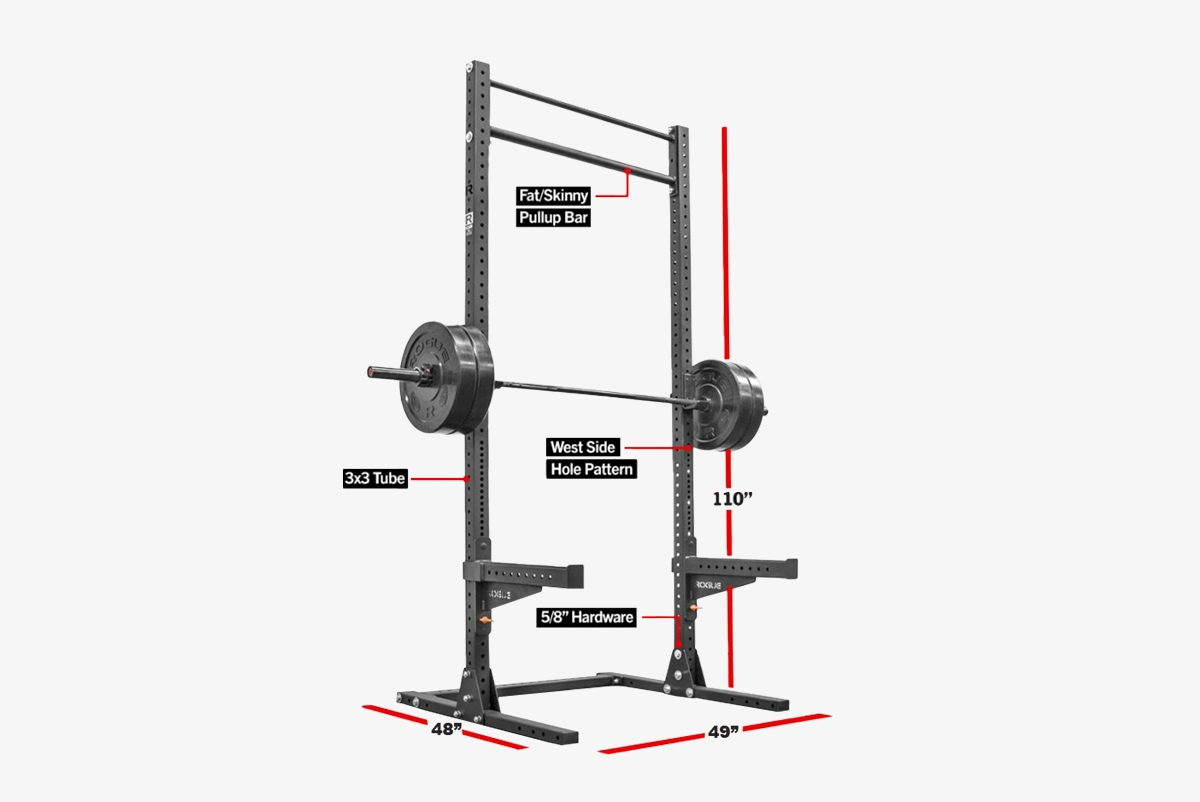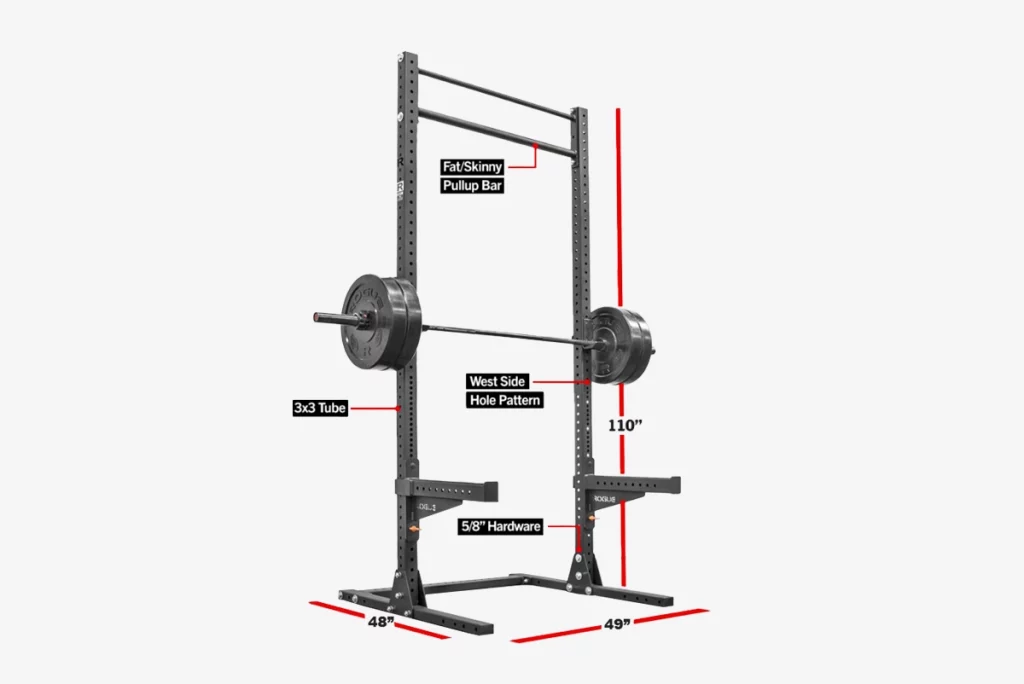 When you do squat racks alone at home, a squat rack practically acts like your "spotter".

It has safety straps, pins, or arms in case you drop the bar, making it easier to load heavy weight.

Some racks will also have built-in pull-up bars or dips where you can do core exercises.

Given that, it's essential to invest in a good squat rack from the get-go. A poorly constructed rack is a safety risk and a complete waste of money. Get one that has a listed weight capacity of 1,000 pounds or more and has safety arms, pins, and straps.

Another important factor is the rack stability. Stay away from racks that just have plastic inserts at the feet.

Look for one with flanges or bolts that you can secure to the floor or platform or a flat foot rack or cross sections at the base. These features prevent the rack from tipping.

The next thing to consider is the shape or size of the rack, considering the available space of your home gym.

Cage racks take up the most space, or you can use a more compact rack. You can get a collapsible rack or a squat stand if you have a very small space.
Weight plates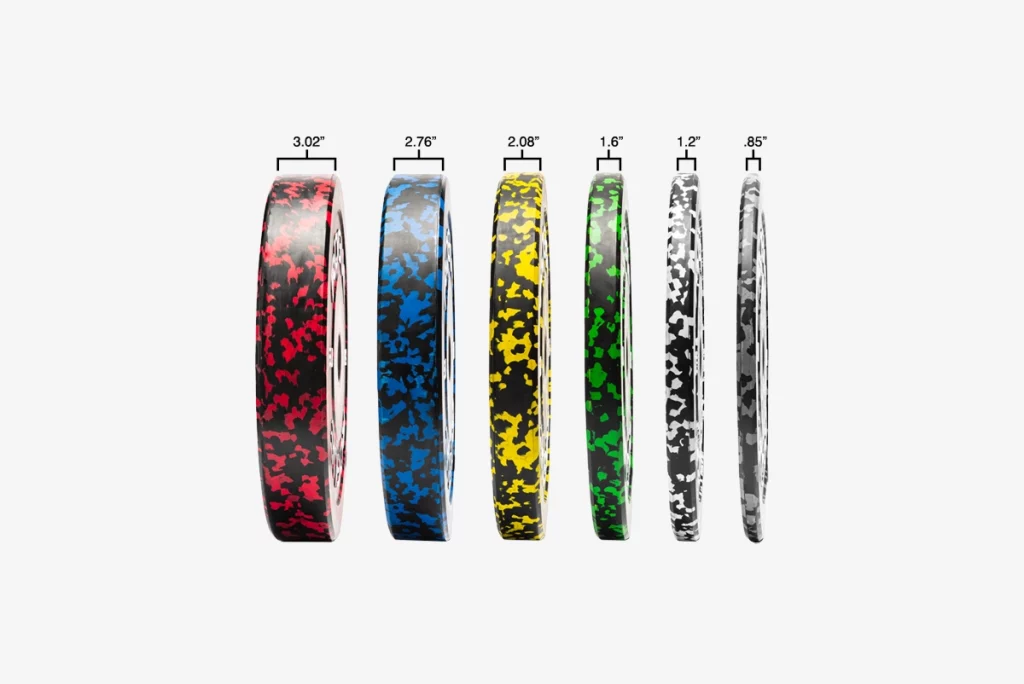 If you've got an Olympic bar, then you need Olympic-sized discs with a 2-inch diameter hole. In the same way, standard discs with a 1-inch diameter hole will fit into the standard bar. Studio discs, typically used in group classes, have a 30mm hole.

Now let's dive into how to pick the right plates.
Material
Traditional plates are made from iron. They're very affordable, but they are noisy and will eventually rust. Look for those that have been painted or coated, which can slow down (but not 100% prevent) corrosion.

Rubber-coated weights are rust-proof and are easier on the floor but can smell unpleasant. The cheaper the plate, the stronger the smell is.

Urethane-coated plates are odorless and are less likely than rubber plates to get scratched and worn down.

You may see the term "non-standard," which means they have a smaller circumference and grips so you can make moves like the plate front raise.

Bumper plates are made of solid rubber, so they cause less damage to the floor (or you) if they're dropped. These will also come in different colors, based on the weight.
Shape
The safest and most practical shape is the classic round plate. You may find plates with unique shapes like hexagons, but these serve no real benefit and can actually be dangerous if they move as you lift or put down a heavyweight.

Also, look for plates with hand holds, whether handles or a lip around the outer edge. Unlike completely smooth plates, these are much easier to pick up and load on the bar.
Weight bench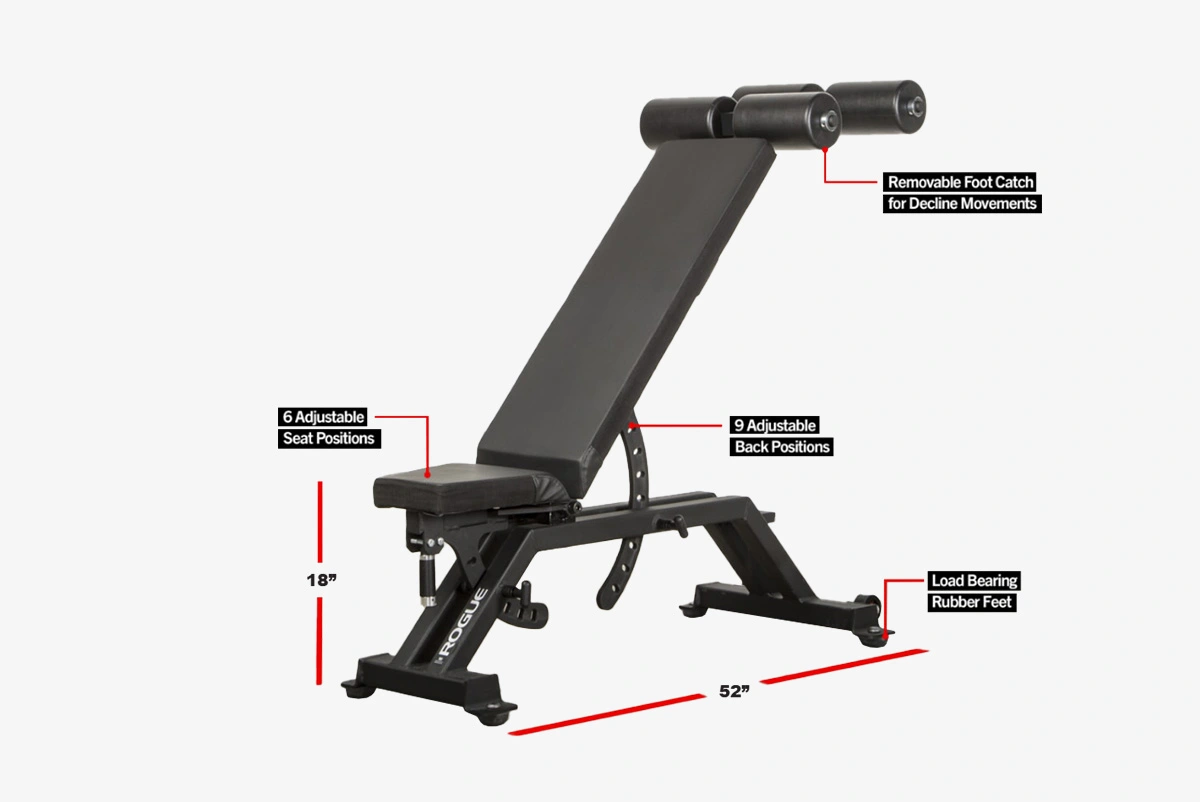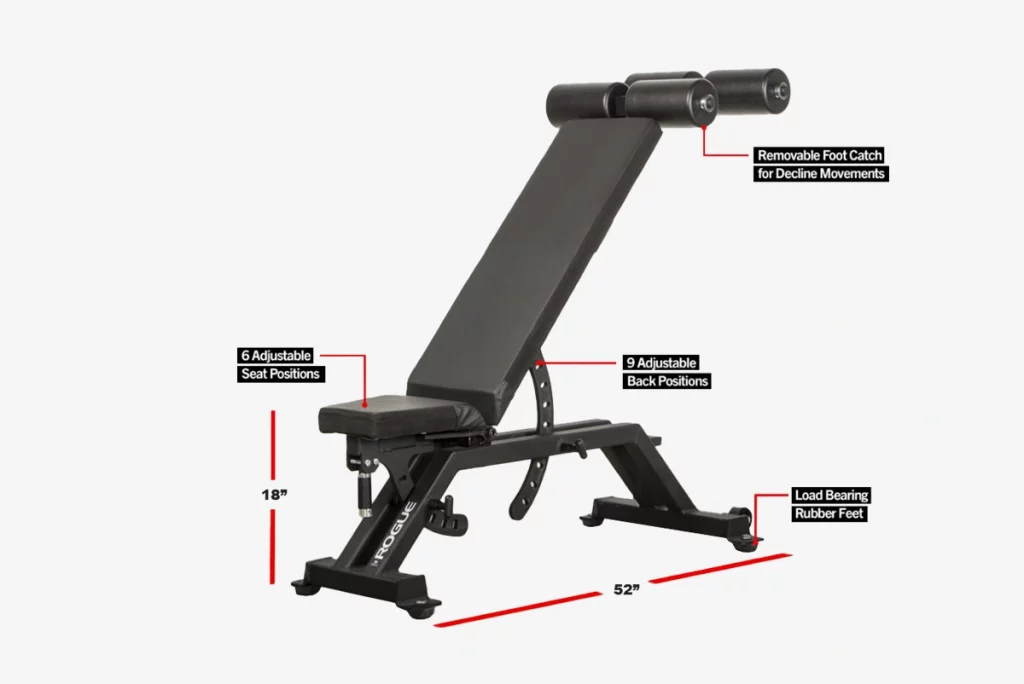 You have three choices: a basic flat or adjustable bench, a barbell bench, or a multi-function bench.

The cheapest option is the flat bench, which can be inclined upwards. Some can only go to a 45-degree angle, but the more upscale models will allow more intervals and even lowered on a decline or raise up to 90 degrees. If you're willing to spend more dollars, this function can actually save space.

In terms of quality, look for a bench that feels stable and securely locks into the angle or position so it doesn't move as you exercise. Ideally, the seat (and not just the back) of the bench can also be adjusted.

For durability, look for a stainless steel frame and high-quality padding that is securely attached to the frame. A bench with padding that's 2 inches thick or more will feel more comfortable and support your body better.

Barbell benches and multi-functional benches come with built-in frames or have accessories for your workout. They can help save space and make it more convenient to perform your routines.

However, they are more expensive. If you're on a budget, buying a high-quality bench is better than getting a cheaper bench with additional features.
Jump rope
Since jump ropes became such a huge fitness trend, there have been many different ropes in different materials. So, which one is best for your home gym?

Nylon and fabric jump ropes are the worst. Stay away from them: nylon is too light and flimsy, fabric ropes are heavy and slow, and they get dirty very easily.

Jump ropes made of plastic beads are colorful and create a sound while they hit the ground—which can help you establish your sense of rhythm and cadence.

Leather jump ropes are the favorites of top boxers like Mohammed Ali, George Foreman, and Mike Tyson, who used them to improve their leg speed.

However, a fast-moving leather rope is pretty much like a whip and can nick or cut your skin unless you have good coordination.

Plastic or PVC jump ropes are affordable, but the weight isn't always balanced. So either get a good jump rope from a trusted brand or spend a little extra on another type of material like steel cable.

A 4mm thickness is ideal for most people because you can feel the rope as you turn it.

If you plan to use jump ropes extensively in your routine, consider getting a weighted jump rope. It can build speed, endurance, and power.
Dumbbells
When you're buying dumbbells, the key consideration is space. They can easily clutter your home gym floor, and tripping on them is always painful.

Some dumbbell sets will come with a rack, so you can safely stow them away when not in use. But the set and the rack will still take up space—and if you also have Olympic weights to store, that will take up a lot of valuable real estate.

If you plan to use several dumbbells in your routine, you may be better off getting an adjustable dumbbell. You can adjust the weight simply by changing plates, which you can stack with the rest of your equipment when you're done. Some adjustable dumbbells also have an extendable bar.
Collars
Barbell collars secure the weights on the bar, which is critical for safety and keeping the weight load even.

Stay away from spring collars which are cheap but not that effective. You might as well get good ones that are durable and easy to attach. Look for those with a latch, clamp, clip, or a screw top that you can remove.

Rubberized or any lined collars won't damage your bar's finish. If you want a metal collar, look for a corrosion-resistant material like aluminum.
Step 5: How should I design my home gym so it's more conducive to workouts?
Just like any area in your home, your gym should feel comfortable and pleasant to be in.

If it looks like a closet full of equipment, or reeks of stagnant sweat, you'll never want to stay there for long. Here are some factors to consider and design tips.
Lighting
Lighting affects your mood and energy levels, so keeping your workout area well-lit is very important.

Interior designers recommend combination lighting. Diffused LEDs at the corners or ceiling coffers can wash the room with soft light. Overhead lights can provide brighter "task lighting".

Ideally, your gym area should have windows for both natural light and ventilation.

But if you're working out in a basement with no windows, mirrors can simulate the effect of reflected light and further brighten up the room.
Ventilation
Ventilation and temperature control are critical for your comfort. If you don't have windows, use an extractor fan or dehumidifier to prevent your gym room from becoming too steamy (and stinky). Add fans or an air-conditioner so you can stay cool as you sweat it out.

If you live in an area where temperatures can get really cold, especially in the winter, you will need good heating and insulation.

Look for a heating system with a timer, so the room can be comfortably warm by the time you're working out.
Flooring
The flooring should be resilient and scratch-proof. Budget-friendly options include rubber tiles or vinyl, which many commercial gyms use.

Aside from being easy to clean and disinfect, they can take the wear and tear of dropped plates.

Carpeting is a hit-or-miss: on the one hand, it muffles the sound and can create a comfortable padded surface.

However, it attracts dust and will require more cleaning, and the heavyweights and equipment will leave an ident.

If you're willing to vacuum once in a while and don't mind a few bald spots in your flooring, consider carpeted tiles: it's cheaper, easy to install, and you can replace a section if needed.

If you do different types of workouts, you might want to create workout zones. For example, an area rug on which you can place your exercise mat not only adds color to your room it can prevent the mat from sliding.

It's also important to place individual mats under a treadmill or stationary bike. It can muffle the noise when you exercise and catch any spilled water or drops of sweat.
Walls and mirrors
Choose a paint that has a matte surface because it's easier to clean. Lighter colors can make a room feel bigger.

You can also have a "statement wall" painted in a bold, contrasting color. It's an inexpensive way to add flair to your fitness area.

You can also hang your weights or other equipment on this wall—for example, a row of black weights against a red wall makes a very cool focal point.

Mirrors can make a room feel bigger and also lets you check your form as you work out. You can install wall-to-wall mirrors or hang a framed mirror.
Storage
Make room for a few cabinets or shelves to stow away workout accessories like a foam roller, resistance bands, supplements, towels, etc.

You can even get custom cabinets that are large enough to hide your weights or dumbbell rack—which can make the room look better and maybe safer if you have kids or pets in the home.
Extras
Once you've settled into your room, consider creating a wellness station just like the high-end gyms. This can be a cabinet where you can put a small water cooler or your juice press, healthy snacks, and a storage area for supplements.

Other great extras are speakers and a TV, especially if you like to listen to music or want to follow a workout video.

The more your home gym feels like a sanctuary—a place where you don't just exercise but feel happy to be—the more motivated you will be to use it.
What maintenance and repair does a home gym need?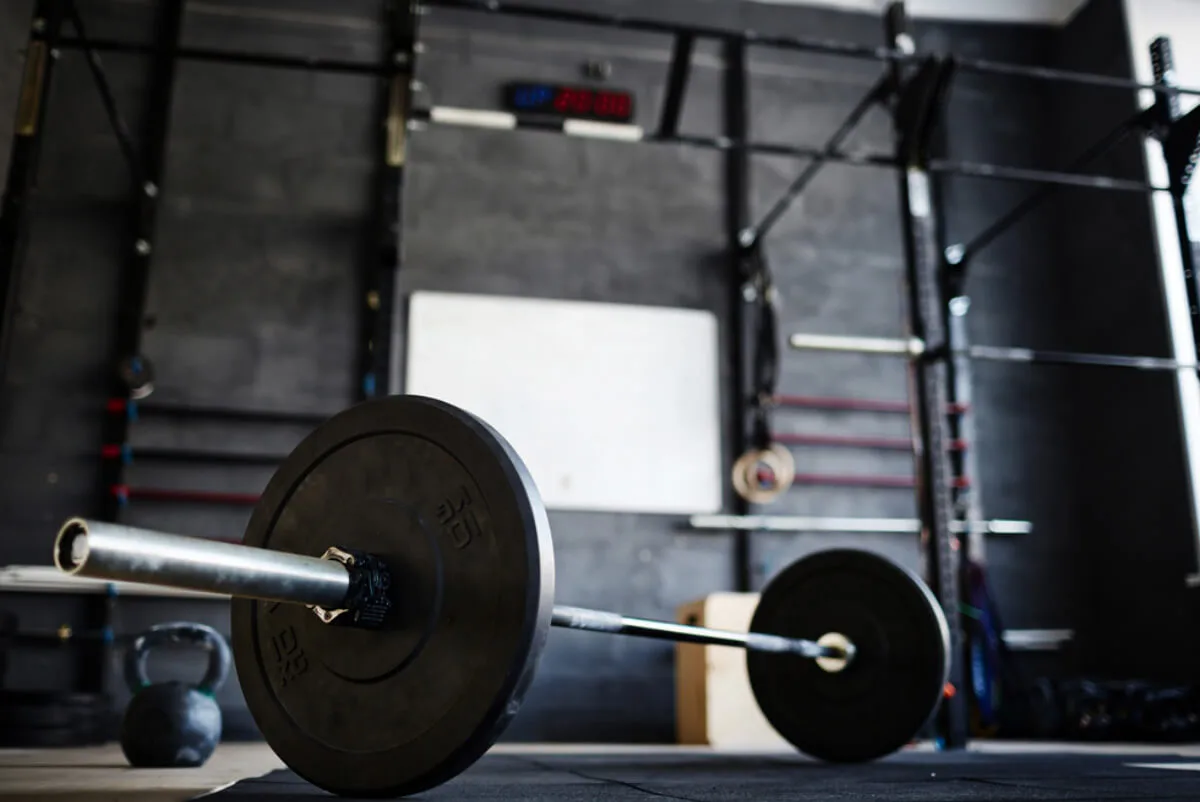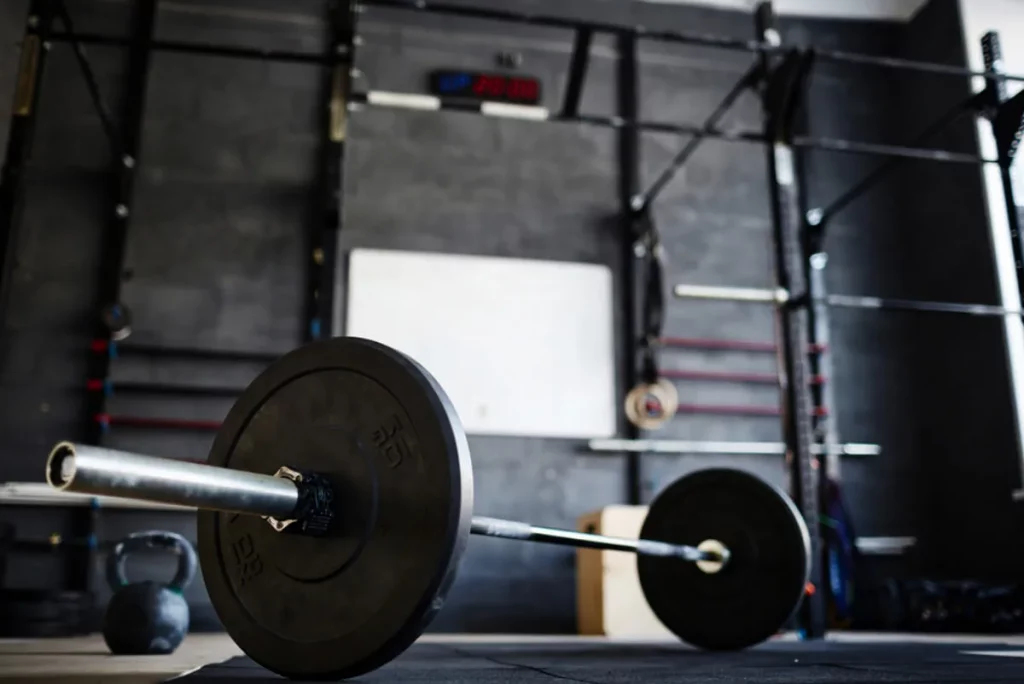 With all the money you put into your home gym, it would be a shame for your equipment to break down prematurely because of neglect.

Clean and wipe down both the room and equipment regularly. Follow the manufacturer's instructions for the right type of cleaning product to use on it. Keep your supplies—and a bunch of soft rags—in a basket in your home gym area, so it's convenient to clean up after your workout.

Some gym equipment with moving parts, such as treadmills, may need lubrication to prevent rust from forming. Again, follow the manufacturer's instructions.

If your equipment breaks down, it's best to use original parts and contact someone who is trained and authorized to repair them. This prevents further damage to the machine (and possible injury to you).
Build the home gym that inspires you
A personal home gym is exactly that—personal. The equipment you get and how you decorate your space should meet your needs and preferences.

So, use this ultimate guide on how to build a home gym as a starting point. We've given tips on planning the gym, basic equipment you can start with, how to find good deals and what features to look for.

All these are meant to make it easier for you to narrow down what you want and know how to get it.

But in the end, the choice is yours. The best expert on what your home gym should look like is you, and the only criteria is: "Does it make you happy, and does it make you want to work out?"
Frequently asked questions
What's the best size for a home gym?
The American Council on Exercise recommends at least 20 to 50 square feet for gyms with free weights. If you have a treadmill or other large fitness equipment, you need about 30 feet.
Multi-station home gyms, which have both weights and other types of equipment, will naturally need more space—ranging from 50 to 200 square feet.
However, you can maximize space by using portable and collapsible equipment, such as a folding treadmill or a bench that can be completely collapsed.
I live in an apartment—how can I set up my home gym so I don't disturb my neighbors?
You can avoid the clang of heavyweights by getting rubber weights and placing a thick mat on the floor to muffle the sound.
If you have a treadmill, ensure the deck is stable and doesn't rattle as you run (this will usually show up in customer reviews).
Also, choose warm-up or HIIT exercises that don't require a lot of jumping. Even with a mat, your neighbors will hear the sound of the floor absorbing your full weight.
If you have the budget, you can also have your walls soundproofed, though this may not be worth the extra hundreds of dollars if you're only planning to work out a few hours a day.
How do I know if a secondhand gym equipment is good?
Buying secondhand is always a risk. Aside from checking out the seller and using escrow, it's always safer to get dumbbells or other kinds of equipment that don't have a lot of complicated parts that can break down.
If you're going to buy big equipment secondhand, either get it from an accredited and reputable website that specializes in refurbishing "pre-loved" gym equipment or insist on checking out the equipment personally before purchasing.
What's the lowest budget I need to start a home gym?
You can already get a bench and a couple of weights for about $300 to $350. Generally, it's better to buy a quality bench right away rather than get something super cheap that will wobble when you work out.
With those weights, you can already do a good workout—augmented by calisthenics and HIIT, which don't require any equipment.
When you're ready, start buying additional equipment such as a barbell and plates, a squat rack, etc. Some brands allow installment plans, so you can get "the good stuff" while making easier monthly payments.
I like working out, but I'm not sure if I should get a home gym—how do I know it's worth it?
Generally, a home gym is best for fitness enthusiasts who are 1) in it for the long-term and 2) find going to a commercial gym inconvenient or unpleasant.
If you're unsure, try it out by getting just a few weights. It's a low-cost, low-space investment. Find a workout routine you can do with those, and do it for about a month.
If you can use it consistently and find that you're motivated to exercise when you're at home, go for it.