In addition to testing, reviewing and recommending the best products, we may earn a small commission if you purchase through our affiliate links.
Budget-Friendly
Check Price
Best Overall
Check Price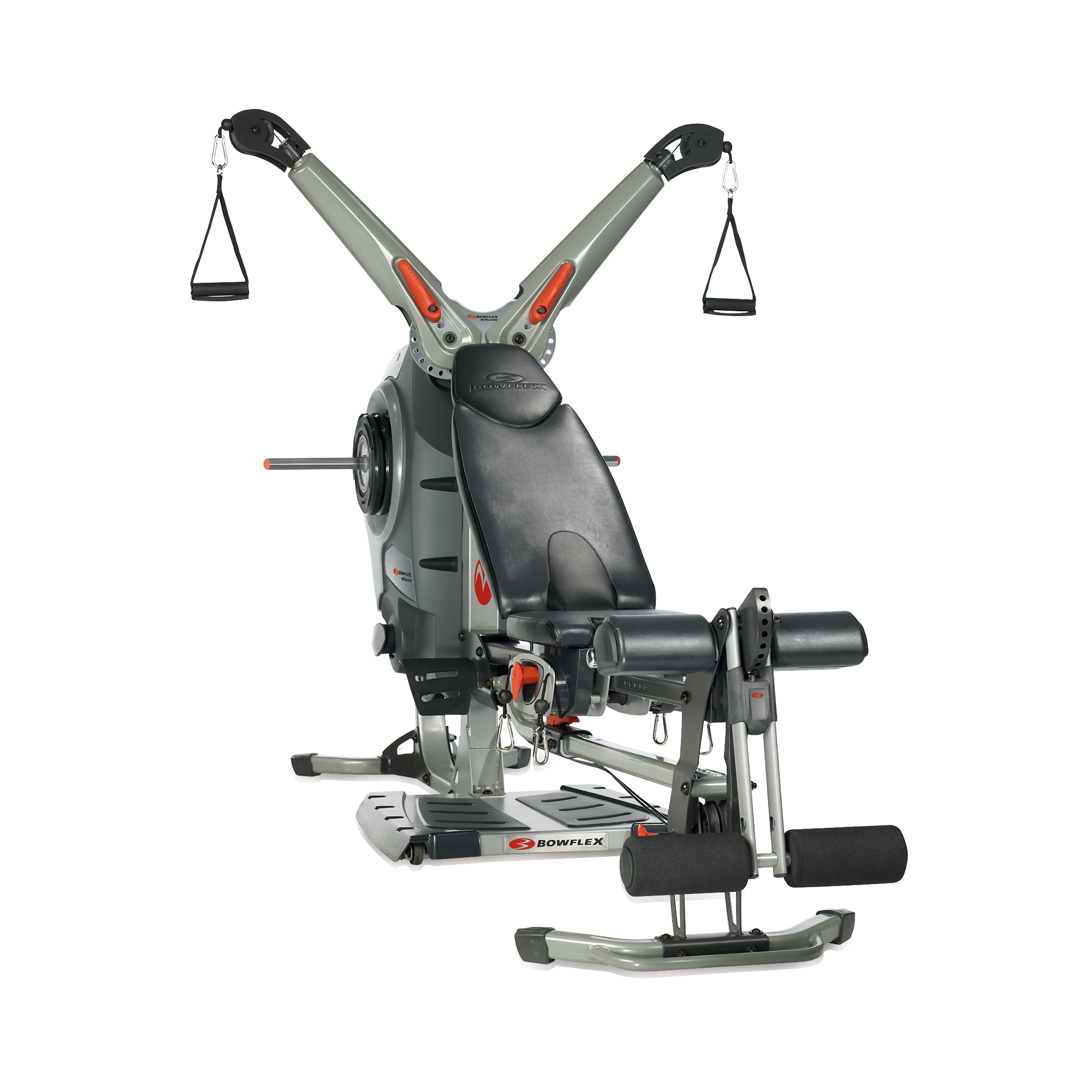 Best Premium
Check Price
We earn a commission if you make a purchase, at no additional cost to you.
Bowflex is one of the most popular brands when it comes to home gyms. They offer a wide range of machines that suit different needs and budgets.

If you're looking for the best Bowflex home gym for your needs, you've come to the right place. This article will discuss the eight best Bowflex home gym machines for 2022.

We'll also provide a buyer's guide to help you choose the right machine for your needs!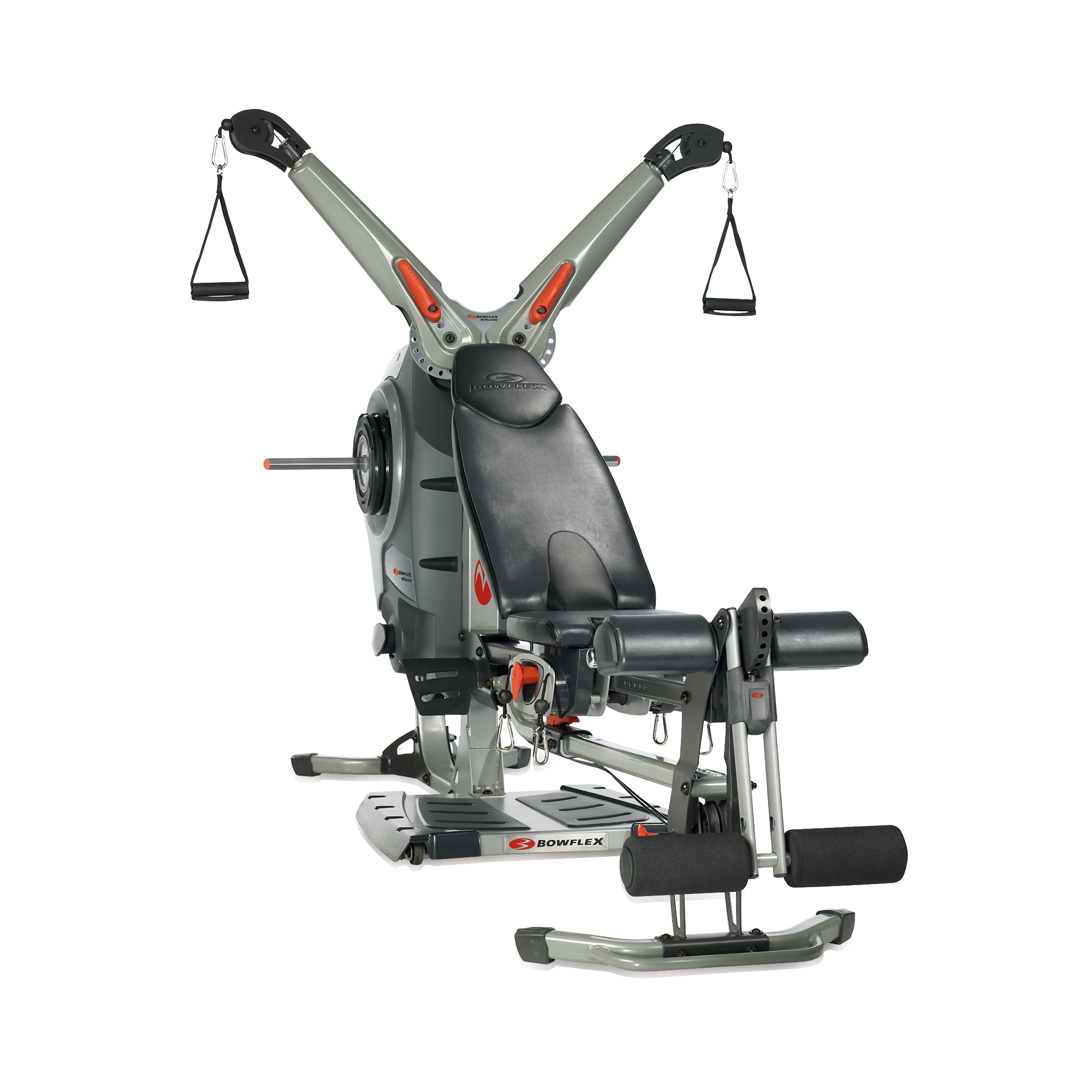 Best for: Strength Training
Best for: Building Muscle
8 Best Bowflex Home Gyms in 2023
If you're looking for a versatile home gym machine, the Bowflex Xtreme 2SE is your best bet. It gives you the flexibility to hit every muscle group since it can perform over 70 exercises.
This sturdy machine ticks all the boxes if you want a balance between aesthetics and functionality.
You can still get the most out of this machine if you're new to exercising because it comes with a descriptive manual.
For someone who wants to target specific muscles, you have a standard power rod resistance of 210 lbs, but you can always upgrade it to 410 lbs.
You can take advantage of the no-change cable pulley system that lets you go from legs to squat workouts without changing cables.
An integrated lat tower makes it easy to build your back and shoulder muscles faster. Additionally, you have a gym style ab crunch bar that's included with your machine.
Pros:
More than 70 exercises.
Power rod resistance that's upgradable to 210 lbs, 310 lbs, or 410 lbs.
Free trainer workouts.
Cable pulley system.
Optional attachment.
Compact and versatile home gym.
Cons:
Assembly is necessary.
Standard power rod resistance isn't enough.
It costs more to upgrade power rod resistance.
Not ideal for leg curls.
Who Should Buy the Bowflex Xtreme 2SE?
This machine comes with an impressive 7-year warranty. When you consider all of the incredible features this home gym offers, it's easy to see why it's a smart investment. If you want to concentrate on general fitness, this machine is also worth considering.
Who Shouldn't Buy the Bowflex Xtreme 2SE?
If you want your power rod weights to be the same as your free weights, the Bowflex Xtreme 2SE isn't your best option. Furthermore, if you prefer leg workouts, this machine may not be ideal.
This is a fantastic home gym machine that you should consider incorporating into your workouts. The Bowflex Revolution's SpiraFlex technology is one-of-a-kind, and it allows you to stay in great form without depending on resistance training too much.
You'll have the convenience of having a commercial feel of your equipment while avoiding the excessive bulk and weight.
The Bowflex Revolution allows you to change your entire 220 lbs of weights into the resistance of 440 lbs for optimal performance. You may still add on additional weights of 330 and 600 lbs.
This gives you a bonus of doing more than 100 exercises on this machine.
Pros:
Excellent upper body resistance level up to 330 lbs.
Up to 600 lbs lower body resistance levels.
Adjustable angles.
Various arm positions.
Cons:
Quite expensive.
Big in size.
It requires assembly.
Who Should Buy the Bowflex Revolution?
If you want to add variety to your workout, the Bowflex Revolution is a good investment. If you want smooth resistance, the SpiraFlex technology is ideal for you.
Who Shouldn't Buy the Bowflex Revolution?
If you have a limited budget, it's not suggested that you purchase this equipment. The same may be said for anybody looking for a machine with a more prolonged guarantee. This isn't your typical buy if you want to keep fit without adding bulk.
The Bowflex Blaze Is an excellent home gym machine for anyone who wants to improve their fitness levels without breaking the bank. With over 60 strength training exercises, you can make the most of your workout routine.
The foldable bench and transport wheels make it a fantastic choice for your space-saving needs. Also, you can change your resistance with the multiple cable pulley system.
If you're buying your first home gym, you get a comprehensive manual to assist you in setting it up and using it safely.
Pros:
Training variety with over 60 exercises.
Foldable bench.
Transportation wheels.
Upgradable resistance.
Cons:
Not suitable for everyone. The maximum weight is 300 lbs.
Difficult to assemble.
Who Should Buy the Bowflex Blaze?
If you're a beginner who wants to save money on your home gym machine, the Bowflex Blaze is for you. Besides the fact that it's a compact machine, it's also user-friendly.
Who Shouldn't Buy the Bowflex Blaze?
More experienced users who need more variety and a larger machine should consider buying the Bowflex revolution.
If you're looking for a mid-range home gym that won't break the bank, the Bowflex Xceed is excellent.
The power rod system comes with the standard 210 lbs resistance but can upgrade to 410 lbs.
What makes this machine worth choosing is the three pulley systems. You have an upper pulley system that targets variations of pull-downs.
Chest press exercises can be seamlessly performed with the middle pulley system. You can use the lower pulley system for different exercises alongside the leg developer.
Unlike most home gym machines, the Bowflex Xceed comes with a vertical bench. This means better back support and less stress about injuring your back if you have problems, and this will not impact how well you can perform chest presses on the decline or incline.
Overall, this machine is an excellent value for your money. It also comes with all the attachments you need for the 60 and more exercises you can do.
Pros:
Compact and cost-effective.
Versatile.
It offers a smooth resistance.
Power rod system up to 410 lbs.
Cons:
Power rods aren't good for building mass.
Manual cable connections.
Lots of pulley adjustments.
Who Should Buy the Bowflex Xceed?
Anyone who wants to get lean and tone should consider this machine. Simply put, if you're looking for variety but don't want to spend extra money on a home gym. If you're searching for a mid-range all-in-one home gym, this one is the right pick.
Who Shouldn't Buy the Bowflex Xceed?
This isn't the ideal home gym machine for a gym fanatic who wants to gain muscle mass. If you need more space to utilize your power rods fully, you may also require other accessories for specific routines, such as ab crunches.
The construction of this home gym is outstanding. The frame is made out of heavy-duty steel that offers you optimal durability. The roller cushions offer you the most comfortable workout if you want to spend extra time on your leg curls.
You can go from one exercise to the next with this innovative no-change pulley system. If you're interested in getting a full-body workout from your home, the more than 50 gym-quality exercises ensure that you achieve this.
The Bowflex PR3000 comes with your standard power rod resistance of 210 lbs, but you can upgrade it to 310 lbs.
Fortunately, you have access to an instructional workout placard and accessories that are included with your purchase. And it's an excellent option for anyone who wants a compact home gym.
Pros:
More than 50 exercises.
Accessories included.
Integrated instructional exercise placard.
Full body plan.
Upgradable power rod resistance.
Compact.
Cons:
Limiting power rod system.
Smaller size.
No lat pull-down bar.
Who Should Buy the Bowflex PR3000?
This machine caters to you if you have a small space. It's an excellent choice for beginners to intermediate people who want a full-body workout or focus on a specific muscle group.
Who Shouldn't Buy the Bowflex PR3000?
If you're more advanced with your training, the power rod resistance can be limiting. The excluded lat pull-down bar can also be a problem if you want to work on your upper body.
The price of this home gym is what makes it an excellent selection for you if you're a beginner.
You can rest assured that your workout needs will be met because it comes with some notable key features. You have over 25 exercises to complete a full-body workout.
The power rods should offer your body a low-impact exercise compared to free weights, and this also means that you don't have to worry about your machine being too heavy if you need to move it.
The Bowflex PR1000 offers you the versatile ease of use you need when you're still a beginner.
Pros:
Affordable.
Easy to use.
Compact.
Simple design.
Versatile.
Cons:
Limiting if you're advanced.
Power rod resistance is only 210 lbs.
Who Should Buy the Bowflex PR1000?
If you're new to resistance training and need a machine that's going to be affordable while being easy on your joints, this is what you should be thinking of getting. If your space is small and you don't need to do more than 200 lbs of training, you should consider this home gym.
Who Shouldn't Buy the Bowflex PR1000?
Anyone who isn't a beginner should think of getting a different machine. In addition, if you prefer to use weight stacks, this machine won't be a good choice for your needs.
The Bowflex Ultimate 2's platform is very sturdy, allowing you to get the whole-body workout you desire. It includes various features that you would want in your Bowflex home gym. The no-change pulley system, for example, will ensure that your workout flows effortlessly.
If you want versatility and variations with your exercises, then this machine stretches your limits with the over 95 exercises that you can find.
You can do everything you imagine in a commercial gym, including rowing to give you an extra dose of cardiovascular workouts.
This machine is ideal for low-impact training as well. Making it an excellent option for anyone who has joint or muscle injuries to recover from without staying away from doing what they love the most.
Pros:
Exceptional power rod resistance.
Target specific muscles.
Comfortable seating and workout area.
Durability.
Versatile exercises.
Bowflex Body Plan.
The tower mounted placard that this home gym comes with ensures that you have the most toned arms and legs when you're done with your workout.
The adjust bar provides you with the ultimate intensity and variety. You can rely on the nylon sling straps and hand grips for resistant hand gripping.
You can perform more than 18 exercises that target your upper and lower body. With the integrated instruction placard, you won't miss a single workout to give you the kind of body that you desire.
Pros:
It's sturdy.
Wide range of exercises.
Easy to assemble.
Cons:
Wide footprint.
Quite short.
Only select exercises to do.
Who Should Buy the Bowflex BodyTower?
Anyone looking to focus on certain muscle groups, such as their biceps, chest, and thighs.
Who Shouldn't Buy the Bowflex BodyTower?
If you want more variety in your exercise routine, you shouldn't buy this machine. Moreover, It may not be the best option if you're focusing on a full-body workout.
Bowflex Gym Exercises
One of the many things you will love about your Bowflex home gym is that it offers you a unique way to revolutionize your workouts at home.

These custom workouts keep you active and are usually tailored to your specific goals and muscle group. This means they can help you stay in shape without needing a commercial gym.

It also depends on what you want, whether simple resistance training or something more intense such as building mass. There are many exercises that you can do on your different Bowflex machines.

The following are some of the highly recommended exercises that you should try.
Bench presses
Shoulder press
Tricep extensions
French press
Leg press
Leg curls
Straight leg calf raise
Lat rows
Close grip lat pull-downs
Rear delt rows
Standing bicep curls
Reverse grip bicep curls
Back extensions
Resisted crunches
Reverse crunches
Bowflex Gym Buyer's Guide: What to Consider Before Purchasing
The fact is that a Bowflex home gym has a wide range of features, and it might be challenging to know what would work best for you. This is why, before making your selection, you should think about these eight factors.
1. Price
Before browsing online for what Bowflex offers, start thinking of your budget. You'll realize that the prices for the different machines will vary depending on your affordability, and it's always essential for you to plan accordingly to avoid overspending or under-budgeting.
2. Versatility
What do you want to achieve when you buy your Bowflex home gym? Let's say you want to focus on a full-body workout. Choosing a Bowflex machine that offers you optimal versatility is crucial.

Consider the number of exercises you can do and the types of systems each machine offers you.
3. Space
Bowflex home gyms come in various sizes. While having an enormous gym is something that everyone wants, you should be more realistic about your space. Luckily, Bowflex has machines that cater to compact homes.

Always look at the specifications and dimensions of the home gym you're choosing. Make sure that they're suitable for your space.
4. Exercises
Think carefully about what you desire the most when it comes to the types of exercises you wish to do.

If you want to tone your body without adding muscle, you should stick to a machine that offers you that. There's no need for you to buy a home gym that doesn't suit your needs.
5. Power Resistance Levels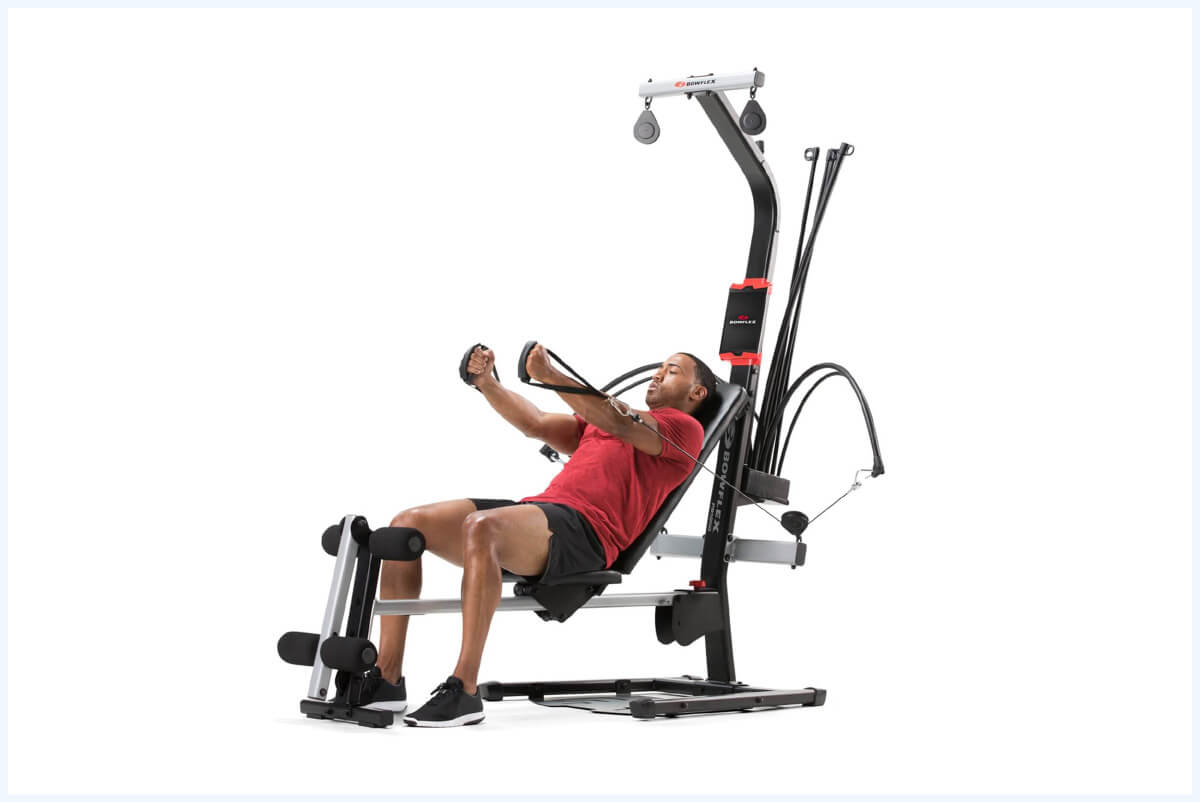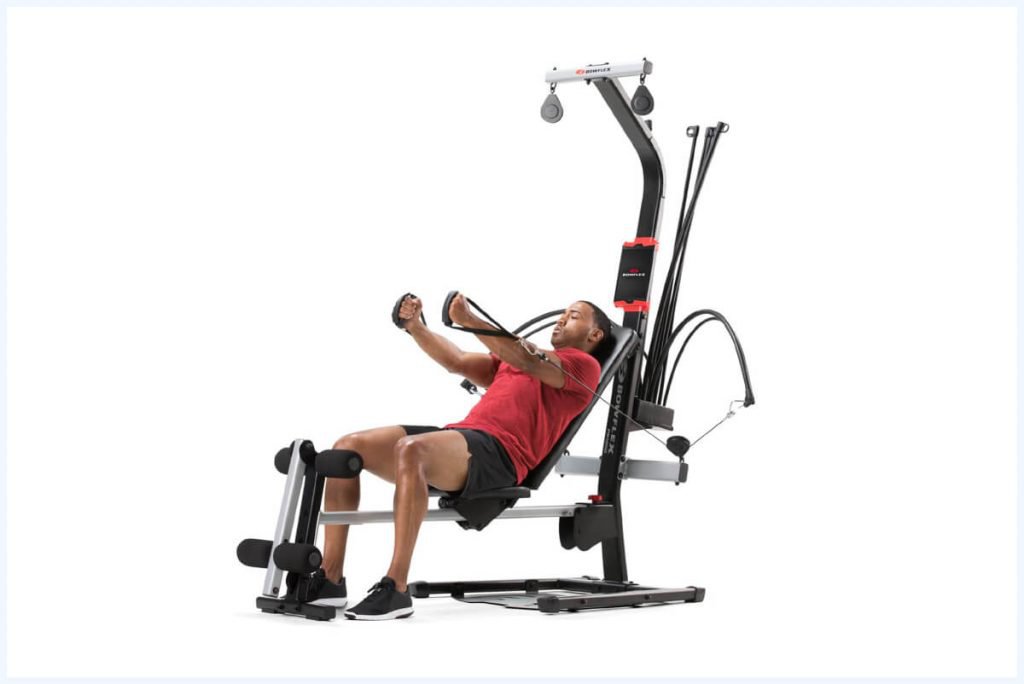 You'd be surprised by the multiple resistance levels your Bowflex home gym has, which are an essential part of your smashing your fitness goals.

However, you don't want to get a home gym with the incorrect resistance level that doesn't match your current fitness.
6. Durability and Maintenance
While durability isn't something you're mostly to worry about with your Bowflex home gym, you should still pay extra attention to the required maintenance type.

Generally, this differs depending on the warranty of your machine. It's always advisable to schedule regular maintenance to keep your machine for the long haul.
7. Storage
Since the space you have determines the type of machine you buy, you should also think of how and where you'll store your machine after use.

For instance, if your space is small, you should opt for a foldable machine. If you want to move your machine around your room, it's best to choose one with transportable wheels.
8. Fitness Goals
Lastly, it all boils down to what you want to achieve in the long run. Are you trying to lose weight? Do you want to focus your training on certain parts of your body?

Whatever your personal fitness goals are, you should ensure that they align with the machine that will meet your needs.
The Bottom Line for the Best Bowflex
It all comes down to what you want to achieve with your home gym. There are many things that you need to consider.

Essentially, you want to choose a Bowflex home gym that will be ideal for your budget, space, and the kind of exercise you want to do.

If you're new to resistance training and limited on space, the Bowflex PR1000 is an excellent choice.

However, If building muscle is what you wish to achieve, the Bowflex Ultimate 2 should be at the top of your list.

Yet, If you want the best overall workout, consider going for the Bowflex Xtreme 2SE.
Frequently Asked Questions
Where is the best place to keep a Bowflex Gym?
A spare room or garage is ideal for keeping your Bowflex gym. You can use extra storage and shelves for your weights and other accessories.
What are Bowflex power rods made of?
They're made from poly hexamethylene adipamide. This type of nylon or polyamide has high strength properties, which is why Bowflex power rods hardly ever break.
Is a Bowflex worth it?
Yes, it is. It's an excellent option for everyone. You can enjoy your quality and smooth workouts without paying gym membership fees or traveling to and from the gym.
How difficult are Bowflex home gyms to assemble?
With the included instruction manual, it isn't difficult at all. The assembly of your gym depends mainly on your model.
Bowflex power rods vs. SpiraFlex – What's the difference?
The Bowflex power rods are designed to feel like resistance bands. The more you increase your resistance, the more your rod is stretched.
On the other hand, SpiraFlex discs give a more consistent resistance, and you don't need to stretch them more to feel the resistance.
How effective are Bowflex home gyms?
They're very effective. Especially when you're still a beginner, they can supplement cardio workouts with resistance training.
What do I do with my exercise station if I have to move?
If you have a foldable home gym with transportation wheels, you can fold it and wheel it. However, if you have a larger gym, you have to disassemble it if you have to move.
Do I need a large area for a Bowflex home gym?
It depends on the size of your machine. The larger ones do require a large area. But, the smaller ones make it easy for you to utilize your space.
Do all Bowflex home gyms have aerobic rowing functionality?
No, not all Bowflex gyms do, and only the models with a sliding seat have aerobic rowing functionality.