In addition to testing, reviewing and recommending the best products, we may earn a small commission if you purchase through our affiliate links.
When looking for a comprehensive home gym, Soloflex is always one of the top brands that come to mind.

They have been around for years and have a classic model that still sells today. In this Soloflex review, I will be going over every feature of their machines and the pros and cons so you can make an informed decision.

Whether you are looking for a machine that supports free weights or wants to know more about Soloflex, keep reading!
Check Latest Price
We earn a commission if you make a purchase, at no additional cost to you.
The Soloflex Muscle Machine is a great way to target both the upper and lower body.
It offers 30 different exercises, which is not as many as some of the newer home gyms, but it makes up for this by allowing you to add free weights.
This machine is also compact and ergonomic, making it an excellent choice for those who want a piece of equipment that will last for years.
Pros:
Allows you to add free weights for strength training
Unique floating barbell design to hit all your core workouts
Excellent built-quality for longevity
Ergonomic and compact design
You can hit all major muscles in the body
Cons:
The seat height might not suit those who are short in stature
It comes with an expensive price tag
Not very portable friendly because of its weight
Should You Buy the SoloFlex?
Soloflex machine is an excellent choice if you love resistance training with weights. This machine is also worth the investment if you are serious about muscle building in the comfort of your home.
You will also love the Soloflex if you want a machine that will last you years without worrying about it breaking down.
However, the premium build quality and the reliability of the Soloflex do not come cheap, so it might not be a good choice if you want a simple machine and your only goal is a decent workout.
Is the Soloflex Home Gym Worth it?
The Soloflex Home Gym is definitely worth the investment if your looking for a traditional resistance workout with weight and your fitness goal is to increase your strength and overall health.
In-Depth SoloFlex Review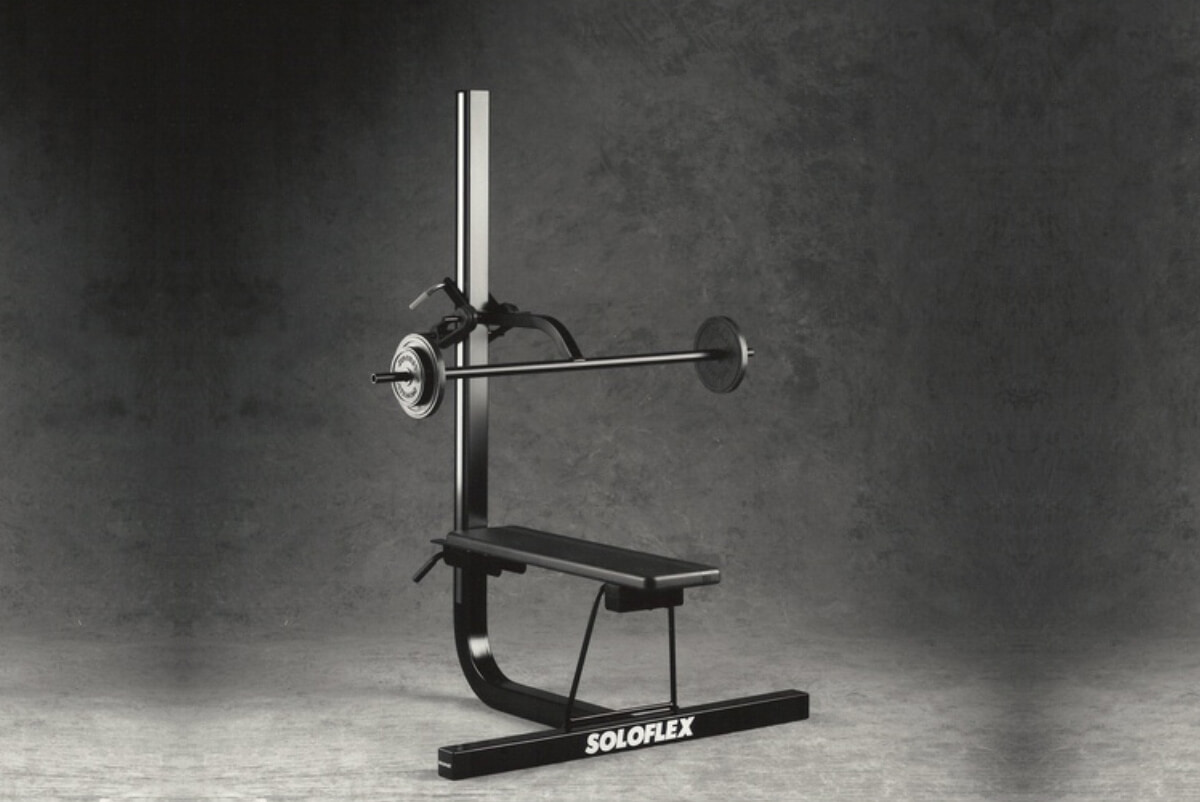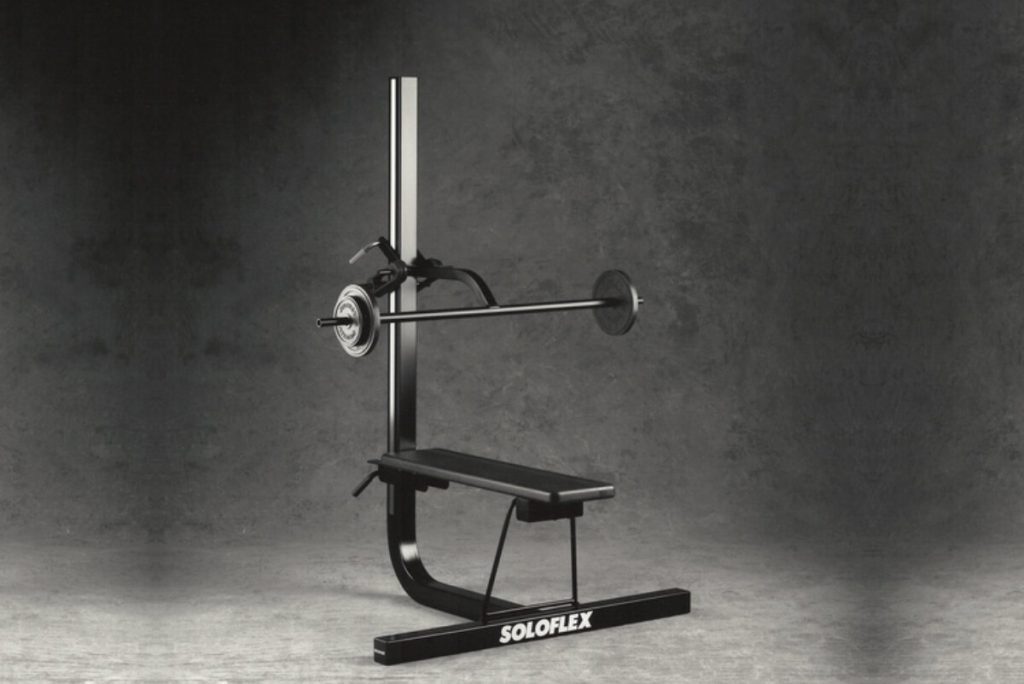 In this section, I will comprehensively talk about The Soloflex Home Gym.
Special Key Features
One of Soloflex's standout features is the ability to add weights. Depending on your preference, you can add anywhere from 2.5 lbs to 405 lbs to get a full-body workout. The free weights feature is among the top reason why even advanced fitness enthusiasts love this equipment.

Another feature that is unique to the Soloflex machine is the floating barbell. In addition to the weights, this barbell design is what allows you to get into power training. Many seasoned fitness enthusiasts talk about the Soloflex machine as the ideal equipment for sitting upright exercises.

A unique feature of Soloflex is also the stable build with heavy-duty construction. Soloflex can withstand rigorous workout sessions for years with ease, in sharp contrast to its relatively simple and compact design. You can perform chin-ups and dips on the Soloflex, which is remarkable for its size.

You will also love the regular-sized and fully adjustable seat on the Soloflex. This is one reason that makes the Soloflex muscle machine unbeatable in terms of versatility and flexibility. You will have no problems with core training exercises or incline bench presses on this one.
Size and Dimensions
Soloflex machines have the same size measuring 6 feet tall, 4 feet wide, 4 feet deep, or 48″ x 48″ x 72″ when fully extended, so it has a small footprint. This exercise equipment might require an additional 2 feet of clearance for some exercises, but this should not be an issue since you may not need a total body workout every day.
Quality and Durability
The Soloflex home gym consists of a high-quality steel frame with heavy-duty rubber components. These features ensure that it remains in top condition for many years.

When you buy second-hand Soloflex machines, don't be surprised to find these classic fitness machines in mint condition.
Parts and Accessories
Soloflex machines are also remarkable in that they come with a range of spare parts and accessories. Classic/retro butterfly attachments, shock rings, and leg extension attachments are among these.

Along with the machine, you also get several free accessories, including a dip bar, weight straps, curl tubes, urethane foam pads, a Roman chair pin, required pins for assembly, and a workout manual with a DVD.
Weight and Weight Capacity
Soloflex muscle machine weighs 176 lbs or 79 kg with a maximum user weight capacity of 405 lbs 183 kg, according to the brand's official site.

This fitness machine comes in a 73″x36″x6″ box.

Soloflex offers first-time customers 4 to 10 lbs of weight straps, so don't forget to inquire about this if you plan to buy it.
Resistance Type
The primary resistance in Soloflex home gym equipment comes from the proprietary Soloflex weight straps. You hook these straps to the equipment arms to get the required resistance.

Increasing the weight resistance in the Soloflex machines is also effortless as you have the option to add up to 500 lbs using weight plates.
Variety of Exercises
The Soloflex home gym does not disappoint when it comes to the exercise variety. Although the number of exercises stated is 30, you can perform pulldown exercises, free body, and barbell workouts with this machine.

If you are looking for specifics, below are the potential exercises you can perform with a Soloflex:
Incline bench press
Pull-up
Dip
Chin-ups
The butterfly
Bicep curl
Dorsi bar pulldown
Leg extensions
Leg bends and curls
Inclined situps
Military presses
Tricep extension
Here's a full-body workout video from Soloflex
Warranty
Soloflex offers a one-year limited warranty on its machines that covers manufacturing defects on the frame, shock rings, and weight straps. A 30-day money-back guarantee is also available for your Soloflex machine.

However, if you need to replace your Soloflex, you must pay the shipping fees. Visit Soloflex's official site for all details about its warranty and return policy.
Where to Buy
If you have decided to get a Soloflex, getting it from the brand's site is suitable. Soloflex calculates your shipping charges at checkout; keep that in mind while shopping for this machine.

If it's Soloflex spare parts or replacement bands you're looking for, you can try a third-party seller like Amazon.
Soloflex Alternatives
As great as Soloflex is, it is not without its drawbacks. It carries a premium price, but because Soloflex is catered to intermediate and advanced users, it is not for everyone.

So if you want home gym models that are cheaper, effective, and easier to use, Bowflex and Total Gym machines are excellent alternatives for you.

Unlike Soloflex, which only has one machine with variations, Bowflex and Total Gym have many models. Here are the three most popular ones.
The Xtreme 2SE is a fantastic home gym setup with a user weight capacity of 300 lbs or 136 kg. The power rod resistance of the Xtreme 2SE is capable of delivering up to 410 lbs.
This Bowflex exercise equipment comes with several top attachments that make it an outstanding choice.
The impressive line-up includes an integrated lat tower, leg extension, squat bar, and ab crunch shoulder harness so that you can perform more than 70 exercises with this home gym.
Pros:
Variable resistance through power rods
No-change pulley for consistent workouts
Allows more than 70 exercises
It comes with seven years frame warranty and lifetime coverage for the power rods.
Cons:
Not many options with the leg press
Upgrading resistance comes at an extra cost
The XLS from Total Gym is one of their most popular home gym equipment. Standout features of this machine include a pulley system that is smoother than most Bowflex Home Gyms and an improved squat stand.
You have the option to perform more than 80 exercises with this home gym. The XLS has six varying resistance levels and supports up to 400 lbs of user weight capacity.
The XLS home gym also has several attachments, including a wing attachment, leg pull attachment, ankle cuffs, and ribbed squat wand.
Pros:
Supports more than 80 exercise variety
The maximum user capacity is 400 lbs
It comes with several attachments
Nutritional programs from experts and workout DVDs are available
Good warranty service
Cons:
A little on the pricier side
Not enough resistance to build muscle
The PR3000 is another top pick among Bowflex home gyms, with up to 310 lbs of power rod resistance and supports up to 300 lbs of user weight.
This Bowflex home gym allows you to hit up to 50 variations of strength training exercises, so you do get more options with this one. This is one of the compact and lightweight Bowflex models, so it scores more on portability.
Some of the exercises you should try with this Bowflex are lat pull down, bench presses, leg extensions, and all forms of ab workouts.
Bowflex offers a 7-year warranty for the PR3000 frame and a lifetime for the power rods.
Pros:
Up to 50 different forms of exercises
Supports 300 lbs of user weight
Full body access plan and exercise manual available
Compact and lightweight design
Cons:
It does not include the lat pulldown attachment
The price range is not suitable for beginners
Final Thoughts
The Soloflex was initially designed to eliminate the need for an expensive gym membership and to get a great workout without leaving your home.

This home gym system is on the pricier side, which is one of the drawbacks cited by many users.

However, if you love building muscle and a reliable brand that will last for years, the Soloflex is definitely worth the investment.
Editors note: Whether you choose the Soloflex or Bowflex, take note to perform the workouts in proper form to avoid injury.
Thanks for your feedback!