In addition to testing, reviewing and recommending the best products, we may earn a small commission if you purchase through our affiliate links.
Today, we are looking into the best total gym alternatives on the market and what they are best suited for.

As a former personal trainer, Total Gym equipment is among my personal favorite for getting an effective full-body workout right at home. This incline bodyweight training machine packs a punch for all levels of fitness groups.

However, Total Gym machines are not the most affordable. In addition, these home gym systems can be pretty advanced if you are not used to resistance training.

So, if you are looking for total gym alternatives, here are my top picks to consider.
P
What is The Total Gym?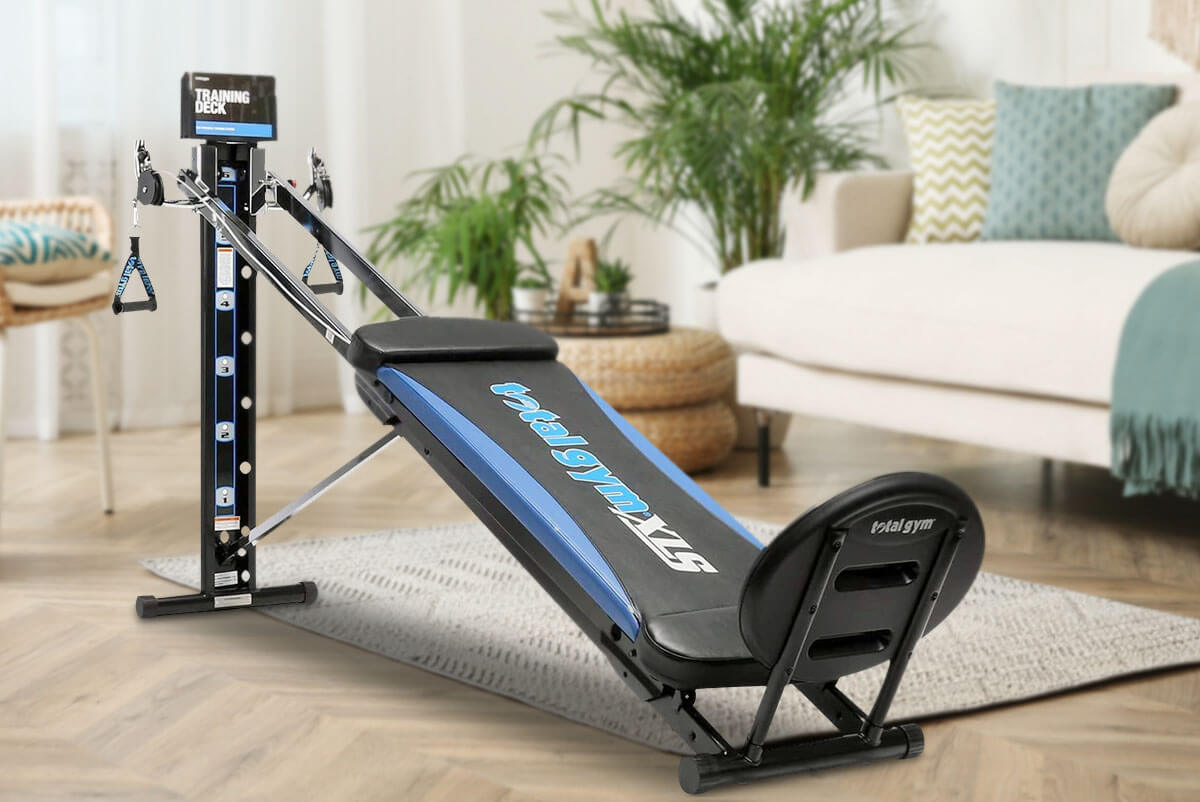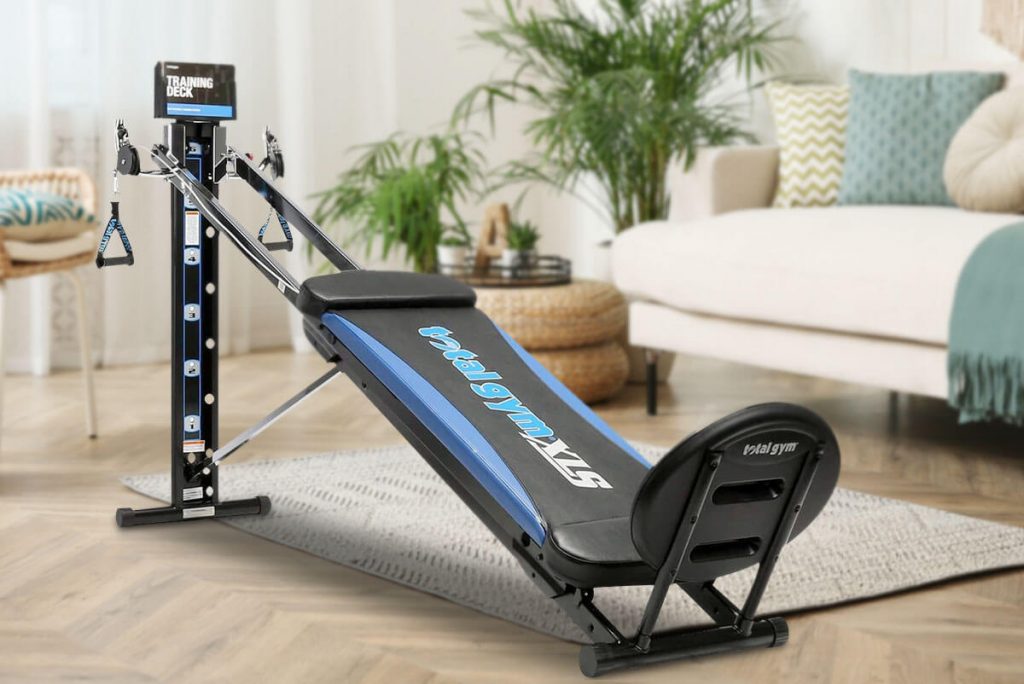 Total Gym fitness equipment uses your body weight as resistance without relying on traditional weight plates. Because there are no free weights involved, Total Gym equipment is effortless to customize, so they are ideal for all fitness levels.

Total Gym exercises are also low impact, so they are very easy on the joints, making them a great workout system for all age groups.

Depending on the model, Total Gym machines can easily deliver up to 200 variations of exercises targeting all major muscle groups.

In terms of resistance, they usually offer 6 to 22 levels of resistance so that you can hit various muscle groups in the upper and lower body.

Total Gym equipment also comes with accessories, including lat bar attachment, squat stand, leg pull accessory, ab crunch, trip-grip, and Pilates kit. However, the accessories can vary from one model to the other.
Pros
Excellent build quality for reliability and longevity
Up to 200 exercises are available, depending on the model.
Up to 22 levels of resistance are available.
It comes with several accessories.
30-day risk-free trial
Cons
It can be costly
Not suitable for weight building
Some models don't have a good warranty.
People's Comments
Total Gym has stellar reviews on its official site and third-party platforms. On TrustPilot, Total Gym users rate it excellent or brilliant for the product. Several reviewers also comment on the first-class customer service.
On Amazon, Sandy says the board glides beautifully; the workout routine on this machine is impressive and improves flexibility. Another shopper says the Total Gym is an addictive fitness aid!
10 Best Total Gym Alternatives 2022
Now let's consider the best Total Gym alternatives on the market.
The GR8FLEX High-Performance Gym is a serious machine for fitness enthusiasts who love to work on their muscles and show them off.

The weight capacity of 450 lbs and multiple resistance levels are among the standout features.
Pros
15 resistance levels plus an additional 50lb resistance bands
Variety of colors available
No assembly required
Additional accessories
Pulley system
Lifetime warranty, including accessories
Cons
No option to add a weight bar
Heavy and not easily folded
Overall quality is not as high as Total Gym.
| | |
| --- | --- |
| Weight capacity | 450 lbs |
| Dimensions | 55.25″ x 21.25″ x 11.75″ |
Attachments
Handles
Bars – Dip, Wing, and EZ curl bar
Crunch ab accessory
Leg pulley system
Squat stand
Resistance bands
Cell phone stand
Mats
Exercises
Legs: Doube Leg Press, Single-Leg Press, Single Glut Press, Single Side Press
AB Exercises: Oblique Twists, Inverted Crunches, Cable Crunches, Kneeling Crunches
Triceps: Skull Crushers EZ Bar, Seated Extensions (overhanded), Seated Extensions (underhand, Dips, Kneeling Kickbacks (overhanded)
Back: Cable Rows, Reverse Flys, EZ BAR Pulls, EZ BAR Rows, Lat Pull Downs EZ BAR
Bicep: Seated Preacher Curls, Seated Side Curls, Lying Curls, Reverse Curls, Seated Curls, Kneeling EZ BAR Curls, EZ BAR Curls
Shoulder: Lying Shoulder Press- Reverse Seated Front Raises (front delts)- Lying Front Raises (front delts), Lying Side Raises (side delts), Seated Reverse Press
Chest: Inverted Push-ups, Overhead Pulls, Incline Flyes (upper chest), Seated Flys, Seated Bench Press
You can check out the GR8FLEX YouTube channel for demonstration videos.
Folding
The Weider Ultimate Body works offer up to 50 exercises to get an intense workout with ease.

Your own body weight creates the resistance you need, but you can also get an additional 50 lbs from the resistance bands.

This fitness equipment has a cable and pulley system, making it ideal for calisthenics and improving your flexibility.

You can also target your core with Weider Ultimate Body Works, especially if you perform oblique twists or seated rows.

This Total Gym alternative comes with an ergonomic design, so you don't have to worry about space.

Despite its close resemblance to the Total Gym models, the Weider Ultimate Body Works carry a modest price tag.
Pros
High level of resistance and include a 4X resistance bands
Easily assemble
Variety of incline
Highly versatile
It folds up for easy storage
Cons
Noisy gliding
Exercise guide not included
It requires more space.
Only 50 exercises are possible.
| | |
| --- | --- |
| Weight capacity | 250 lbs |
| Unit Weight | 72 lbs |
| Unit Dimensions | 59″ x 27.5″ x 48″ |
Exercises
Leg Press x 10 reps
Chest Press x 10
Standing Row x 10
Deadlift
Inverted Press
Pull up
Glute Kickbacks
Tricep Extension
Bicep Curl
For a full-body workout demo, check out this video.
The Aeropilates Reformer Plus 379 is one of the most popular models from the brand.

The resistance cords are responsible for delivering the proper resistance for shaping and strengthening major muscle groups.

Your pilates workout sessions on the Aeropilates Reformer Plus 379 will be very comfortable as it has a padded pillow for the neck and head.

This Pilates machine also comes with exercise videos in case you need help.

Overall, this Pilates equipment is designed to make your home workout more comfortable and effective.
Pros
Great for beginners
Quality padded equipment
Four chord resistance
Cardio rebounder
Full body workout
Easy to assemble
Cons
The slider is not as smooth
No incline
Stand not included
Expensive
| | |
| --- | --- |
| Weight capacity | 300 lbs |
| Unit Weight | 68 lbs |
| Unit Dimensions | 86″ x 21 "x 26" |
Resistance
Four cord resistance with multiple intensities
Yellow- light resistance
Red- heavy-resistance
2 x black- medium resistance
Folding and Storage
Foldable frame and wheels for storage and transport
Attachments
Two workout DVDs
Patented cardio rebounder
Padded foot bar
Four chord resistance
Adjustable padded headrest and shoulder pads
Double-loop hand and foot straps
Exercises
Toes or balls of the feet
Heels wide
Toes wide
Prances
Oblique curls
Spine curls
Oblique curls-ups
Toe taps
Hip rolls
This video on YouTube shows all the exercises you can perform with AeroPilates Reformer Plus 379.
The ProForm from Body Works is also an excellent total gym alternative and is great for cardio.

You will love this exercise machine if you are low on space but want to stay fit without hitting the Gym every day.
Pros
Very little to assemble
It gives you a good workout
Great for beginners
Versatile for a variety of exercises.
Adjustable incline
Superpack resistance cables to easily customize the difficulty of your exercise
Smooth-rolling seat
Cons
This item doesn't come with any diagrams about how to use the equipment.
| | |
| --- | --- |
| Weight capacity | 300 lbs |
| Assembled Size | 59″ x 27.5″ x 48″ |
Resistance
4 Superpack resistance bands
Storage
Collapsing SpaceSaver – collapse into itself after each use for compact storage when not in use.
Exercises
A high-pulley system with dual free motion cables allows you to train your lats, back, arms, core, and legs.
Warranty
This product is covered by the Sam's Club Member Satisfaction Guarantee. Manufacturer: 90-Day Parts & Labor.
NordicTrack is a fantastic home gym equipment alternative for Total Gym and is perfect for low-impact strength training.

However, this fitness equipment brand offers several models, so you can choose from treadmills to rowing machines to ellipticals depending on your preference.

The Nordictrack Fusion motion portable gym is a free-standing model where you can engage in high-intensity training.

A standout feature of the gym equipment from NordicTrack is the iFit membership and the incorporation of smart technology. Through the iFit app and membership, you can track your full body workouts and access personal coaching, which other brands don't offer.

The NordicTrack Fusion also comes with an HD touchscreen and a year of iFit membership, so you can even engage in boot camp training with this exercise equipment.

Included attachments with the NordicTrack fusion are ankle straps, squat pulley, and precision cable ends.
Pros
Six independent pulleys with three different pulley heights
Up to 20 levels of magnetic resistance
combines cardio workouts with strength training
Bluetooth chest strap for heart monitoring
It comes with a 10″ tablet and adjustable tablet stand
Cons
Not suitable for rigorous strength training
cables in the pulley system are not adjustable
Concise warranty on parts and labor
| | |
| --- | --- |
| Dimensions | 41.5″ x 60.5″ x 73.5″ |
Resistance
Magnetic resistance up to 20 levels
Exercises
For HIIT exercises, you can hit up to 100 different forms.
Assembly
Warranty
10-year warranty on frame and one year for labor and parts
The Tonal Smart Home gym has a compact design ideal for small spaces.

But the best feature of the Tonal is you can track your progress and identify your weakness and strengths, making the most of your workouts.
Pros
Easy to customize workouts
Can track progress with intuitive analytics
It comes with several accessories
Interactive display for different workouts
Cons
Expensive
Sometimes misses reps
Cords can rub against the skin
| | |
| --- | --- |
| Dimensions | 21″ x 50.90″ x 5.25″ |
Resistance
Up to 200 lbs from electromagnets
Exercises
Pilates, Yoga, cardio, and strength training
Warranty
3 years limited warranty
The Bowflex PR1000 Home Gym is another excellent alternative for a Total Gym machine.

The rowing station in this home gym equipment is a standout feature and is much more affordable than the Total Gym models.
Pros
Ergonomic and folding design
Rowing station available
Trainer assisted workouts are available
Affordable
Cons
Not enough resistance for advanced users
No longer available on the brand's site
| | |
| --- | --- |
| Dimensions | 84″ x 38″ x 84″ |
| Weight capacity | The user weight limit is 300 lbs. |
Resistance
210 lbs from the power bands
Exercises
Up to 30 strength training exercises
Warranty
1-year n the machine, 5 years for power rods, and 60 days for the parts
If your goal is to stay fit while on the move, the BodyBoss 2.0 is a fantastic choice.

This compact and portable home gym equipment is ideal for maintaining muscle mass and promotes a healthy lifestyle regardless of your location.
Pros
Varieties of exercises for a full-body workout
It folds up for easy store
Affordable
Resistance bands are of good quality
Cons
Not enough resistance
The base has a tendency to shift
the attachments do not fit inside the case
| | |
| --- | --- |
| Dimensions | 34″ x 20″ x 1″ Unfolded |
| Unit weight | 15 lbs |
Resistance
30 lbs from each resistance bands
Exercises
You can perform upper body exercises as well as hit your leg muscles and other major muscles in the lower body with the BodyBoss 2.0.
Squats
Lunges
Leg extensions
Deadlifts
Good Mornings
Bicep Curls
Tricep Extensions
Tricep Pulldowns
Shoulder Press
Lateral Raises
Straight Arm Raises
Visit the BodyBoss site for a complete list of exercises.
Warranty
One-year limited warranty.
TRX is not only a fantastic Total Gym model alternative but is an excellent pick for suspension training. With this unconventional fitness equipment, you can lose weight, build lean muscle mass, and watch your body weight.

This at-home gym system uses your own body weight to create resistance levels. TRX also combines the advantages of convenience and portability.
Pros
Lightweight and portable
Variety of workouts
App included
30 day Free Trial for TRX Training Club, including
Flexible
Cons
Expensive
It can be difficult for beginners to use a word processor.
| | |
| --- | --- |
| Dimensions | 50″ x 1.97″ x 0.1″ |
| Unit weight | 1.7 lbs |
Exercises
With TRX, you can target your chest, core, arms, shoulders, back, and leg muscles. TRX is also versatile enough to get full-body workouts and perform cardio as easily as with cardio machines.
This total gym alternative is compact, lightweight, and goes wherever you want it to go.

The OYO Personal Gym uses a proprietary Spiraflex technology developed and used by NASA so the astronauts can perform different exercises in space.
Pros
Offers full-body workout
Very compact and lightweight
Great range of exercises
Suitable for beginners and intermediate fitness groups
Cons
Not enough for weight resistance training
Resistance
25 lbs of resistance
Exercises
Up to 75 different exercises, which is impressive considering its size
Warranty
3-year warranty
Should You Get a Total Gym or a Total Gym Alternative?
Total Gym models are great home gyms for intense workouts without an expensive gym membership.

These home gym systems also come with an attachment, including a toe bar and Pilates kit.

However, some Total Gym models are discontinued, and some can be quite expensive. Of course, some models, such as the Total Gym X Force, are budget-friendly but are not always readily available.

On the other hand, the Total Gym alternative might check the boxes of affordability and availability.

So, whether you get a Total Gym or an alternative comes down to personal choice.
Factors to consider to picking the right Total Gym alternative
To make sure you pick the best Total Gym model alternative, consider the following:
your fitness goals
do you need more resistance or not
what is your budget for a home gym
do you like working out on the move
your exercise needs
FAQs
How often should I work out with Total Gym alternatives?
How often you work out or not will depend on your personal and fitness goals. But ideally, 20 minutes of daily exercise with weight resistance is recommended.
For beginners, you can gradually increase from two times a week and increase the resistance level as you progress.
How much should I spend on a Total Gym alternative?
Your budget for a home gym will determine how much you spend on a Total Gym alternative.
However, keeping a budget below the Total Gym models cost would be smart since you are looking for an alternative to save some money.
What is the best home gym?
Some of the best home gym models are from Total Gym and Bowflex.
However, if you are a beginner looking for a reliable home gym with different resistance levels and a wallet-friendly budget, the Total Gym alternatives on this post are worth checking out.
What do you need for an at-home gym?
You will need a machine with the necessary attachments for cardio and varying resistance levels for an at-home gym.
For beginners and basic workouts, dumbbells, resistance bands, and jump ropes are good to start with. However, if you are a serious fitness lover, you can consider ellipticals, cardio machines, and full-body sets.
Alternatively, you could also invest in one of the home gym setups mentioned in this post. They come with attachments such as a toe bar, squat stand, resistance cords, and sit-up station, among others, so you can hit both the upper and lower body.
Is Bowflex or Total Gym better?
Bowflex and Total Gym are both great and are often pitted against each other.
Bowflex is great for serious workouts and more advanced users. But these home gyms are not cheap, and they can be complicated to use for beginners.
Total Gym equipment is simple and is also durable. Most Total Gym models are also relatively compact or foldable, so they work for everyone.
Which version of Total Gym is best?
Total Gyms are all equally great. Total Gym XLS is an excellent choice for advanced users, while Apex GI is best if you are strapped for cash.
Total Gym X Force is a good pick for seniors or those with injury. Total Gym XLS is also fantastic for bodybuilding, and if you are particularly very tall, the Apex G3 is your best bet.
How do I get rid of my Total Gym?
If your Total Gym is old or you don't need it anymore, there are several options you can do with it.
You could give away your home gym or donate it to community homes. You could also sell your preloved Total Gym and make some cash.
Does Chuck Norris only use Total Gym?
Chuck Norris has endorsed Total Gym for more than three decades. The fitness and martial arts legend says that Total Gym build muscle, more resistance, burns fat, and boosts cardio fitness.
However, it is impossible to say whether Mr. Norris uses only the Total Gym since no one has seen his personal Gym.
Where can I buy a Total Gym?
Some Total Gym models are available on the brand's official site, so buying from there is a good idea.
However, you can also check out third-party sites for Total Gym accessories or used/discontinued models.
How much does a Total Gym Weigh?
Total Gyms have 56, 66, and 68 lbs of weight. The GTS is the heaviest Total Gym model at 180 lbs.
Wrapping Up
Total Gym is a brand to reckon with in the fitness industry, and their exercise equipment is no less exceptional.

Their home gym systems are suitable for all fitness levels, and they are even used commercially, so you can't go wrong with these machines.

However, Total gyms are not the most affordable, and some models come with a learning curve for beginners. So if you are considering a Total Gym alternative, this equipment list should give you a head start.