In addition to testing, reviewing and recommending the best products, we may earn a small commission if you purchase through our affiliate links.
There are so many different home gym brands on the market that it can be hard to decide which one is right for you.

One of the most popular brands is Total Gym and for a good reason! This brand offers a range of high-quality home gyms perfect for anyone looking to get in shape.

In this post, we will look at the best Total Gym models for each category. Whether you are a beginner or an experienced fitness enthusiast, there is sure to be a model that fits your needs.

So Let's begin.
9 Best Total Gym Models In 2023
For several reasons, the Total Gym Apex G5 is my pick for the all-rounder and ultimate home gym.

The resistance levels on this model are more than its predecessors, so you're getting up to 10 levels here. You can increase the resistance steadily and progressively, making it ideal for building muscle and gradually gaining strength.

The Apex G5 has a robust construction with premium materials, which is very reliable. This Total Gym model also does not wobble, which was an issue with some G1 and G3 units.

This model allows more than 80 exercises and, at 375 lbs, has a higher weight capacity than the older models.

You will also love that Apex G5 comes with a gamut of accessories, including squat stand wing attachment, training deck, stability mats, Total Gym TV access, and workout DVDs.
Summary
The Apex G5 has a perfect combination of stellar features and a great value for money. You will also love that this model allows full-body workout and has a higher weight limit and levels of resistance.
Pros
10 resistance levels for effective workouts
More than 80 types of exercises with variations
Glide board smoothness is exceptional
Hard rubber on the pulley system to resist sweat
It comes with all necessary attachments
Cons
The warranty could be better
Ab crunch accessory is not included
Conclusion
If you want an unbeatable home gym setup to take care of all your fitness goals, you can't go wrong with the Total Gym Apex G5. This equipment has all the right features, great construction, and the performance is spot on.
The Total Gym XLS takes the trophy for smoothness in operation and reliable construction.

In addition, this model supports up to 400 lbs of user weight and allows more than 80 exercises.

This model has a resistance level of up to 6, which does not seem like a lot, but – you get the option to add a weight bar with plates which is fantastic.

You will love that the XLS comes with wing attachment, ribbed squat stand, leg pull attachment, and meal plan from the experts.

Despite its heavier weight, Total Gym XLS dimensions are an advantage if you are low on space, especially when it is folded.
Summary
The XLS is a very popular model from the brand with good reason. This complete gym machine has enough exercise options for hardcore fitness individuals but is easy to operate.

The compact design and a collapsible feature are also worth mentioning. The warranty on this model is also stellar, and the hard rubber components make it easy to clean.
Pros
The pulley system and glide board are very smooth
Compact and ergonomic design
It comes with all the necessary accessories
Allows a wide range of exercises
Cons
The resistance level is not enough for muscle mass builders
Not affordable
Conclusion
Despite its higher price point, the XLS from Total Gym is an excellent investment if you love to stay on top of your fitness game without going to the gym every day. It has a higher weight limit, and the glide board is wider and more comfortable.
If you want a tremendous gym setup without spending a fortune, the Apex G1 from Total Gym is right up your alley. At its price point, few home gyms can beat this one.

The Apex G1 has 60+ exercise options with 6 levels of resistance, so you get your money's worth. You can also add a weight bar if you need more resistance.

The maximum user weight limit is 300 lbs, a good feature for most average persons.

You will also appreciate that the Apex G1 has several attachments, including a wing attachment and leg pull attachment.

A workout DVD and nutritional/exercise guides also accompany this exercise machine. The Apex G1 does not come with a squat stand, but you won't be limited because you can still use the pulley loops for leg days.

However, you can get a telescoping squat stand if you are interested, as the machine has provision for it.
Summary
Despite its low price point, the Apex G1 has outstanding features that can rival other total gym models that are costly.

With multiple levels of resistance and exercise options, this compact budget machine will take care of all your exercise needs.

You won't be able to do as much variety with leg exercises with the Apex G1, but you'll have an infinite amount of alternatives for focusing on other major muscle groups.
Pros
The cable and pulley system allows versatility with exercises
More than 60 exercise options and 6 resistance levels
Affordable price tag
Good construction and weight limit
Cons
Warranty service could be better
The squat stand accessory is not included
Conclusion
The Apex G1 is not without its minor drawbacks, such as the substandard warranty and the absence of a squat stand.

Nevertheless, this is a piece of fantastic exercise equipment where you can get a full-body workout without investing in a gym membership or an expensive setup.

It has an excellent construction that can rival some of the premium-priced models from the brand.
The GR8FLEX is a serious piece of equipment for bodybuilders or anyone that loves working on their muscles.

This powerful machine pumps out 15 resistance levels which are the most you get from the brand. Unlike the other models, the resistance band is responsible for delivering the resistance in this one.

The color-coded 4 resistance bands also add a total of 50 lbs, so you can keep the workouts as challenging as you want without the physical weights.

This Total Gym system also has a user weight limit of 450 lbs which is fantastic. You will also find that the GR8FLEX has excellent construction with commercial-grade materials for unrivaled longevity.

Other standout features of the Total Gym GR8FLEX include the option to perform more than 140 exercises and a lifetime warranty on the frame.

This Total Gym model also has the most accessories, including a ribbed squat stand, ab crunch accessory, resistance bands, leg pull accessory, EZ curl bar, and many more.
Summary
The GR8FLEX is an exercise machine with everything you need to work out your entire body. It has a robust build that can take a severe beating for hours and has multiple attachments at no additional cost.

It also comes with a couple of minor but useful enhancements, such as rubber stoppers on the glide board that adds more stability while doing jumps.

The GR8FLEX also comes in several color options if you want your exercise gear to look as good as you.
Pros
Excellent weight limit of 450 lbs
15 levels of resistance + 50 lbs from the resistance bands
Robust and long-lasting construction with premium materials
Multiple accessories
No assembly required
Cons
Canvas materials on the board can absorb sweat
No provision for a weight bar
Quite expensive
Conclusion
The GRGFLEX is by no means cheap and may not work if you love working out with traditional weights.

Other than that, this is an investment exercise machine that delivers powerful performance and will last for years to come.

Everything from its exercise options to the resistance levels will keep you hooked to this machine for sure.
If you are just getting into the marvelous world of home gyms, you can't go wrong with the Total Gym X Force, which is similar to Total Gym Xtreme.

The X Force from Total Gym supports up to 350 lbs of user weight capacity with up to 12 resistance levels.

The number of exercises on this Total Gym is more than 60, which is a limitless option for beginners. You can engage in cardio training, resistance, and strength training with absolute ease.

This Total Gym model will get several attachments, including leg pull attachment, tri-grip shaper bars, wing attachment, squat stand, and dip bars.

This one requires a bit of assembly, but Total Gym includes an instruction manual along with a workout DVD, so you should not have any issues.

The X Force also has several beginner-friendly features, including flexible nylon straps, a padded pillow for comfort, and a height adjustment knob with auto-lock.

You can transition from one exercise variation to the other with ease and comfort like a pro.
Summary
The X Force from Total Gym is an absolute treat if you are a beginner in the fitness ecosystem.

It allows varieties of exercises to keep you motivated and multiple resistance levels to keep the workout sessions as easy or challenging as possible.

You will love the easy assembly and the multitude of attachments to facilitate your workouts without spending a ton of money.
Pros
Allows more than 60 exercises and variations
All required attachments are included without additional cost
Easy to set up and use
Comfortable padded pillow
Good user weight capacity and resistance levels
Cons
Only one year warranty on the frame
Conclusion
Despite the X Force's minor issue with a limited warranty, this compact, affordable, and lightweight exercise machine is a fantastic choice for everyone.

But beginners will benefit the most from this Gym setup because of its exercise options and ease of use.
If you are 6′ tall or above, you might find it a bit of a challenge to find a gym setup that you can use comfortably without bumping your head or crouching all the time. The Apex G3 from Total Gym solves this issue brilliantly.

Tall person-friendly features in the Apex G3 include the glide board that is 93″ long. Getting a full range of motions is easy with this one, so no muscle group is left out.

In addition, the footpad in this gym setup is also larger than in other models, which increases the comfort factor.

You won't be disappointed with Apex G3's weight capacity as it supports up to 300 lbs.

The number of exercises on this Total Gym is more than 70, and the resistance level is 8, which is more than enough unless you're into bodybuilding.

The attachments in the Apex G3 are also great as it comes with a ribbed squat stand, leg pull accessory and wing attachment.
Summary
The Apex G3 is an exercise machine where you can move your limbs and get a full-body workout even if you are on the taller side.

This model from Total Gym has a number of features, such as the long glide board and wide padded footrest, so you don't have to worry about fitting your long torso and limbs as the machine is made to accommodate those who are up to 6'5″ tall.
Pros
Long and comfortable glide board
The footpad is large and padded
It comes with all the necessary attachments
More than 70 exercises possible and 8 levels of resistance
The ergonomic and foldable design makes it great for small spaces
Cons
Foam handles do not absorb sweat, so they can become slippery, especially if you sweat a lot.
Conclusion
The Apex G3 from Total Gym is a great choice, especially if you are on the taller side. It has a couple of features that will allow you to work out without bending or restricting your movements.
The Total Gym Fit is a fantastic choice if you want an all-rounder machine for your home. This fitness machine checks all the right boxes for all types of exercises you can do at home.

The Fit model allows more than 85 exercises which are more than you can even perform in a gym with top-class gear.

The resistance levels are also more than what you will find in other models; 12 levels, so you can easily engage in strength training and resistance training as much as you want.

You will also love that the weight capacity on the Fit is 450 lbs, and the attachments it comes with – wing attachments, upgraded squat stand, ab crunch, and leg pull attachment at no extra cost.

The construction and quality of Total Gyms are never an issue, but the Fit model is even more premium. In addition to the great build quality, Total Gym Fit also has a lifetime warranty and 2 years on moving parts which sweetens the deal.

When you buy this model from Total Gym, expect workout DVDs and nutritional and exercise plans to facilitate your workout schedules.
Summary
The Total Gym Fit model is almost like an upgraded version of the XLS. So this one has better weight capacity, more resistance, and exercise options.

In addition, the Fit model also has several features that make it a premium workout machine that you can use for several years if you don't mind shelling out a couple of thousand dollars for it.
Pros
Outstanding construction and build quality
Up to 450 lbs of user weight capacity
More resistance than most models from the brand
It comes with all the required attachments
Excellent warranty coverage on both the frame and moving parts
No assembly required
Cons
Quite expensive
Some exercises need time to get used to
Conclusion
Total Gym's newest glide board setup is a champ in terms of versatility to do cardio training, strength training, and many different forms of exercises. It also comes with a robust build and a great warranty to use this machine for years.
Individuals on the heavier side encounter a lot of difficulties finding a piece of exercise equipment that checks all the boxes – performance and good build.

The Total Gym GTS is a machine like no other. This is a commercial-grade exercise machine that you can use at home for all your workout needs. But you will easily find the GTS in physical therapy clinic and club gyms because of its premium quality.

This model from Total Gym has stellar specs and features that put it in a different league altogether.

It has 200 plus exercise options; you can make plyometric type moves, build muscle mass, and lose weight with this exceptional machine.

In addition, with 22 levels of resistance, The Total Gym GTS will take care of all your strength training needs.

The GTS is also built to last and take a rigorous beating from serious exercise sessions for years.

So it's no wonder that the weight capacity is 650 lbs which is the most you can get from the brand and what makes it ideal if you are on the heavier side.

This Total Gym model is also the heaviest in the brand and weighs 180 lbs. Also, You'll love the many accessories that the GTS comes with – weight bar, dip bars, telescoping squat stand, lat bars, etc.
Summary
The GTS from Total Gym is an outstanding piece of equipment built to withstand significant weight capacity, has endless exercise options, and comes with many attachments.

This is a complete gym model designed for serious bodybuilders or anyone who desires to have a healthy and strong body.
Pros
Supports up to 650 lbs of user weight
More than 200 exercises and 22 levels of resistance
Options to add weight with the weight bar
It comes with numerous attachments
Strength training DVDs and exercise guides included
Cons
Requires assembly
It has an expensive price tag
Not portable friendly
Conclusion
The Total Gym GTS is by no means cheap, but if you don't mind investing in this model, it's a machine that will last for decades. Everything from the outstanding build quality, stellar specs, and features make this gym setup a total winner.
Total Gym Supreme is a very similar model to the 1900 and Total Gym Xtreme but is priced significantly higher than both.

This model has a weight capacity of 275 lbs and 12 resistance levels, so you can effortlessly get full-body workouts. You can do everything from cardio training to improving flexibility and overall body strength with this home gym.

This particular Total Gym model stands out due to the number of attachments. It includes the ab crunch accessory, squat stand, and leg pull accessory.

In addition, the Total Gym Supreme is one of the few models from the brand that comes with the tri-grip shaper bars.

This attachment is an improved one from the multi-functional bar found in other models from the brand and enhances the comfort levels due to its new angles.

The number of exercises on this Total Gym model is 60+, which is a standard figure from the brand. But rest assured, as you can execute all forms of exercises with this versatile workout machine.

With the Total Gym Supreme model, you will also find multiple workout DVDs and meal and nutritional plans from experts to help you achieve your fitness goals.
Summary
The Supreme model from Total Gym has enhanced comfort features thanks to the new tri-grip shaper bars attachment.

You will also find the resistance levels with this model more versatile than the others in the same price range. Total Gym Supreme also has more aesthetically pleasing features than its counterparts.
Pros
Compact and foldable design for added convenience
It comes with several attachments at no additional cost
12 resistance levels and 60+ exercises options
The tri-grip shaper bars provide more comfort for low impact workouts
Affordable price
No assembly required
Cons
Warranty service on the frame could have been better
A weight capacity of 275 lbs might not be satisfactory for advanced users
Conclusion
The Total Gym Supreme is a good choice if you are particular about the small details that make a difference in your exercise sessions.

The addition of the tri-grip shaper bars does not seem like a lot, but it makes a big difference as it is angled a bit differently.

The weight capacity of 275 lbs is a bit of a letdown from this model. But the weight limit is not a deal-breaker unless you are into bodybuilding.

Overall the Supreme is an affordable machine that can take of all your fitness needs.
How I chose the Total Gym models
Narrowing down this list of the best total gym models was not easy since there are so many models from the brand. In addition, there are the home gym system and the commercial systems, which made it hard to make the decision.

Ultimately, it was down to reading tons of independent Total Gym reviews, talking to personal trainers and gym owners, and a lot of time watching videos on the brand.

Exploring the internet for Total Gym reviews from customers on third-party platforms was also an invaluable source of information.

Finally, I compared the most important features, including – exercise options, resistance levels, and weight capacity.

Another critical consideration was the attachments included in the gym unit. Because most Total Gym accessories are not cheap, buying them separately can kick up the overall cost of the machine.
Total Gym buyers guide
If you don't have Total Gym home equipment yet but planning to get one soon, this buying guide can be your best reference.
Frame & Weight Capacity
Total gyms have a premium steel frame, so you don't have to worry about their reliability or longevity.

Because of their quality construction, Total Gym models have a remarkable maximum weight capacity. These machines support users' weight limit from 300 lbs to 650 lbs which is a fantastic range that most home gyms don't offer.
Folding & Storage
Despite their robust construction and size, all Total Gym models have a collapsible design, meaning you can fold them for storage when you are not using them.

Folding the Total gyms takes a little practice, but you can get it done after a few times.

To fold a Total Gym, remove all the attachments, hook the pulley system underneath the glide board, and release the safety hitch and pin from the pole. Fold the frame, and you can easily store this fitness equipment or transport it where you want.


Resistance levels for a Total Gym
The resistance levels of the Total Gym models are one of the best features of this home gyms systems. The primary resistance on these equipment is to adjust the height to meet your fitness requirements.

The resistance levels in Total Gyms are 5, 6, 8, 10, 12, and 15. The GTS has the highest resistance with 22 levels.
Size & Weight
Different Total Gym models have different dimensions, but the difference is not significant since all the models are foldable.

The GTS weighs the most at 108 lbs, but other Total Gym models weigh between 50 and 70 lbs, putting them in the lightweight category.
Glide Board
The slide or the glide board is a feature in Total gyms that allow different exercise for a full-body workout. Most Total Gym exercises require sitting or lying down on the glide board since the machine relies on your body weight for resistance.

However, the glide board is fully adjustable and quite comfortable. The cables attached to the board are also smooth, so you can work out without straining or exertion.
Assembly
One of the features that Total Gym models have in common is that there is no assembly required.

When you order a Total Gym machine, you can use them straight out of the box. Of course, you need to adjust the height and hook the safety pins in place, but it is simple, and even a first-timer can do it without any problem.

Commercial models such as the GT5 will require assembly, but home models do not require assembly adding to their convenience.
Total Gym accessories included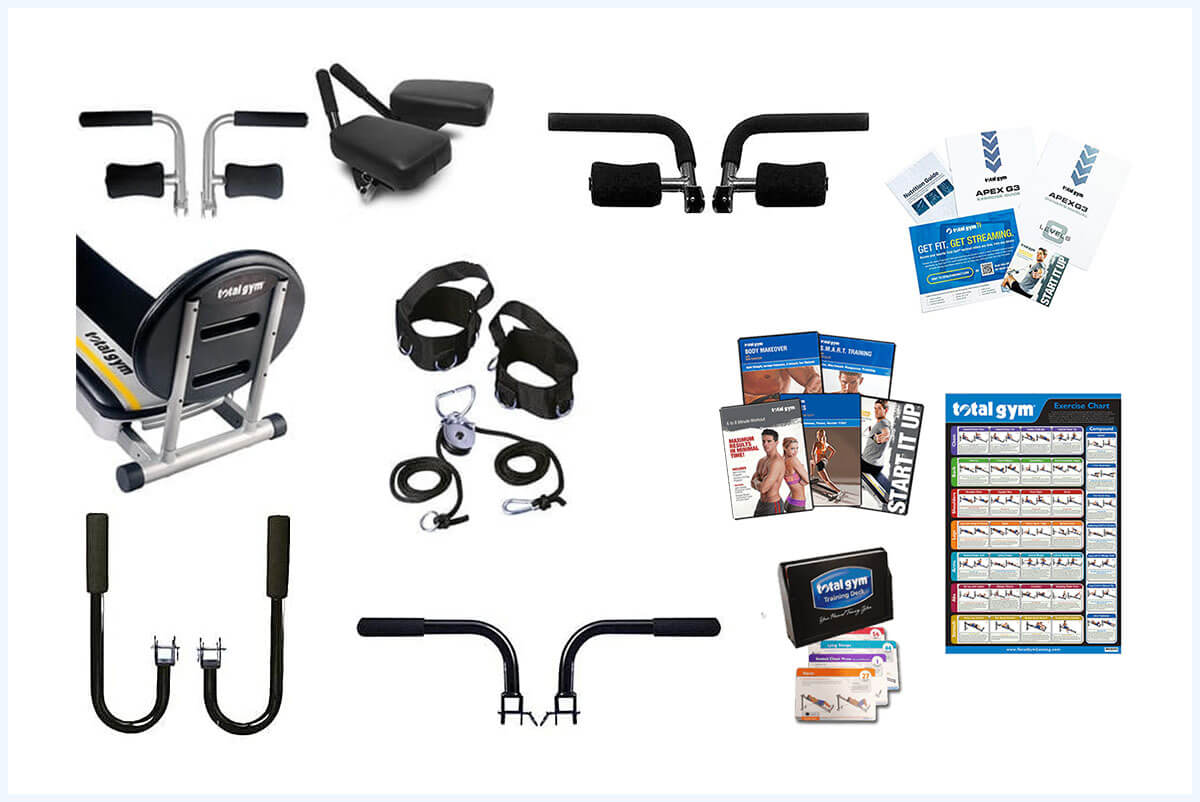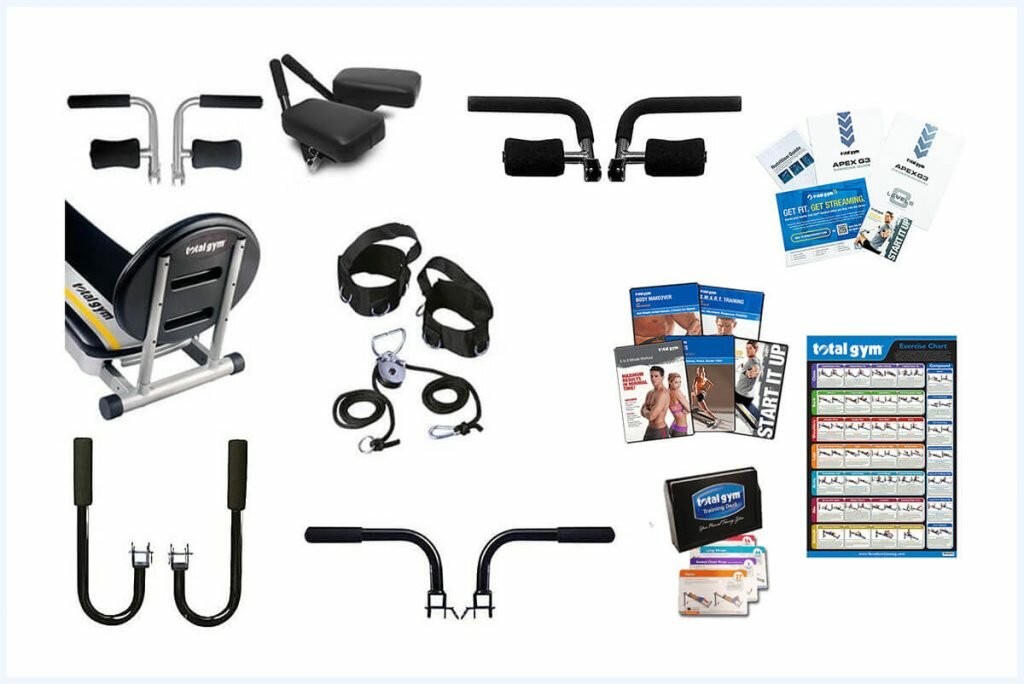 Few home gym brands can beat Total Gym when it comes to accessories. The standard accessories in most of the Total Gym machines include a squat stand, leg pull accessory, ab crunch accessory, and wing attachment. Workout DVDs and nutrition and exercise guides are also available with each unit.

The premium-priced models naturally come with more attachments, including dip bars, stability mats, and a training deck with a holder, among others.
Number of exercises available
The number of exercises on the Total Gym machines is limitless as the options range from 60 to 80. This is more than enough for a home gym user, so you'll have a difficult time deciding.

The GR8FLEX and GT5 are exceptions in this regard because they have 140+ and 200+ exercise options, more than enough to hit every major muscle group.
Price
There is a Total Gym for every budget when it comes to price. Total Gym variations come in different price ranges, from budget-friendly to intermediate to top-of-the-class premium gym equipment.

To give you an idea, the Apex G1, G3, and ER Kang are among the most affordable, followed by Total Gym X Force, Xtreme, and Apex G5.

The Total Gym XLS and GR8FLEX are among the pricier models from the brand. But the premium and the most expensive model is the GT5.
Warranty
The warranty on the Total Gym models is a hit and a miss because it differs significantly from one model to the other.

Depending on the model, total Gym fitness systems have 1 year, 5-year, to lifetime frame warranty.

Similarly, the parts warranty for this fitness equipment ranges from 6 months to 1 year and 2 years, depending on the model.
Benefits of a Total Gym
Working out with or owning a Total Gym has numerous benefits, which include:
Convenience to workout in the comfort of your home
It eliminates the need for an expensive gym membership
Total body workout with numerous exercise options
Ease of storage and transporting the home gym anywhere you want
Allows you to achieve your fitness goals and stay healthy and active
Improves flexibility, strength and builds muscle mass
Total Gym Workouts
Total Gyms are excellent home gyms that are unbeatable in terms of versatility, so you can hit a full-body workout with any of them. Some of the Total Gym exercise options include.
Pullover
Chest fly incline
Overhead Shoulder Press
Swimmer
Pullup
Row
Surfer Lat Pull
Biceps Curl
Torso Rotation
Jump
Squat
Total Gym has in-depth videos about these workouts on their official site and on Total Gym YouTube, so don't forget to check them out.
The Bottom Line
After an in-depth comparison and thorough research, the Apex G5 is a clear winner for me. It packs all the right features for a great home gym and is a great value for your money. The versatility and range of exercises that you can do on this machine are hard to beat.

Nevertheless, the best Total Gym models will depend on how much you're willing to pay, whether you want to lose weight or build muscle.

These home gyms are easy to use and apt for every fitness level, so you will love using them for a long time.
(FAQs) Frequently Asked Questions
What is the best Total Gym for the money?
Every Total Gym model brings its own value, making them an ideal home gym solution.
However, the Apex G5 is my pick for the best Total Gym model for the money.
This outstanding piece of fitness equipment packs a punch with stellar features, including 10 resistance levels and an upgraded squat stand.
The Total Gym Apex G5 also comes with a series of attachments similar to other models from the brand.
But the best feature about the APEX G5 is that it is moderately priced, especially when compared to other home gyms in the same category.
Is Bowflex or Total Gym better?
Bowflex and Total Gyms have their own USP making them the top favorite among fitness enthusiasts.
Bowflex machines are typically great for building muscle mass as it allows strength training exercises with free weights.
On the other hand, Total Gym models aim to maintain functional strength since the machines rely on your own bodyweight to create the primary resistance.
Where price is concerned, Bowflex and Total Gym models have similar tags. So choosing between these two home gyms really comes down to personal preference.
Are squats on the Total Gym effective?
Absolutely. Squats are definitely on the list of lower body exercises that you may do with the Total Gym equipment.
Total Gyms come with an extra-large squat stand and squat wing attachment to engage in different squat variations.
So with bodyweight squats, kettlebell squats, and barbell squats, you can effectively work on your glutes, hamstrings, and quads with ease.
What is the newest Total Gym Model?
The Total Gym Fit is the newest model from this fitness brand and is the perfect home gym equipment.
This fitness machine is similar to the Total Gym XLS but with upgraded features, including resistance levels.
In addition, the Fit model also allows more exercises making this machine unrivaled in terms of versatility.
Is the Total Gym quiet?
The Total Gym models are some of the quietest machines available. They are not extremely quiet, but unless you make a lot of noise, they will not disturb your neighbors. This makes them perfect for use at home.
How many Total Gym models are there?
Total Gym currently has numerous home gym models from the brand. These are Total Gym Supreme, 1100, 1400, 1600, 1900, Apex G1, G3, G5, ER Kang, X Force, XLS, GTS, XTREME, and FIT.
In addition, Total Gym also has several models in its commercial line-up.
However, some models are no longer commercially available on the brand's site. You might find some pre-loved ones on third-party platforms if you are interested.
Is the Total Gym good for seniors?
Yes, Total Gym exercise machines are suitable for seniors to get a full-body workout.
These machines do not involve external weight plates, no assembly is required, and the exercises are low impact.
In addition, Total home gyms are also easy to get on and off, making them ideal for seniors to use.
Which Total Gym model is the best for seniors?
Total Gym XLS and X Force are fantastic home gym systems for seniors. This particular Total Gym model uses your body weight for resistance, meaning you can get a full-body workout with a full range of motion.
The glide board is smooth in this Total Gym model, the pulley system is easy on the joints, and the seat/handles are comfortable.
Because these machines are low impact and easy to use, the Total X Force and XLS are a common sight in the physical therapy clinics.
Can you lose weight using the Total Gym?
Every Total home gym machine gives you multiple workout options to target all major muscle groups.
In addition to the exercise varieties, these home gyms have different resistance levels, so you can customize them for losing weight, improving flexibility, or building muscle, whatever your fitness goals may be.
However, using the Total Gym equipment alone will not guarantee weight loss.
You need to combine consistent resistance training with an appropriate diet to see visible results for maintaining an ideal weight.
How many calories can you burn with the Total Gym?
The Total Gym does not burn specific calories, and the number of calories you burn will primarily depend on how long you train and the levels of resistance you use with the Total Gym.
Experts agree and recommend that at least 30 minutes of daily exercise is ideal for good health. In this 30-minute duration, a 150 lbs person can burn anywhere from 140 calories to 295 calories, depending on how intense your workout is.
So If achieving your fitness objectives includes a lot of burning calories, add more resistance to your Total Gym workout, and you'll burn off a significant number of calories.
Can you build muscle working out with the Total Gym?
Yes, building muscle is possible with the Total Gym machines. The GR8FLEX, in particular, is a fantastic choice as it comes with 15 resistance levels and allows more than 140 exercises.
This heavy-duty Total Gym model has a user weight capacity of 450 lbs and is sturdily built with premium quality materials.
The GR8FLEX is also great for bodybuilding as the resistance bands allow you to increase the resistance and keep the workouts extremely challenging progressively.
Is it possible to use the Total Gym every day?
Yes, you can use and work out with the Total Gym every day without any problem.
Total Gym workouts are low impact, and you can customize the resistance levels to suit your fitness levels.
In addition, this home gym equipment is effortless to use, so you can get a total body workout without straining your joints.
You will also love that Total Gyms do not have free weights, so they are suitable for almost everyone.
Can you use the Total Gym for Pilates?
Absolutely! The brand has a Pilates Kit that you can hook up with all the popular home gym and commercial models with ease.
You will also appreciate that this attachment comes with Pilates workout DVDs, a leg pull accessory, and a toe bar.
The Pilates kit is the perfect attachment to improve your overall strength and balance while working out with Total Gyms.
What are the best Total Gym exercises for weight loss?
Suppose you have chosen the Total Gym range to assist you in reaching your weight loss goals; great! This home gym systems allow a wide range of exercises for a full-body workout.
Ideally, engaging in strength training 2-3 times a week with the Total Gym and combining it with aerobics and cardio training on the other days can help with effective weight loss.
Some of the top cardio you can do with Total Gyms are hope twists, pullover crunch, lateral flies, chest press, and flies.
In this regard, the glide board can be invaluable in helping you get the right moves.
Who is the creator of Total Gym?
The Total Gym is the brainchild of Tom Campanaro, who created the home gyms with his partner, Doug Marino, and launched it in 1974, with a lukewarm response.
However, since the first Total Gym TV infomercials in 1996, this family-owned business has grown exponentially.
The Total Gym company has passed several hands since it first launched, but it returned with its original owners, and Tom Campanaro is the current CEO.