In addition to testing, reviewing and recommending the best products, we may earn a small commission if you purchase through our affiliate links.
We earn a commission if you make a purchase, at no additional cost to you.
Today, we'll take an in-depth and comprehensive look at two very similar yet distinctly valuable exercise equipment – the Total Gym Apex G3 and the Total Gym Apex G5.

While vastly similar in specs and features, the Total Gym Apex G3 vs. G5 debate continues due to price differences, and the G5 appears to offer more at first glance.

To set the record straight, we put both units to a full range of tests consulted fitness experts, bodybuilders, and physiology experts to see which one comes out on top.
Here's what we found!
The Total Gym Apex G3 is a versatile piece of equipment that can help you achieve your fitness goals.
It supports up to 300 lbs and arrives pre-assembled, so you can start using it right away. It is also very affordable, making it an excellent option for those on a budget.
The construction is durable and enables strength training, cardio, circuit training, stretches, Pilates, and more.
With so many exercises and weight capacity, the Total Gym Apex G3 is an excellent choice for anyone looking for an all-in-one fitness solution.
Pros:
Quality build and durable construction.
Enables strength training, cardio, circuit training, stretches, Pilates, etc.
Affordable without compromise on features.
Arrives pre-assembled
Usable by all fitness levels.
Cons:
Pilates and Nylon strap handles kit not included.
Supports 60+ exercises.
Weight limit of 300 lbs.
The Total Gym Apex G3 is Ideal For:
If you're a complete newbie who wants a piece of affordable all-in-one equipment. Also, it's a good choice for seniors who prefer low-intensity routines.
Total Gym Apex G5 is another excellent option from Total Gym if you want an all-in-one workout machine.
It offers 80 exercises, a weight capacity of 375 lbs., and comes pre-assembled. It is also slightly wider than the Total Gym Apex G3, making it a good choice if you have a little more space in your home gym.
The construction is durable, so you can be sure this machine will last for years to come.
Finally, the Apex G5 supports strength training, cardio, circuit training, stretching, and Pilates exercises – making it an excellent option for nearly everyone.
Pros:
Weight capacity of 375 lbs.
Slightly wider than the Total Gym Apex G3.
Arrives pre-assembled.
Usable by all fitness levels.
Quality build and durable construction.
Strength training, cardio, circuit training, stretching, and Pilates are supported.
Cons:
More expensive than the G1 and G3, without too many additional features.
The Total Gym Apex G5 is Ideal For:
Those on the intermediate level of working out will love this, but it is still great for beginners because it offers many similar features to what the G3 has to offer.
In-depth Comparison: Total Gym Apex G3 vs. G5
Let's get a more in-depth look at the features and capabilities of the Total Gym Apex G3 and the Apex G5 to understand their differences better.
Comparison table side by side
| | Apex G3 | Apex G5 |
| --- | --- | --- |
| Dimensions | 93″ x 16.25″ x 43.25″ | 93″ x 16.25″ x 43.25″ |
| Resistance Levels | 6 | 10 |
| Number of Exercises | 60 | 80 |
| User Weight Capacity | 300 lbs | 375 lbs |
| Glideboard (Padded) | Yes | Yes |
| Pulley system with Cables | Yes | Yes |
| Squat Board | Yes | Yes |
| Item Weight | 53.2 lbs | 53.2 lbs |
| Price | Check Latest Price | Check Latest Price |
As you can see, the most significant difference between these two apex models lies in the number of exercises and the variety of resistance levels they offer.

Additionally, the total weight supported also differs by 75 lbs in favor of the Apex G5. There are other nuances that set apart these two Total Gym models. But we'll get into more detail as we compare specific aspects of these two machines.
Resistance Levels
The Total Gym Apex units all come with multiple resistance levels. And it's a handy feature if you want to add varying intensity levels to the same set of exercises.

While the essential Total Gym Apex G1 comes with only six resistance levels, the G3 and G5 come with progressively higher levels. The G3 allows you to switch between eight different resistance levels.

It's undoubtedly a step up from the G1's six levels, but more experienced fitness enthusiasts may want more from their machines. The G5 takes it up a couple of notches by providing ten eight resistance levels.

So, you have access to more nuanced resistance levels for any exercise you perform. Besides the number of levels, the mechanism and principle remain the same on G3 and G5.

You can add more resistance by increasing the slanting degree of the sliding board. Because of the steeper incline, you're essentially pushing or pulling more of your body weight.

Likewise, decreasing the slant of the board will let you use less energy to perform your reps.
Accessories and Attachments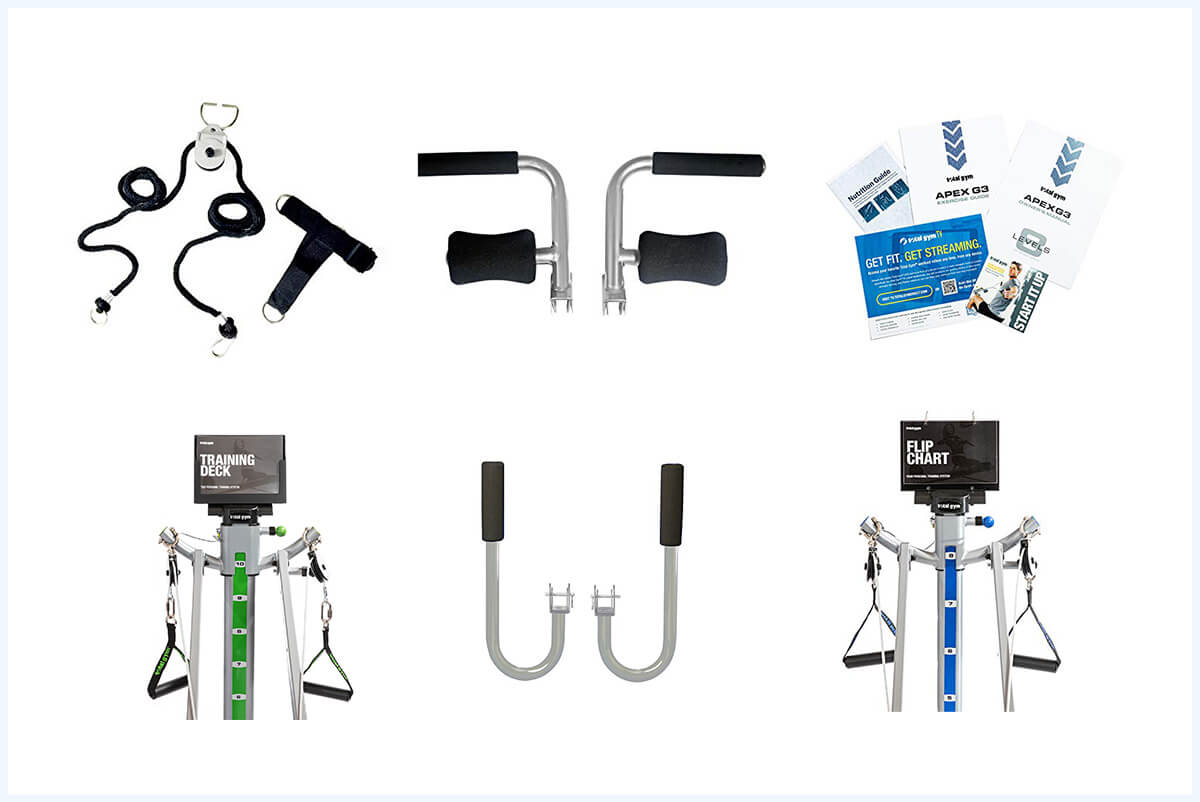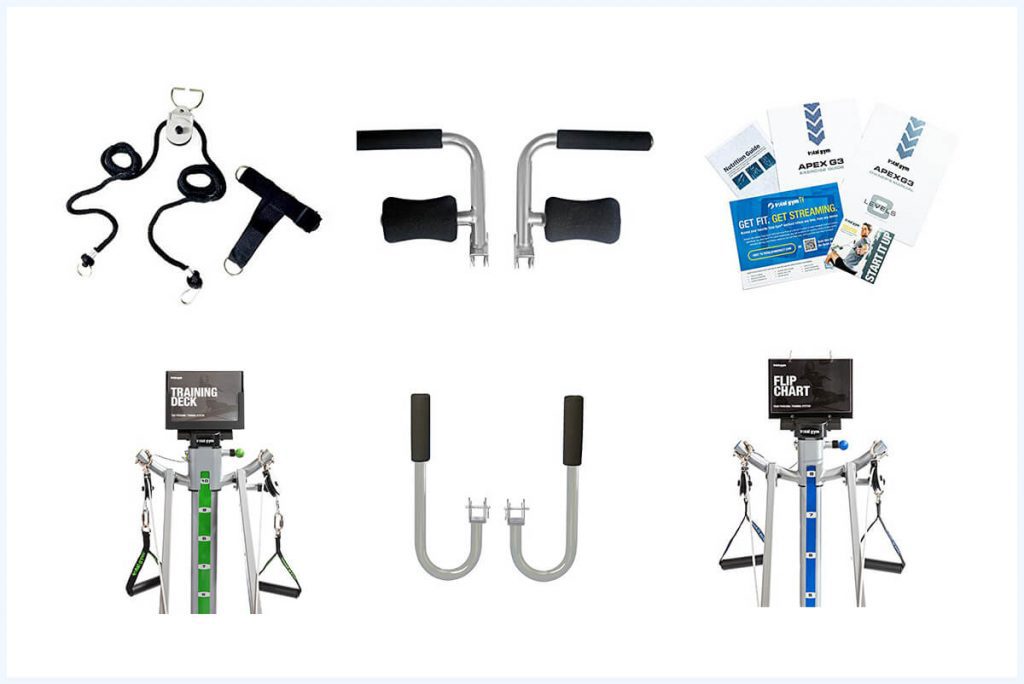 The Total Gym Apex G3 and G5 come with the same attachments due to their identical built and design. Of course, the two units aren't the same in every way. But the additional attachments are more or less the same.

Here's a list of all the fittings and accessories that come with both Total Gym models.
Wing Attachment: A versatile component with foam pads and brackets for support.
Dip Bars: Removable bars that you can use to work everything from shoulders and triceps to chest and pecs.
Leg Pull Accessory: A pulley and rope assembly that targets various muscles.
Squat board: Comfortable stand for working your glutes, calves, thighs, etc.
Total Gym TV access: streaming workouts
Training Deck with Holder: There are tons of exercises and workouts accessible on your unit.
Reading/viewing materials: DVD (Start it up!), owner's manual, Exercise Guide, nutrition guide.
Given the handy attachments and rich resources you get, the Total Gym Apex G3 and G5 come ready to use. The intuitive fittings and design make it easy even for beginners to set up and figure out how to proceed.
Assembly
The great thing about the Total Gym Apex G units is that they all come pre-assembled. Both the Apex G3 and the G5 come 100% assembled.

So, you don't have to fiddle around with tools and screws, wondering which parts go where. It's another reason why anyone can buy one of these units and get started right away.

The only action you have to execute is to unfold the unit into its functional position. This does not count as an assembly because there are no additional components you have to attach or remove to unfold it.

As far as the attachments go, you have to align the components on the frame and slide in the appropriate pins to hold it in place. You have to attach the hook to the hole for the rope and pulley.

Here's a short video that reveals how easily the attachments go onto the equipment.
User Weight Capacity
For many customers, the weight capacity of the G3 and G5 is the main reason they buy one or the other.

The Total Gym Apex G3 supports a maximum weight capacity of 300 lbs. The average weight for adult men is usually around 200 lbs. So, the G3's weight capacity usually is more than enough to support the average buyer.

However, it's not uncommon to weigh over 300 lbs. And to shed off some of those extra pounds, you'll need equipment that can support the whole weight initially. That's where models like the Apex G5 offer an advantage over the G3.

The Total Gym Apex G5 can support up to 375 lbs, which is a substantially higher capacity than the G3's 300 lbs.

Total Gym does have models like the GR8FLEX, which come specially built for more weight and specific workouts.

It supports up to 450 lbs, but the equipment targets bodybuilders more than the everyday workout enthusiast. So, the Total Gym Apex G5 is undoubtedly ideal for heavier users.

The additional weight capacity certainly tips the scales in favor of the G5 when considering the Total Gym Apex G3 vs. G5 debate.
Folding and Storage
The Total Gym Apex G3 and G5 come with easily foldable designs for quick storage.

Once out of the box, you have to slide open the frame till it's horizontal on the ground. Then, pull up the center column till it's straight and upright.

Finally, lift the frame to the desired resistance inclined, and you're good to go!

After you're done exercising, all you have to do is perform these steps in reverse. And the unit will contract back to a compact shape. You can then store this space-saving shape in your closet, under your bed, etc.

Here's a handy demo video on how to do it.
If you have a separate gym room or basement for working out, folding may not even be necessary. You can leave the machine set up and ready in your workout space and hop on any time.
Total Gym Apex G3 vs. G5: Exercises
There's a long list of exercises that you can perform on the Total Gym Apex G3 and G5. The Apex G3 offers about 60 exercises that you can achieve, while the G5 provides up to 80 exercises.

The G5 offers approximately 80 exercises, while the G3 provides about 60.

Making an exhaustive list here would be cumbersome. In any case, you'll get a complete guide on the exercises and instructions regardless of which variant you go for.

However, to get an idea of the range of exercises possible, here's an overview of some of the workouts you can do.
What exercises can you do with the Total Gym Apex G3?
Basic Squats (leg muscles)
Single-leg squats
The jog (inclined)
Overhand Pull-ups (inclined)
Back-dancing (glutes)
Hamstring Slides
Straight-arm Sweeps (lats)
Arm sweeps sideways (abdomen)
Pushups (sat-down and horizontal)
As with any exercise, seeing a demonstration is often more helpful than reading about it. Check out this informative video on how these easy workouts mentioned above work.
What exercises can you do with the Total Gym Apex G5?
The Surfer (arms and wrists)
The kneeling row
The kneeling kickback (Triceps)
The kneeling curl (Biceps)
Seated Chest Press (Chest)
Inclined Squats
One-legged squats
Calf raise
Roll-up (abs)
Ab Crunch (Inclined)
This brief video demonstrates how to perform these routines for beginners and advanced practitioners alike efficiently.
Quality and Durability: Total Gym Apex G3 vs. G5
The Total Gym G3 and G5 both come with similar build and materials. And the manufacturers ensure that each component comes with the optimum combination of strength, composition, and design.

The gliding board slides up and down quickly, so there's no excess friction to damage the frame. However, if you weigh over 300 pounds, you may want to stick to the G5. The padded board and headrest ensure both comfort and durability of the board.

Frames are all made of quality steel that's sure to last for a long time to come. To make the most of its potential durability, it's always wise to see the maintenance tips and instructions that come with the owner's manual.

Also, the pulley system comes with solid and sturdy cables that retain their strength even after prolonged use. And the handles come with finely embroidered nylons that add aesthetics and firmness to your grip.

There's no disassembly required when you want to move from one exercise to the other.

So, your transition from inclined pull-ups to a single-leg squat is just a matter of repositioning your body, and this ensures that the equipment stays intact and lasts longer.

The easy folding design and space-saving storage let you store it safely when not in use. So, you can help preserve the components by neatly tucking them away in a corner or closet.
Unit's Dimensions
The manufacturers designed the Total Gym Apex G5 along the same lines as the G3 as far as dimensions go.

So, you'll find that both units are almost identical in size and measurement, and however, the G5 is slightly wider than the G3.

The longest part of the Total Gym Apex G3 is the length since it's the frame that houses the sliding board. It measures about 93 inches when unfolded and in use. And the Total Gym Apex G5 also has the same length.

When unfolded, both the G5 and G3 stand about 43.25 inches in height. It's essentially the center column that makes up this height because the rest of it is inclined horizontally.

The main difference between the G3 and G5 is in width. While the G3 has a more modest width of 16.5 inches, the G5 is about an inch wider at 17.5 inches. Given the overall size of the two total gym models, this difference isn't too noticeable.

When folded for storage, both units measure the same size in dimensions. The G3 and G5 will measure 50.5 inches in length, 8 inches in height, 15.5 inches in width.
Warranty
Total Gym, LLC offers its standard warranty contract for the Total Gym Apex G3 and the Apex G5 units. And you can register your home gym equipment on their official website after purchase to fully access this warranty.

They ensure both the G3 and The G5 will not come with any defects or problems due to construction workmanship or materials. But for the warranty to kick in, the manufacturers set some basic requirements.

Warranty will apply only when:
You purchase the G3 or G5 from a Total Gym authorized dealer.
The equipment is for household or personal use.
The purchase is not for resale or commercial purposes.
And only if the original owner of the equipment seeks a warranty (not transferable).
Their warranty does not apply for any defect or damage from mishandling or accidents. Also, the right to access the warranty may be subject to local and state laws depending on which area you live in.

If you meet all the warranty requirements, here are the steps to take.
Get in touch with the Total Gym customer service department.
They will check if the damage was because of mishandling.
Then, the company decides whether the defective component needs a repair or replacement.
And all product returns and costs are borne by the owner.
Price Comparison: Total Apex G3 vs. G5
The exact price of the Total Gym Apex G3 and G5 may vary slightly depending on the dealer, website, or source you buy from. Also, your location and region may have a negligible effect on the final payment rates.

The links below will provide you with the most up-to-date pricing.
Click here to check the price of Total Apex G3.
Click here to check the price of Total Apex G5.
FAQs
How good is Total Gym for Squats?
Total Gym provides a flexible approach to doing your squats. You can target specific areas like your quads and glutes with many variations and intensities to choose from.
Alternatively, you can create routines that have an overall impact on your entire lower body.
How good is Total Gym for Seniors?
Total Gym remains an ideal choice for seniors, too, thanks to its zero-assembly and low-impact exercises.
The equipment is ready straight out of the box, so even an older family member can get going straight away.
Plus, the 8 or 10 resistance levels give you the option of setting low-intensity settings in any exercise.
Is Total Gym effective for weight loss?
Yes. Total Gym offers various routines that you can customize for both targeted and overall weight loss.
Whether you choose the G3 or the G5, you can choose from 60 or 80 different exercises. For instance, you can pull your weight (resistance training) on the bars/pulleys or jog off the squat stand (cardio) for an effective weight loss routine.
What does the Total Gym Apex G5 come with?
The Total Gym Apex G5 comes with standard attachments and fittings. You get: The wing attachments, leg pull accessory, Dip bars, Training deck with holder, Start it up! DVD, Exercise Guide, Nutrition Guide, Required hinge pins and fittings. 
Which is the best Total Gym?
Each Total Gym equipment series model has its advantage and uses. So, the single best total gym model for you may depend on your budget, exercise requirement, and even your current physical condition.
Between the G3 and the G5, beginners may find the G3 quite adequate and affordable, while more advanced practitioners or those beyond 300 lbs may find the G5 a better choice.
Final Thought
The Total Gym Apex G3 vs. G5 continues to be a bone of contention for many amateurs and professional fitness enthusiasts.

However, an informed and honest assessment reveals that each has a place in the wide array of fitness requirements that we all need or want in our homes.

Depending on what you're willing to spend and what regimen you want, both the Apex G3 and Apex G5 can easily fall in line with a wholesome and comprehensive workout routine at home.
We earn a commission if you make a purchase, at no additional cost to you.
Thanks for your feedback!