Are you confused about buying the Total Gym Fit or the XLS? You're not alone.

In this post, we'll break down the differences between these two popular models so that you can make an informed decision.

We'll also look at some of the pros and cons of each machine to help you decide which is right for you.
By the end of this post, you'll know everything you need to choose the perfect home gym for your needs. So, let's get started!
What is Total Gym?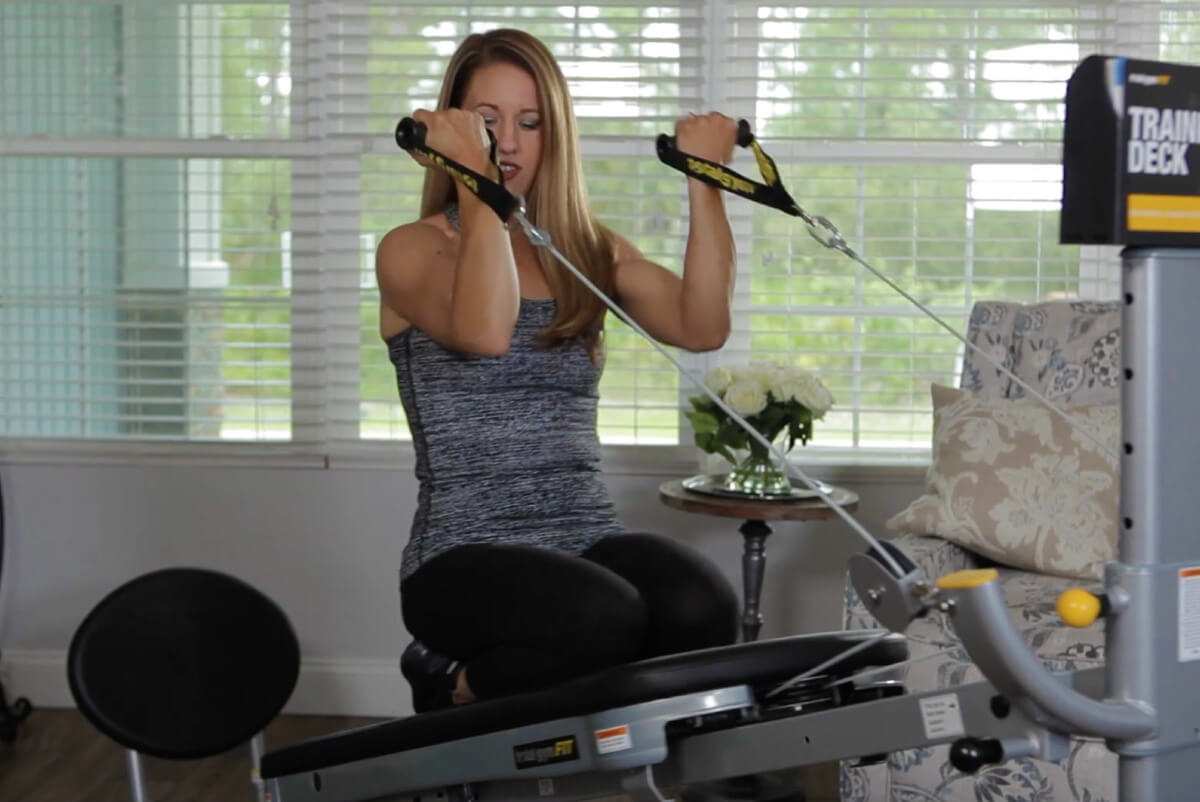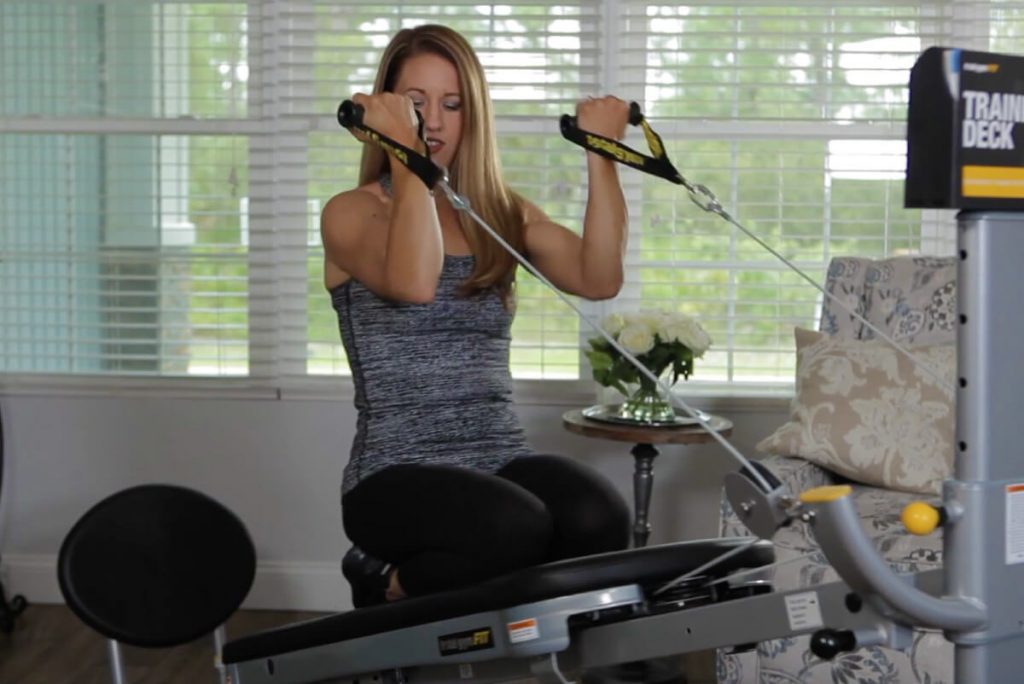 Total Gym is a brand of home gyms founded in 1974. The company offers four different models, all designed to provide a full-body workout in the comfort of your own home.

The Total Gym Fit and the XLS are two of the most popular models on the market, and they both have a lot to offer.

Another thing to point out is that these products rely on the body's weight rather than physical weights or other forms of resistance.

This means that your body weight creates resistance as you move through the exercises.

For that reason, This can be an excellent option for those interested in low-impact exercises.
Total Gym Fit vs. XLS: In-depth Comparison
This section will compare the main differences between the Total Gym Fit vs. XLS. We'll look at the Resistance Levels, Attachments, Functionality, User Weight Capacity, User Height Limits, Warranty, Price, How is their Customer Service?, Assembly, Unit's Dimensions, Unit's Weight, Folding and storage, and finally Exercise & Workouts. Let's get started.
Resistance Levels
The Total Gym Fit has 12 resistance levels, while the XLS only has six, which can be a downside for people looking to increase their resistance gradually.

This can be a deciding factor for some people when choosing between the two machines. The higher the number of resistance levels, the more versatile the machine will be.

If you want to get a good workout at home and switch up your routine often, the Total Gym Fit would be a better option. The XLS will work just fine if you are only looking for a basic home gym with fewer resistance levels.
What Attachments are Included?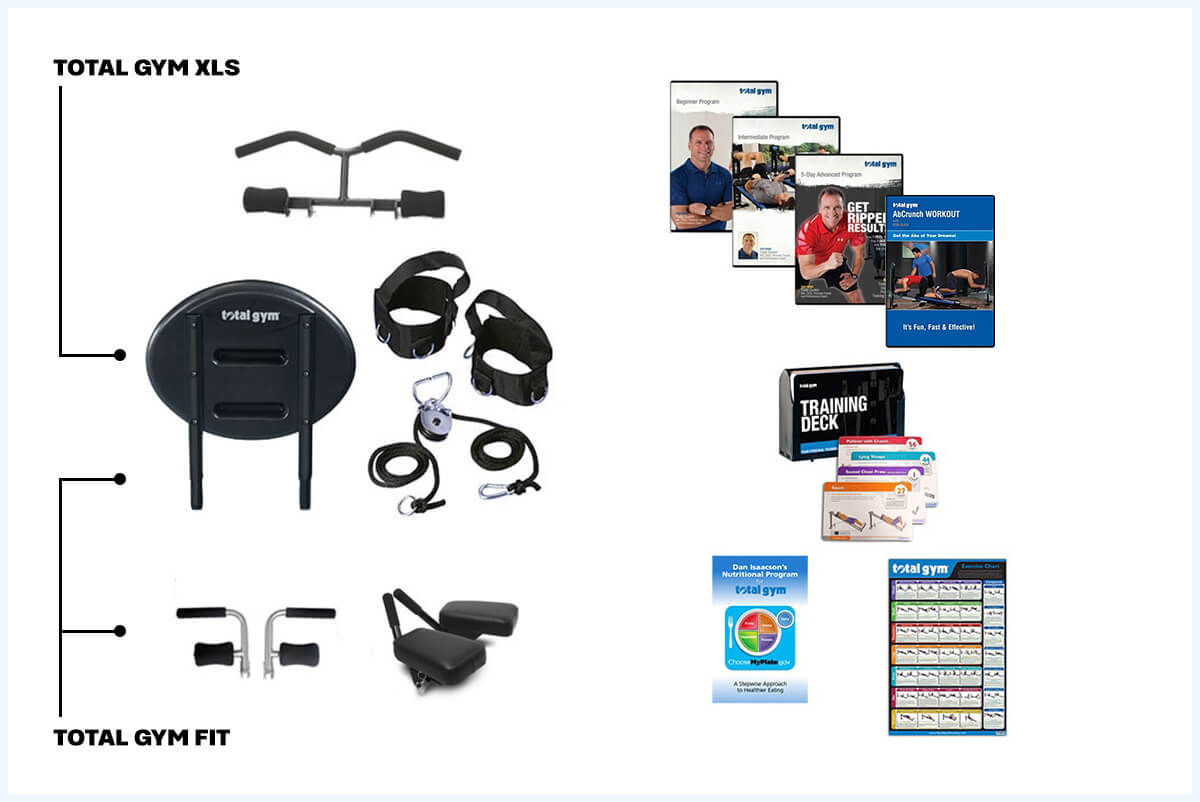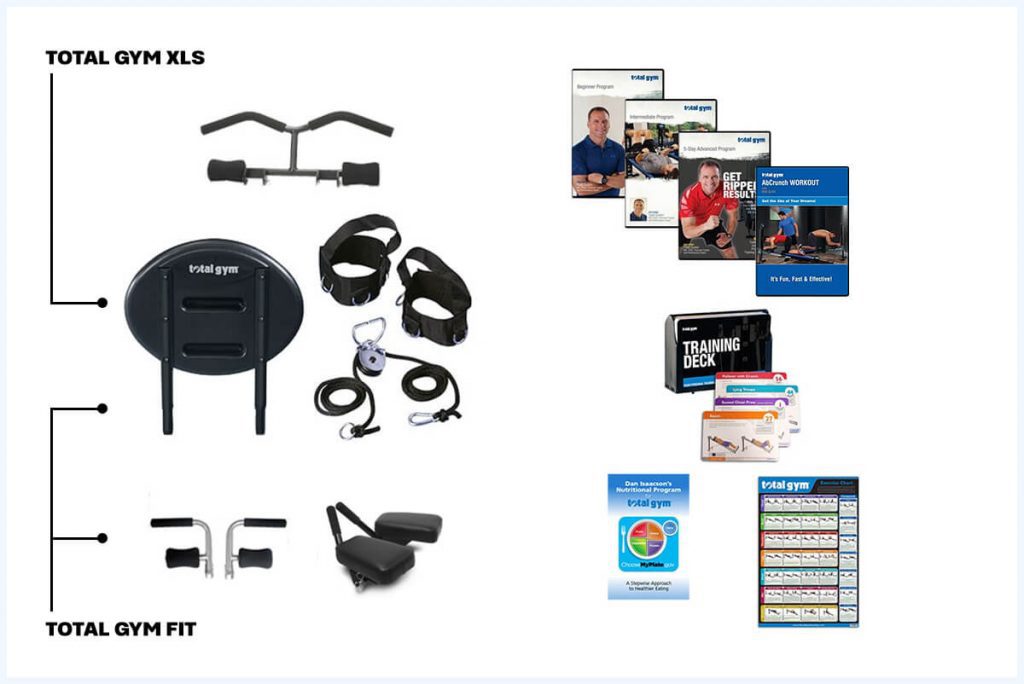 The Total Gym XLS is a great machine with plenty of features, but if you're looking for even more attachments and workout DVDs, the Total Gym Fit is the model to buy.

You get the same Leg Pull attachment, Ribbed Squat Stand, and Wing Attachment as on the XLS, but you also get the upgraded Squat Stand and best-selling AbCrunch.

You also get six workout DVDs, whereas the XLS model offers five.
Functionality
Total Gym Fit comes with 85+ full-body workouts for more advanced workout routines than the XLS, which only offers 80+.

Most likely not a deciding factor when choosing which model to purchase, but a nice perk for those looking for an upgrade.

The Fit model's New Auto-Lock Height adjustment system ensures a more comfortable experience by automatically locking into your desired height position, so you don't have to keep readjusting it as you work out.

Additionally, the ergonomic glide board provides extra comfort while exercising, making your workout experience even more enjoyable.
Exercise & Workout
The Total Gym Fit has over 85 possible exercises, while the XLS has over 80. Both machines target all muscle groups for a full-body workout which includes.
These exercises can help you get into shape, so if you're looking to burn a few calories, either model is a good buy.

Here's a step-by-step guide to performing the entire body workout in 30 minutes.
User Weight Capacity
When it comes to user weight capacity, the Total Gym Fit allows a maximum weight of 450 lbs, while the XLS can accommodate a maximum user weight of 400 lbs.

That being said, even if you do not exceed either of those weight capacities, it is still essential to consider your body weight when making a purchase decision, as you will be working out on this machine at least three to four times a week.
User Height Limits
Both Total Gyms are an excellent option for users of all heights, with the maximum height being 6ft 5″ or less.
Assembly
Assembling the Total Gym machine can take up to 5 minutes. The process is pretty straightforward, though you will need to study the user manual carefully.

To begin, lay the frame out on a flat surface. The base of the frame should be facing up, and the back support should be facing down.


Here's a video of the assembly:
Unit's Dimensions
The unfolded dimensions of the Total Gym Fit are 18.5″ W x 93″ L x 44.5″ H, whereas the folded dimensions are 18.5″ W x 50.5″ L x 8.5″ H.

The XLS model is a bit smaller. However, it's not by much the unfolded dimensions 19″ W x 90″ L x 43″ H, but it is a bit bulkier when folded 19″ W x 51″ L x 9″ H.
Unit's Weight
The Total Gym Fit weighs only 90 pounds, while the XLS Unit weighs 81.6 lbs. The Fit weight allows it to hold up better against impact and regular use.
Folding and storage
Total Gyms are an excellent choice for people looking to work out at home or on the go. These gyms come with a heavy-duty frame and can fold up nicely when not in use, making them easy to store in small spaces.

Here's a video walkthrough demonstrating how to fold your Total Gym.
Warranty
There is a difference between the Total Gym Fit and the Total Gym XLS regarding the warranty.

If you purchase your machine from their website, you will be covered by a lifetime warranty on both machines.

However, the warranty on parts differs. On the XLS, you are covered for six months after purchase, and on the Fit model, you get two years on parts.

This is because it includes the more latest and durable technology than what's found in the XLS. Keep this in mind when looking for your machine!
Price
Although the Fit model is more expensive than the XLS version, it includes a broader range of features, including a higher degree of resistance, extra workouts, upgraded accessories, a higher weight capacity, and a more extended parts warranty.

However, if you are on a budget and don't mind sacrificing some features, the XLS model is a good option.

You can also find used Total Gym Fit or Total Gym XLS models on Walmart, which can save you even more money.

So, which one should you buy? It depends on your needs and budget. But either way, you can't go wrong with a Total Gym.

Click here to check the price for the Total Gym Fit.
Click here to get the price for the Total Gym XLS.
How is their Customer Service?
Total Gym offers excellent customer service whether you have a warranty issue, need to purchase new accessories for your machine or want some advice on using it.

You can reach them via phone, email, or live chat. Check out their contact page for additional information.
Similarities: Total Gym Fit & XLS
Both machines offer a wide variety of exercises that can be tailored to your fitness level and goals.

They are both easy to use and can be used by most people, regardless of age or fitness level.

They both come with instructional DVDs that will show you the proper form for each exercise, as well as how to use your machine correctly.

Here's a complete list of what's Similar between both of these models
How many different total gyms are there?
There are a few different ways to look at this question. The first way is by counting the number of unique Total Gym models released over the years.

This would include all classic models and any newer ones that have come out since then.

According to this count, thirteen different total gym models have been released.

However, only three total gym machines are available on their official website Right Now. Supreme, XLS, Fit, GTS
Design and Color Scheme
There are four main models on the official site of the Tota gym, but despite their differences, they look pretty similar in design.

Here's a diagram of each model, as well as the design:
What Other People Say
Now that we've compared the two machines, it's time to look at customer reviews.
FAQs
Thanks for your feedback!