Choosing the right total gym product can be difficult, but it doesn't have to be. This article will compare the different models: Total Gym Force vs. Total Gym 1600.

Both the total gym products are unquestionably one of the most efficient ways of getting a full-body workout at home, and both offer some great features that make them stand out from other brands on the market.
So which is better? Read on to find out!
Total Gym Force vs. Total Gym 1600
What are the additional features and add-ons?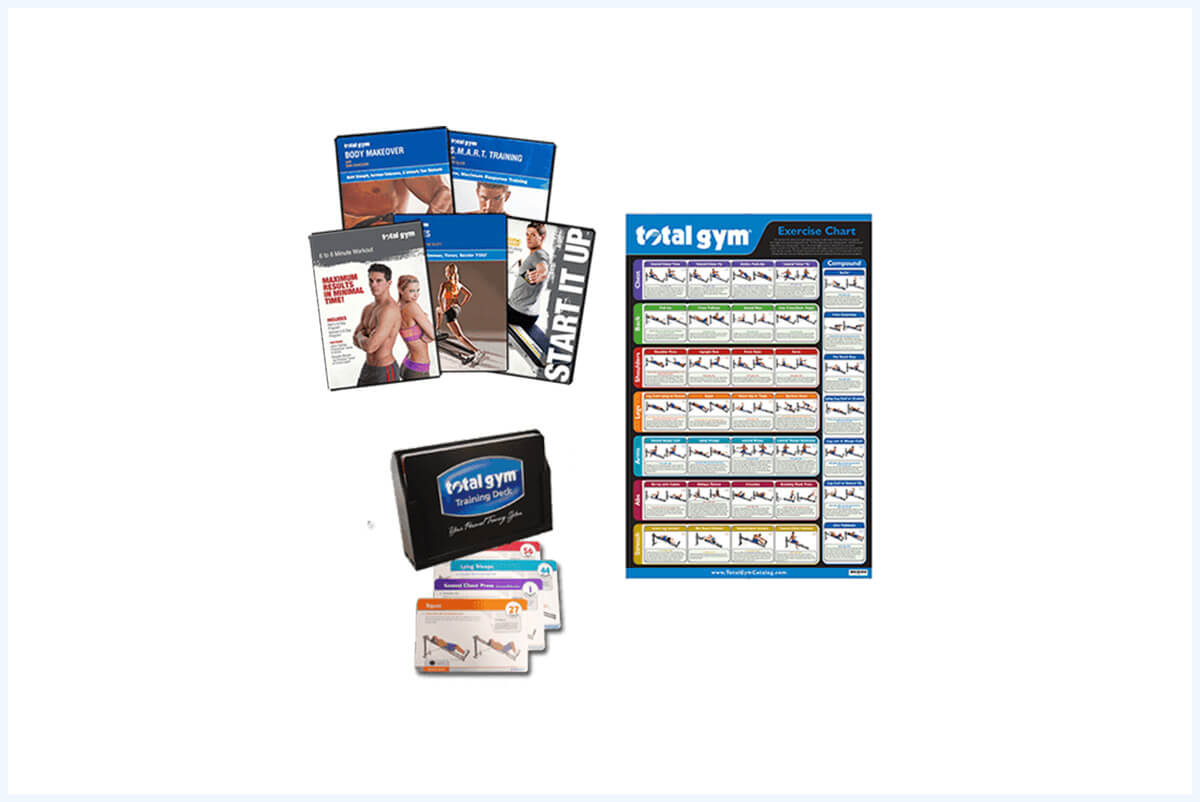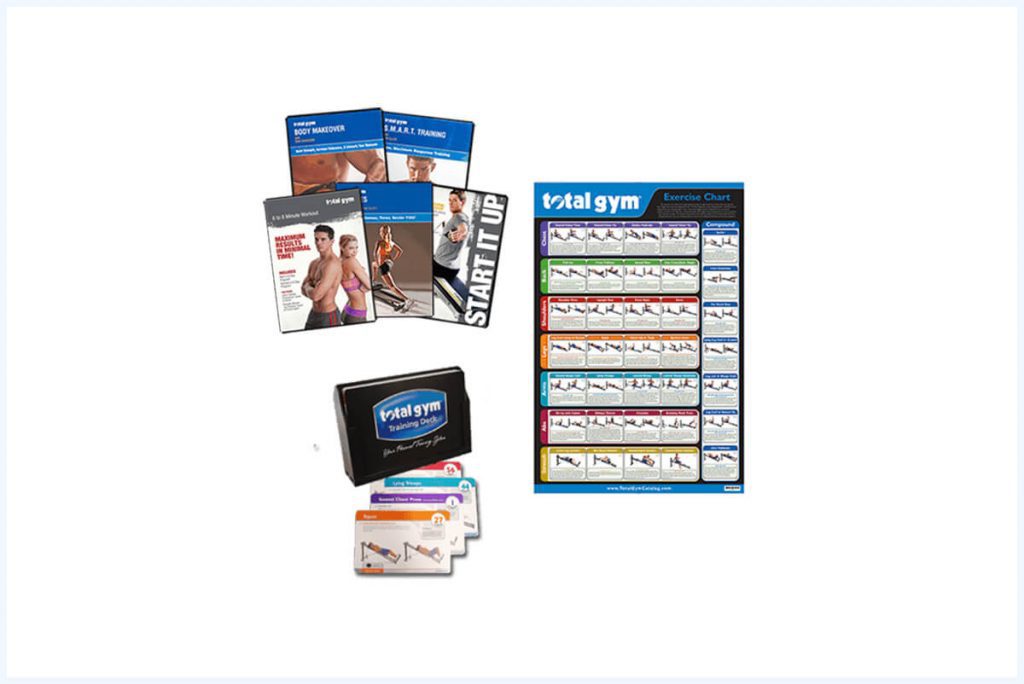 The Total Gym Force
This Total Gym comes with many different attachments and extra features. These include the wing attachments, large stability mat, squat stand, press-up bars, dip bars, leg pull accessory, Ab Crunch attachments, and more.

This Total Gym also includes DVDs and flip charts for guidance on the different exercises you can perform.

To finalize your purchase, you will receive the meal plan and nutritional program to help you achieve your fitness goals.
Total Gym 1600
The total body workout DVDs and an exercise flip chart are also included with the Total Gym 1600 to help you get moving.
What is the difference in weight between both versions?
The Total Gym Force weighs 75 lbs., whereas the Total Gym 1600 weighs 73.33 lbs.
What attachments does it include?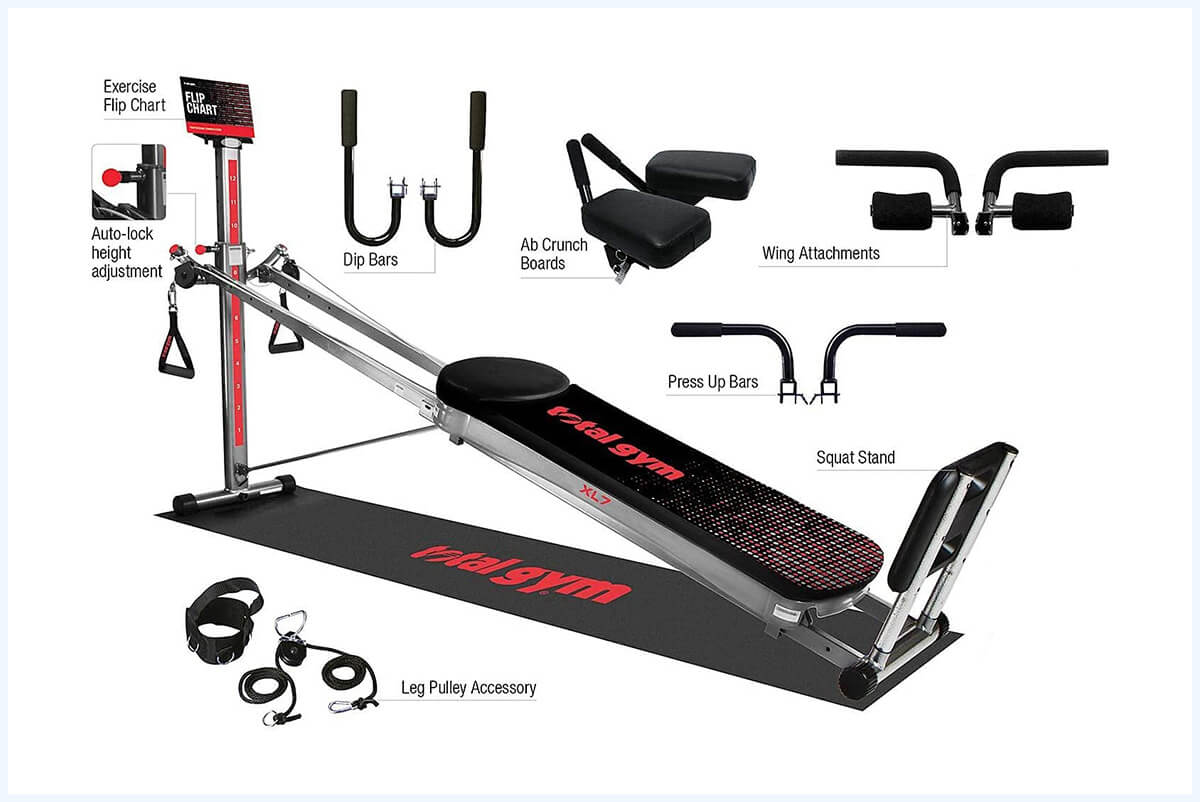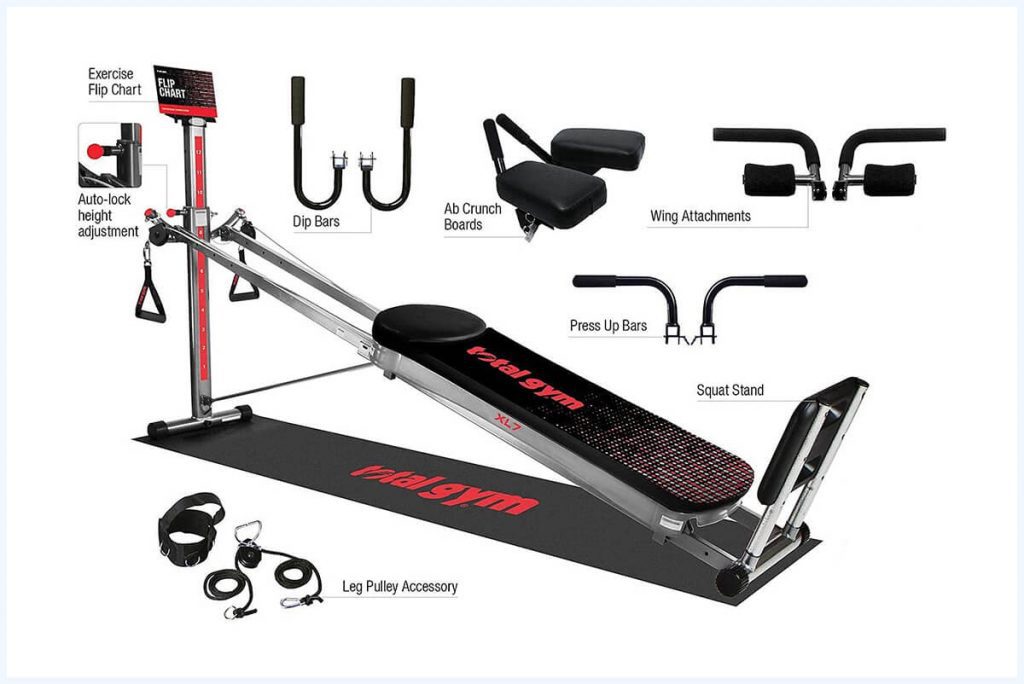 The Total Gym Force
The Total Gym Force model includes an ab crunch attachment and leg pulley attachments.

There are also two heavy-duty stability mats or one large mat to stabilize the machine.

Additionally, there are dip bars and wing attachments included with this model. Lastly, a squat stand is also part of what comes with the Total Gym Force.
Total Gym 1600
The Total Gym 1600 also comes with various attachments that will help you work out every muscle group in your body.

With a dip bar, multi-function attachment, press-up bars, leg pulley attachment, and squat stand included with your purchase, you can customize your workouts to target the specific muscles you want to tone and strengthen.
Total Gym Force vs. Total Gym 1600: A In-depth Comparison
Resistance Level
The Total Gym Force has 12 levels of resistance, while the Total Gym 1600 has only eight.

This means that the Force offers more versatility and a more excellent range of intensity for a full-body workout.
Dimensions
As mentioned before, the two pieces of equipment are practically identical in dimensions, with only a tiny difference in weight. The Total Gym Force is a little heavier, but it's not a drastic difference.
When it comes to the amount of space, each machine takes up when in use, there's barely any distinction at all. So, if you have limited space in your home gym, either machine will do just fine.
User Weight Limit
Both The Total Gym Force and 1600 are excellent equipment for at-home workouts, but there is one significant difference between the two: the user weight limit.

The Total Gym Force can hold up to 350 lbs, while the Total Gym 1600 can only hold 250 lbs.

This may not be a problem for many people, but if you're looking for at-home workout equipment that can support your body weight, then the Total Gym Force may be a better choice.
Quality and Durability
The Total Gym Force is a piece of high-quality fitness equipment that will last for years. The steel rails and stand are durable, and the cables have a vinyl coating to protect them from wear and tear;

In addition to that, they also support your body weight during workouts with their foam padding material.

The Total Gym 1600 is perfect for your home gym with its durable construction. This model has solid cords and pulleys and solid materials built to last!
Various Forms of Workouts and Exercises
The Total Gym is one of the most versatile pieces of fitness equipment you can own.

It offers an impressive range of exercises that can be tailored to your individual needs, whether you're a beginner or on an advanced level.

You can use it to target all areas of your body, including your abs, arms, back, chest, shoulders, legs, and even your total body.

This is a video that shows some of the exercises you may do at home:
Costs Difference
The most significant difference in price between the two Total Gym models is that the Force model retails much higher than the 1600 model.

There are a few reasons for this:
Warranty
The Total Gym Force and 1600 model have you covered with a one-year limited warranty. However, we've had total gym products that are 10+ years old with no issues whatsoever!
Thanks for your feedback!