In addition to testing, reviewing and recommending the best products, we may earn a small commission if you purchase through our affiliate links.
We earn a commission if you make a purchase, at no additional cost to you.
Today, I'm comparing VigorFit to Total Gym.

As a lifelong fitness enthusiast and personal trainer, these two home gyms have been my favorite for quite some time. But I've never been able to put the two machines against each other. And I'm thrilled to test these two home gyms next to one another.

Both the VigorFit and the Total Gym have strengths and drawbacks, making it difficult to pick one over the other right away. Although these exercise equipment have a lot of similarities, they also have some significant differences.

So, if you're wondering which of these exercise machines is best for you, keep reading!
P
VigorFit Vs. Total Gym Brand Comparison
The VigorFit3000 has up to 75 resistance levels, so it's ideal for anybody from beginners to experts in the fitness field.
Additionally, high-quality exercises are also easily executed because of the robust construction and higher quality pulley system to move your own body weight.
The VigorFit comes with up to 107 variations, allowing for a broader range of exercise possibilities. An end-to-end warranty also covers this exercise machine, so you'll have nothing to worry about if it stops working.
You'll also love that VigorFit comes with several educational resources and attachments, making it ideal for fitness enthusiasts and beginners who are not ready to invest in a piece of high-priced equipment.
Pros:
Heavy-duty construction with steel frame
Up to 75 levels of resistance
More exercises than most home gyms
Affordable
Cons:
It comes with a height and weight limit.
The Pulley system is not cable and uses a rope instead.
You Might Want To Get The Total Gym XLS If:
Do not weigh more than 350 lbs and are no taller than 6 "5
Like changing up the resistance levels and wanting more exercise options
Don't mind working out with a rope in the pulley system
I don't require assistance with my workouts because this home gym does not include DVDs.
Total Gym is a brand that needs no introduction in the fitness sector and is a veteran compared to VigorFit. And the XLS is one of the Total Gym's top choices for most fitness enthusiasts, with fewer resistance levels that may be a deal-breaker if you want lots of options.
The number of exercises on the XLS is also lower, with 80 distinct types of exercises. However, the Total Gym XLS has a higher maximum weight of 450 lbs, making it an ideal option for people with varying weights and heights.
In addition, the XLS also has a much better pulley system. The XLS also comes with the best-selling ab crunch, which you will love for getting a solid core.
Pros:
Superior quality with cable pulley
Has a higher maximum weight capacity
Ergonomic design for easy storage
Exercise DVDs are included
Cons:
Few levels of resistance
Expensive
You Might Want To Get The Total Gym XLS If:
I prefer a home gym with a cable pulley system
Don't mind working with fewer resistance levels
Weight more than 350 lbs
Have no issue investing in an expensive home gym system
VigorFit 3000 vs. Total Gym XLS Main Comparison
| Features | VigorFit | Total Gym |
| --- | --- | --- |
| Model | 3000 | XLS |
| Unfolded dimensions | 19" x 90" x 43" | 18.5" x 93" x 44.5" |
| Unit Weight | 80 lbs 8 | 2 lbs |
| Available exercises | 107 | 80 |
| Resistance | 75 | 12 |
| User weight limit | 350 lbs | 400 lbs |
| User height limit | 6'5" | 6'2" |
| Attachments | 7 | 6 |
| Workout DVDs | 0 | 6 |
| Warranty | Lifetime | Lifetime only on the frame |
| Price | Check Latest Price | Check Latest Price |
What are the main differences between VigorFit and Total Gym?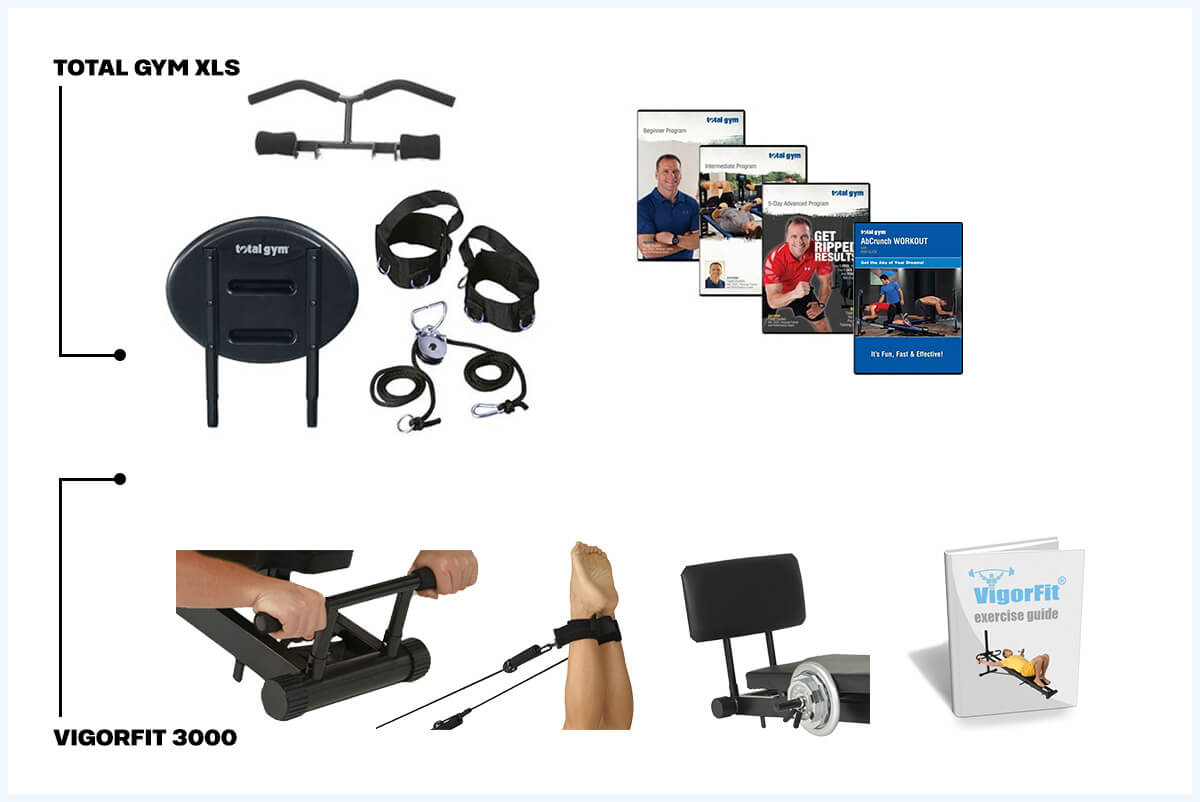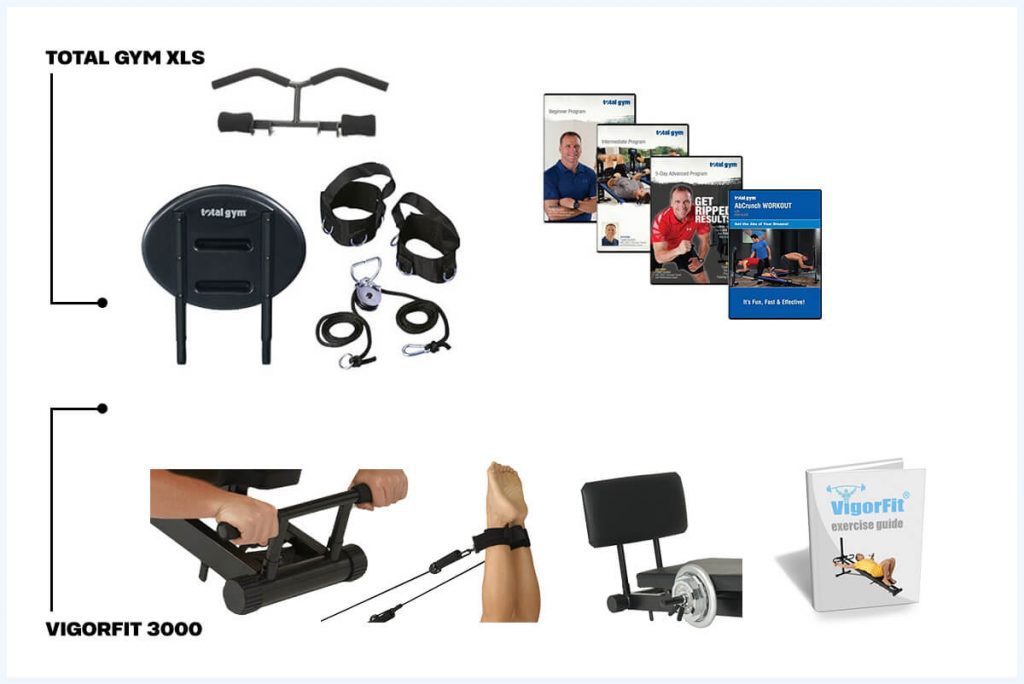 Although you can perform the same basic exercises with VigorFit 3000 and Total Gym XLS, they have a couple of differences, including:
Weight limit
The maximum weight limit in the VigorFit is 350 lbs, while it is 400 lbs in the XLS. In addition, the XLS can easily support individuals of any height, while the VigorFit might not be suitable if you are above 6 feet and 5 inches.
Resistance levels
The VigorFit has more resistance with 75 levels, while the Total Gym XLS has 12 and is one of the significant differences between the two home gyms.

The VigorFit exercise machine has up to 72% of your body weight for full intensity, while the Total Gym lifts up to 50% of your weight.

VigorFit makes this possible by splitting them across five resistance bands, the body weight and free weights, which gives you many exercise options.
The pulley system
Another major difference between VigorFit and the Total Gym is that the VirgorFit has a rope pulley system while Total Gym has a cable.
Exercise options
When you consider the exercise wall chart, the VigorFit shows 107 while the XLS shows 80, which is also a big difference.
Price
Price is another significant difference between VigorFit and XLS. The VirgorFit 3000 is a more affordable home gym, while the Total Gym XLS is a much pricier investment.
Accessories
The VigorFit 3000 home gym comes with a broader range of accessories, but the XLS model does not.
Instructional support
When you get the VigorFit, don't be surprised if there are no workout DVDs or instructions with it. On the other hand, the DVD instructional support with the Total Gym XLS is one of its best points.
What are the similarities?
Below are the similarities between these two home gyms.
Functionality
Both these exercise machines have similar functionality. The VigorFit and the Total Gym are up to 90% assembled, so you don't need to break your back in setting it up.

The 3000 model from VigorFit lists more than 100 exercises, but you can get almost the same with the XLS if you get the attachments.

In addition, both these gym systems work on a pulley setup that is executed on the incline bench. So the functionality and the benefits are basically the same.
Resistance levels
The similarity in resistance between VigorFit and Total Gyms is limited to the pulley system that relies on your body weight. The VigorFit has double resistance levels than the XLS where the numbers are concerned.

Similar to other Total Gym machines, you can get accessories to increase the weight of the XLS, but it can kick up the final cost of the machine.
Included accessories and attachments
The VigorFit is a champ when it comes to accessories and attachments. It comes with a push-up bar, toe bar, pull-up bar, and heavy-duty weight bar.

In addition, there are Pilates shoulder pads, padded footplate, sit-up station, weight clips, and dual leg rope systems.

This exercise machine also has several resistance power bands, a workout manual, and other materials so your workouts are always fun and exciting.

The XLS from Total Gym also comes with a couple of essential accessories and attachments. These are wing attachments, squat stand, ankle cuffs, and leg pulley accessory.

In addition, the XLS also has workout DVDs with a nutritional plan and personal training videos so you can make the most out of your workout.
Build quality and comfort
VigorFit vs. Total Gym does not make much of a difference in build quality, and both of these home gyms are made with a steel frame that is reliable and robust.

Of course, the XLS gym is more expensive than its counterpart by a significant margin, yet it holds up extremely well, making them both a good value for money.

Unless you are incredibly tall, the VigorFit is not uncomfortable, and this would not be so cozy on the incline bench. However, suppose you are a fitness enthusiast with an average height.

In that case, the VigorFit is pleasant to exercise with, owing to its foam grips and a thick, high-intensity foam layer on the incline level system.

The XLS is also comfortable for workouts as it has nylon handles and a padded incline bench. Considering its price tag, it wouldn't have hurt to make this Total Gym model a bit plusher, but it is not a deal-breaker, in my opinion.
The pulley system
The pulley in both of these exercise machines uses your body weight. However, the VigorFit uses a pair of relatively thin ropes but holds up remarkably well. An advantage of ropes in the cable bar is that making adjustments is effortless, even for a first-timer.

On the contrary, the Total Gym XLS has rubber-coated steel cables, which are more robust and sturdy. Using this cable bar for the first time might be challenging because of its rigidness, but this one will have more longevity.

Nevertheless, you can easily have a complete workout with either of these two pieces of equipment.
What are the product dimensions?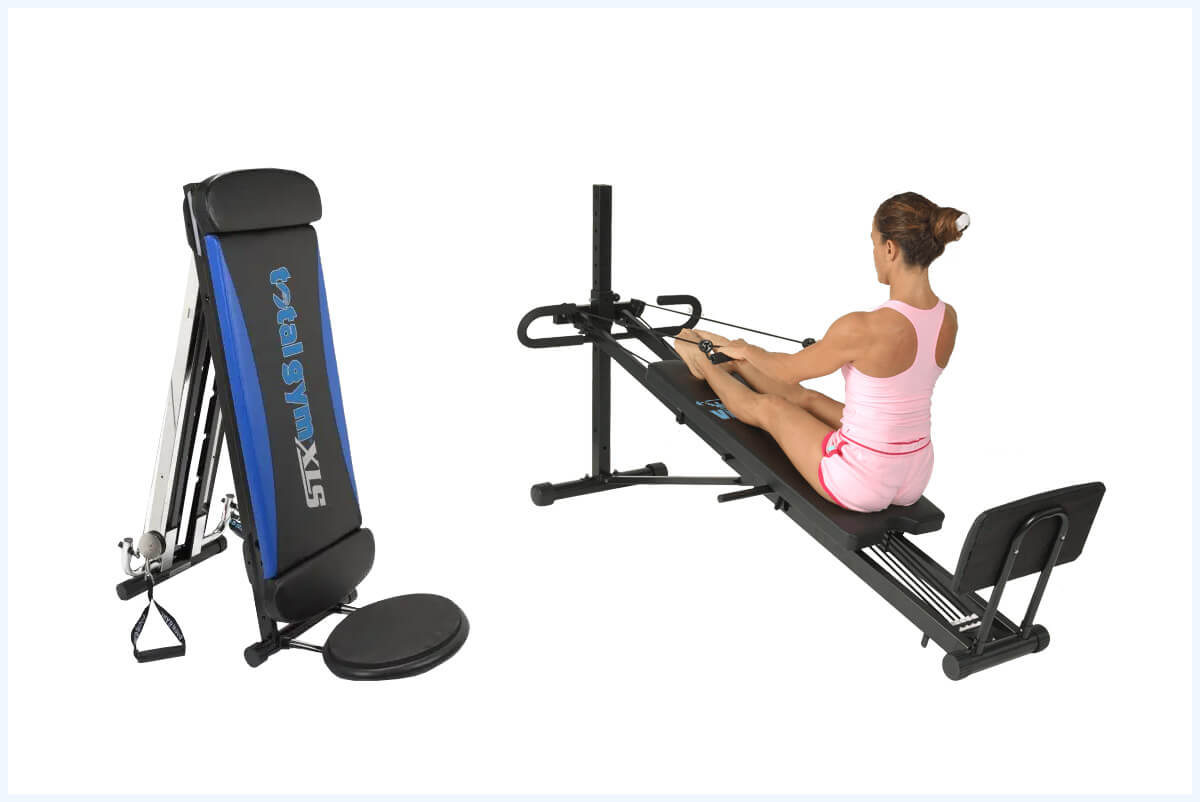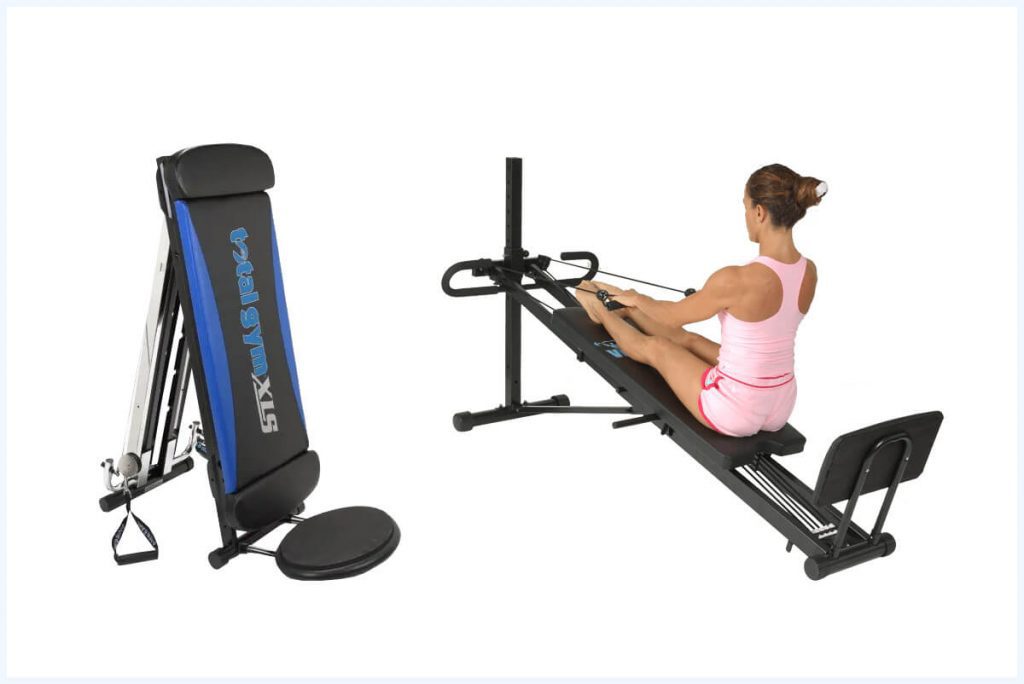 The VigorFit 3000 model measures 19″ x 90″ x 43″ while unfolded and weighed 80 lbs straight out of the box, which is pretty standard for a VigorFit home gym.

The Total Gym XLS also has dimensions of 18.5″ x 93″ x 44.5″ while unfolded and weighed 83 lbs.
What are the user weight limits?
VigorFit has a weight limit of 350 lbs or 158 kg, while the Total Gym features a weight limit of 400 lbs or 181 kg, giving you a bit more wiggle space.
What are the user height limits?
Generally, VigorFit gyms are ideal for people up to 6'5. On the other hand, XLS can comfortably handle anyone over 6 feet and above, and The total Gym limits the user height to 6 "2.
Available exercises
In terms of exercise possibilities, these machines are almost comparable. But if you are interested in the specifics, you can perform 107 exercises with the VigorFit, while with the XLS, you can hit 80 exercises for a complete workout.
Warranty
VigorFit offers a better warranty as it is covered for life. The Total Gym is not far behind as it comes with a lifetime warranty on the frame, while the moving parts have 6 months.

However, the XLS is only intended for home use, so there is no warranty if you use it commercially.
Price
In the price battle of VigorFit vs. Total Gym, the former wins by a mile. VigorFit has a much more affordable price tag making it ideal for everyone irrespective of their fitness levels.

On the other hand, the XLS carries a premium price, making it an investment piece.
FAQs About VigorFit vs. Total Gym
Do VigorFit and Total Gym XLS offer a trial period?
Yes, VigorFit offers a 30-day risk-free trial which is a fantastic offer. The Total Gym also offers a 30-day free trial for $1.00
Does the VigorFit and Total Gym XLS provide any sort of exercise assistance?
Yes, the VigorFit comes with a workout manual, and you also get access to a personal trainer online. The Total Gym comes with 6 workout DVDs, guides, and charts to make the most of every workout session.
How much do the VigorFit gym and Total Gym XLS weigh?
VigorFit weighs 80 lbs or 32 kg, while the XLS weighs 82 lbs or 37 kg, according to the brand's official site.
Does the VigorFit gym and Total Gym XLS fold up?
Yes, these home gym equipment folds up, making them a great choice even if you are constrained for space at home.
The VigorFit has a dimension of 19 "x51″ x8" while that of the XLS is 19 "x51" x9 inches, making them very similar.
Is there any assembly required for VigorFit and Total Gym XLS?
No, both gyms come fully assembled, so there is no requirement for assembly. Of course, you need to make minor adjustments with the pulley cable or the rope and pulley bar and unfold the unit before getting on your workout session.
How much does the shipping cost for VigorFit and Total Gym?
On the official VigorFit site, the shipping cost of the machine is $54. But this figure might be different if you get the VigorFit from third-party platforms.
Total Gym home gyms offer free shipping within the United States and Canada. However, be sure to check the shipping policy before ordering, as free ground shipping may not be available in all states.
Is there any hidden cost in Total Gym XLS or VigorFit?
The VigorFit 3000 model does not have any type of hidden costs, making it a winner in this Total Gym XLS VigorFit comparison.
All the attachments include the toe bar, power bands, squat board, resistance bands, push-up bar, metal spring weight clips, and a pull-up bar. In addition, VigorFit gyms also come with a free Pilates kit, strength kit, dual leg ropes, and ribbed squat stand.
The XLS from Total Gym also includes some attachments such as ankle cuffs, a sit-up station, a leg pull accessory, and training DVDs.
However, this machine also has options to upgrade attachments to get more resistance and exercise, which can kick up the final cost of the exercise equipment.
What is the shipping cost for Total Gym XLS vs. VigorFit?
On VigorFit's official site, the shipping cost of this machine is $54. Excluding the state of Hawaii and Alaska, Total Gym, on the other hand, has free shipping for any product over $175 within the US and Canada.
However, if you buy these exercise machines from third-party sellers, they might carry different shipping charges.
Wrapping Up
In this Total Gym XLS VigorFit comparison, both exercise machines have their unique strengths and benefits, so you can't go wrong with either. These two pieces of fitness equipment from different companies have similar functionality and performance.

Ultimately, it is a choice of whether you want the VigorFit with several attachments and the ability to execute more exercises. Or you don't mind investing in the Total Gym with a more premium finish and several educational resources but with more basic attachments.
We earn a commission if you make a purchase, at no additional cost to you.