In addition to testing, reviewing and recommending the best products, we may earn a small commission if you purchase through our affiliate links.
Marcy home gyms have a rep in the fitness industry as it combines premium quality with value for money.

But given that there are several home gym models on the market, which one is the best Marcy Home Gym, and which is the ideal one for you?

Here's a low down on the best models from the brand.
7 Best Marcy Home Gym In 2023
Our Top Picks
User Weight: 300 lbs
Exercises: 100+
Warranty: 2 years
The MD-9010G is my pick of this brand's overall best home gym equipment for several reasons.

This is an advanced Marcy gym that allows you to perform more than 100 strength training exercises which is impressive. The dual pulley system with cable cross is primarily responsible for this, but other features are also involved.

You will also love that this model from Marcy Smith Machine supports up to 300 lbs of user weight. The MD-9010G also has a durable and robust construction with premium materials to support the weight.

The off-the-floor basement is of great help in adding stability during your workout sessions.

Marcy's advanced home gym model also has several attachments to facilitate a total body workout. These include triceps rope, row handle, ankle strap, lat bar, and single handles, which easily qualify it as a commercial gym.

In addition, the MD-9010G also has an adjustable Olympic bar and weight bench for additional comfort. Besides, this Marcy model also comes with a free weight rack and weight pegs for added convenience.
Summary
The MD-9010G is a multifunctional home gym that will give you many options, whether it is for resistance training or staying on top of your fitness routine.

The build quality is premium, and the maximum weight capacity and the exercise options make this machine unrivaled in terms of versatility.

This is an advanced Marcy home gym for serious and intermediate fitness enthusiasts, but even beginners can benefit from it.

It has excellent stability, and the attachments add to its overall plus points if you don't mind spending extra on the initial purchase.
Pros
More than 100 weight training exercises are available
Excellent user weight capacity
The dual pulley system has independent functions
All attachments are included in the package
The squat station is exceptional
Cons
It does not come with weight stacks, so you need to buy it separately
Assembly can be an issue for first-timers
Design
The MD-9010G Smith cage system and its overall design make this gym setup a total champion in stability and versatility.

These design components include a pulley system with a cable crossbar, a dual-function leg developer, multiple workout stations, a preacher curl bicep pad, and a multifunction bench.

You will also appreciate that the MD-9010G has several safety mechanisms in its design. These are the brake system, multiple safety pins, and stops, making it safe for workouts and unloading weight plates as well.

Another standout feature of this elite Marcy gym model is the precision linear bearings that enhance the overall comfort and safety.
Build quality
The MD-9010G has an outstanding build quality thanks to its advanced steel tube construction, which makes it support up to 300 lbs of user weight.

In addition, Marcy gym manufacturers utilize high tensile aircraft grade cables for the pulley system. Besides, the upholstery and the cushioning in the MD-9010G are also high quality, so this model will last for years.
Value for money
The MD-9010G is by no means cheap and can easily run into thousands if you get all the weight stacks.

Nevertheless, this Marcy gym does not compromise on any feature, evident from its stellar performance and longevity.

This incredible gym system is ideal for comprehensive full-body workouts and will last for years, making the MD-9010G an excellent value for money and worth the investment.
Marcy gym systems have a good balance of price versus value. But the MWM 990 home gym takes it a step further in the cost versus value department and is, therefore, my pick of the best Marcy home gym for the money.

With the MWM 990, you get more than 30 strength training options for a full-body workout. Some of the moves include pec fly exercises, leg extension, and isolated bicep exercises so you can build muscle mass or burn calories according to your preference.

The weight capacity of this Marcy gym is 300 lbs through the adjustable stacks.

A fantastic feature of the MWM 990 is the safety lock, which you can activate to prevent its use without your permission.

You will find several workout stations, including high and low pulleys, leg extension station, and bicep curl attachment making this a great home gym machine.
Summary
Despite its affordable price, the MWM 990 is a multifunctional home gym that will take care of your fitness goals. It comes with top features so you can engage in various exercises with ease.

This Marcy fitness equipment also comes with all the required attachments, so you don't have to spend extra dollars to customize this into your own home gym.
Pros
More than 30 strength training exercises are available
Safety lock to keep the unit safe and prevent unauthorized use
It comes with multiple workout stations for added versatility
Dual function leg developer for optimum leg and lower body exercises
Great price to value ratio
Cons
Maximum user weight capacity may not suit advanced users
It May not be suitable if you are above 6′ tall or above
Design
The Marcy MWM 990 has a functional design that allows you to work with all major muscle groups in the body. Standout design components in this home gym include:
The dual-action press arm.
High and low pulleys.
Multiple exercise stations.
Adjustable preacher curl.
In addition, the adjustable back pad also keeps you from getting sore while you work on your muscles. Besides, the selectorized weight stack eliminates the need for unloading the weight plates.
Build quality
The Marcy MWM 990 has a robust 14 gauge steel frame and high tensile aircraft cables for strength and durability. In addition, the sealed bearings in the pulleys also add reliability to the machine.

You won't have to worry about the build quality of this Marcy machine because it's powder coated.
Value for money
Marcy's home gym machines hit a good balance of value and functionality, and the MWM 990 model is no different. With this fitness equipment as your home gym system, you can get all your fitness requirements met for a long time, getting a bang for your buck.
Most Marcy home gyms do not have a compact design, so you need to make some room for it.

The MWM 988 is relatively smaller as it measures 68 x 42 x 78 inches so you can use it in the comfort of your home. This makes the MWM 988 one of the best Marcy home gyms for smaller spaces.

This Marcy exercise equipment has 150 lbs of resistance, making it ideal for intermediate and beginners in the fitness industry.

The MWM 988 won't disappoint as it allows more than 36 variations in terms of exercise options. This Smith machine supports up to 300 lbs of user weight with a reliable build.

This particular home gym from Marcy has several exercise stations that rely on the pulleys. The dual-function press arms assists in chest press and flies.

On the other hand, the high and low pulley makes upper body exercises effortless.
Summary
If you want to buy Marcy exercise equipment for smaller spaces, you can't go wrong with the MWM 988. This ergonomic machine will fit into your workout room without any problems.

With multiple exercise stations, a decent user weight capacity, and resistance, you will get a lot of use out of these weight home gyms.
Pros
Supports up to 300 lbs of weight capacity
It comes with several workout stations for versatility
150 lbs of resistance and options to add 10 lbs more
Ergonomic design does not require a lot of floor space
Cons
The resistance level is not enough for heavy lifters
Design
The MWM 988 is a great exercise machine from the Marcy brand. The addition of multiple exercise stations is a standout design feature.

Features such as the dual-function press arm, preacher curl bicep pad, and dual-function leg developer make this one of the best Marcy home gyms.

The comfort in the MWM 988 is also worth pointing out as it comes with foam rollers, grip handles, and a padded weight bench.

Another practical design in this gym setup is the pivot joint that perfectly aligns your knee joints while executing a lower body workout.
Build quality
The MWM 988 is built of 14-gauge steel for reliability and longevity, so you will be using this piece of equipment for years. Furthermore, the vinyl coat on the steel frame adds to the overall durability of this machine.
Value for money
With its various exercise options, comfortable design, and durable construction, the MWM 988 from Marcy home gyms is a great value for money, in my opinion. This relatively compact gym system will take care of your fitness needs for many years.
If you are a beginner exploring the internet for Marcy home gym reviews to narrow down your list, the MWM 4965 might just be your answer.

This home gym system offers more than 36 exercise options and supports up to 300 lbs of user weight.

The maximum resistance in this Marcy Smith machine is up to 200 lbs for the front press, which is impressive. But of course, the resistance is different for different workouts on the exercise chart.

The MWM-4965 has 5 exercise stations, including the high pulley lat station, mid and low pulley, front and fly press, and leg developer, to get gym-quality training right at home.

The MWM-4965 is easy to assemble and maintain, which is great whether you are a beginner. You will also appreciate that this Marcy machine comes with a two-year warranty on the frame.
Summary
The MWM-4965 is one of the best Marcy home gyms if you are beginning to take your fitness routine a bit more seriously.

This Marcy home gym equipment has the correct number of exercises to help you kick start your fitness journey and comes with the necessary attachments.

In addition, the resistance levels are also ideal for all types of exercises besides strength training.
Pros
More than 36 exercise options are available
300 lbs of user weight
It comes with multiple exercise stations
Variable levels of resistance for different exercises depending on your needs
Cons
No option to upgrade the weight plates
Preacher pad attachment not included
Design
The MWM-4965 is similar to a couple of other home gym models from the brand. So it comes with multiple stations, and because it is pretty heavy at 261 lbs, this machine is also relatively stable.

This home gym from Marcy also has beginner-friendly features, including comfortable seat pads with vinyl covers and ball bearings for smooth operation.
Build quality
Like the other Marcy home gyms, this unit is made of 14 gauge rectangular and cylindrical tubing, which is reliable and aesthetically pleasing.

Also, Corrosion-resistant paint on the frame ensures that this fitness machine will last for several years.

The cables on the MWM-4965 are steel, so they are solid and durable. In addition to the steel, the MWM-4965 also has some thermoplastic components and scratch-resistant PVC sleeves. So this Marcy machine build quality is top of the class.
Value for money
The MWM-4965 is a home gym that is an absolute value for money as it has an outstanding balance of performance, build quality and longevity. If you decide to get this as your home gym, you will be making a brilliant choice.
The next home gym from Marcy on this list is the MKM-81010, which is an excellent option for the intermediate category. This equipment is designed to take care of your fitness goals without needing a gym membership.

This multiple station home gym has more than 30 exercises so that you can work on all muscles in the upper and lower body.

The dual-function press arm allows for upper body workouts such as the chest press with absolute ease, while the overhead pull up bar is perfect for back and abs.

In addition, the high and low pulley forms a dual and independent motion for unrivaled smoothness.

You will also love this particular home gym model for its 200 lbs weight stack for strength training right at home.

This level of resistance, combined with the right attachments such as a preacher curl pad and dual-functioning leg developer, makes this gym equipment a champ in terms of versatility.
Summary
The MKM-81010 is a Marcy combo Smith machine that combines excellent construction, multiple exercise options, and enough resistance for moderate strength training.

This multifunctional home gym is ideal for the whole family since you can customize it according to your fitness goals.

Other standout features of the MKM-81010 include comfortable design features, so you won't strain or get sore during your workouts.
Pros
200 lbs weight stack with the option to add more
Multiple stations for added versatility
Durable construction with comfort features
The exercise chart included in the package
Cons
Pulleys are not as smooth, especially in the beginning
Warranty service could be better
Design
The MKM-81010 bears a similar design to other fitness equipment from the brand. So you will get different stations, a heavy-duty weight stack, and several attachments for convenience and versatility.

In addition, this home gym from the Marcy brand has a dual-density foam seat and foam grips for extra comfort while you work out.
Build quality
This is a piece of robust equipment with steel tube construction, so you get reliability and durability. You will also find that the weight stack and the frame have a vinyl coat, so you need not worry about the machine rusting.

The rollers, foam grips, and dual-density foam on the seat form the comfort features of this exercise machine, making the overall quality of the MKM-81010 premium quality.
Value for money
The MKM-81010 is priced just right, considering its options for exercises, resistance levels, and overall great quality. This machine with multiple stations is also comfortable and easy to use, so you do get your money's worth.
The SM-4033 is a cage system with a power rack and Smith Machine that allows you to get gym-quality training with very little equipment.

With this exercise machine, you get a lot of varieties with barbell exercises, but there are many other options. The two adjustable pulleys, the dedicated pec fly station, and the functional trainer in this unit are standout features.

The SM-4033 offers limitless exercise options because of the adjustable bench, multiple attachments, and cable pulleys.

This Marcy machine is one of the few pieces of exercise equipment that combines a Smith machine, a functional trainer, and a power rack in one unit, which makes it exceptionally versatile.

The SM-4033 also comes with a great assembly of attachments, so you don't have to spend extra money getting them.

The weight capacity in this unit is 300 lbs, which is not the highest but is ideal for beginners and intermediate users.
Summary
The SM-4033 is a practical and highly functional home gym that you can significantly benefit from.

The weight capacity is not the greatest, so you might find it an issue if you are a hardcore weight lifter.

However, if your goal with a home gym is to stay fit and improve flexibility, this piece of exercise equipment will meet all your requirements.
Pros
Durable and sturdy design
It comes with a gamut of attachments
Very functional with endless exercise options
Budget-friendly pricing
Cons
Not enough weight capacity for advanced users
Warranty service could be better
Design
The SM-4033 is an excellent piece of equipment that combines a functional trainer, a power rack, and a Smith machine. It is not the most compact, but the practical design makes this one highly versatile.
Build quality
Made out of steel tubing and aircraft quality cables, the SM-4033 build quality is top of the line. This machine is reliable and will last for decades with proper use.
Value for money
The SM-4033 is among the most affordable models from the brand, but it has stellar features that rival a premium-priced unit. So this is a fantastic unit and worth every cent.
Wrapping up this list of the best Marcy home gyms is the SM-4008, a great combination of performance and features. This Marcy combo Smith machine has more than 50 impressive exercises.

When it comes to resistance, the SM-4008 has 600 lbs on the bench and 300 lbs on the bar, so you do get variety with strength training.

You will also love that this multi-station home gym comes with a weight bench, cable crossover, weight station, and multiple pulleys so that you can hit every muscle group in your body.

This model is a free-weight home gym instead of a weight stack, allowing you to keep your workouts as easy or difficult.

This home gym is excellent for performing lower body exercises, while the multifunction bench with an adjustable pad keeps you from getting sore while you make moves such as presses.
Summary
The SM-4008 from the Marcy brand is priced higher than the other popular models, which might not be convenient for some users.

However, if you can ignore the price point, this home gym is a fantastic choice as it comes with more exercise options.

This machine also does not use the weight stack feature, common in Marcy gyms, but the safety catches also keep this model safe and convenient.
Pros
Offers more than 50 exercise options
It comes with multiple exercise options making it highly versatile
Excellent construction and is highly stable
Free-weight option for added safety
Cons
Weight plates need to be bought separately
Assembly might be an issue for first-timers
Design
The SM-4008 has a sturdy and functional design that makes it a piece of great exercise equipment.

You will love the free-weight design and the different stations that work for specific muscle groups.

In addition, the wide frame also renders this one unrivaled in terms of stability.

This exercise system also does not include many moving parts, making them safer.

The generous space to store the weight plates is also a design feature that is much appreciated.
Build quality
Built with oversized steel tubing in the frame and aircraft quality in the cables, the SM-4008 is built to withstand a lot of beating and will surely last for several years.

This is a heavy-duty machine that is very stable and tough, so you can confidently invest in it.
Value for money
As briefly mentioned above, the SM-4008 is not the most affordable unit from the brand.

However, the premium price is balanced perfectly by the wide range of exercises, fantastic build quality, and practical design features.

Overall, it is a great value for your dollars.
What to look for in a Marcy Home Gym
If you've decided or thought about getting a Marcy home gym, here are our top features to keep in mind.
Exercise Options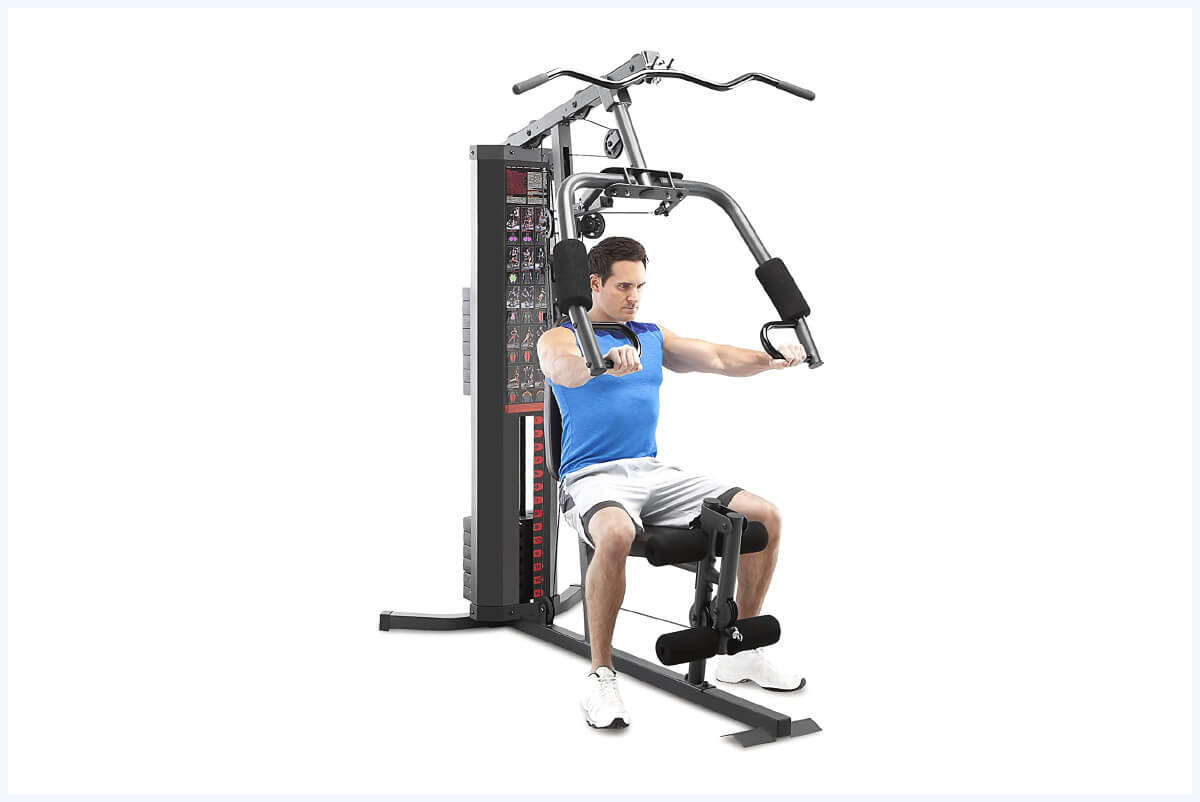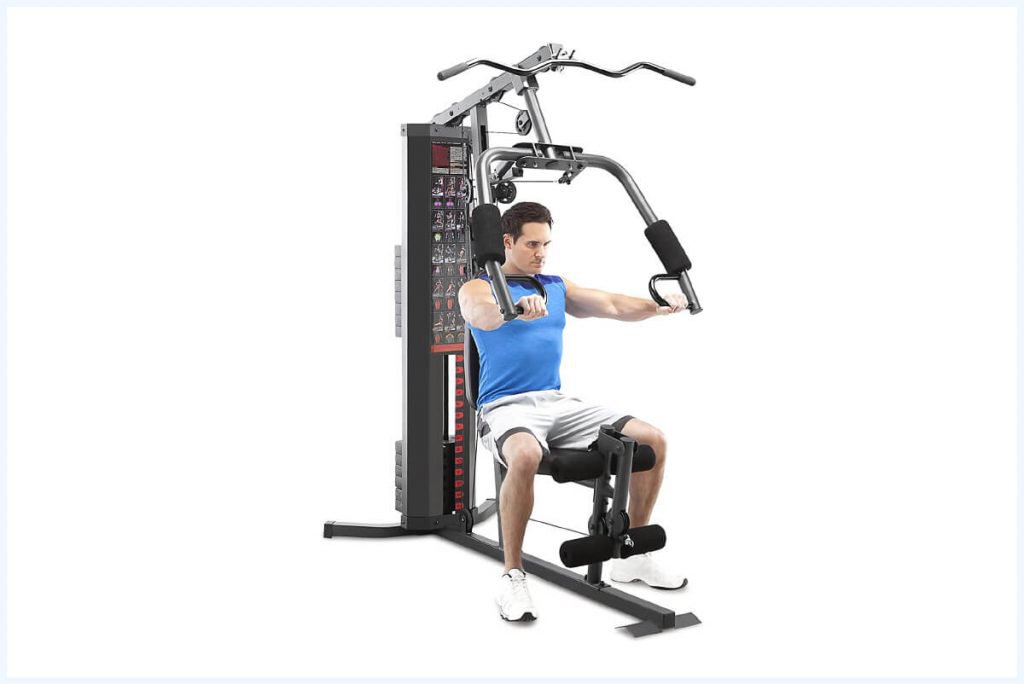 The number of exercises you can get from a Marcy home gym is an important feature to consider. With most Marcy equipment, you can get anywhere from 30 to 100 exercises which is more than you will require.

In this regard, attachments can make all the difference in making the home gym more versatile.

So you want to look for the necessary ones, including a preacher curl bicep pad, lat bar, leg extension station, and ab crunch station to give you a wide range of workouts without the additional cost.
Frame, Base, and Pulleys
Home gym equipment with advanced steel tube construction is the gold standard. This material of construction not only makes the gym setup robust and reliable but better in terms of longevity.

In addition, the steel frame gyms can hold more weight without compromising your safety.

While getting a Marcy home gym, you should also consider the base for construction and size. The models with a wider base and long foot provide the best stability and durability.

This equipment also supports anywhere from 300 to 1,000 lbs, so you work on your entire body.

In addition, home gyms with high and low pulleys are the best choice. These pulley systems typically have cables with a weight stack, which are very strong and reliable.
Weight & Size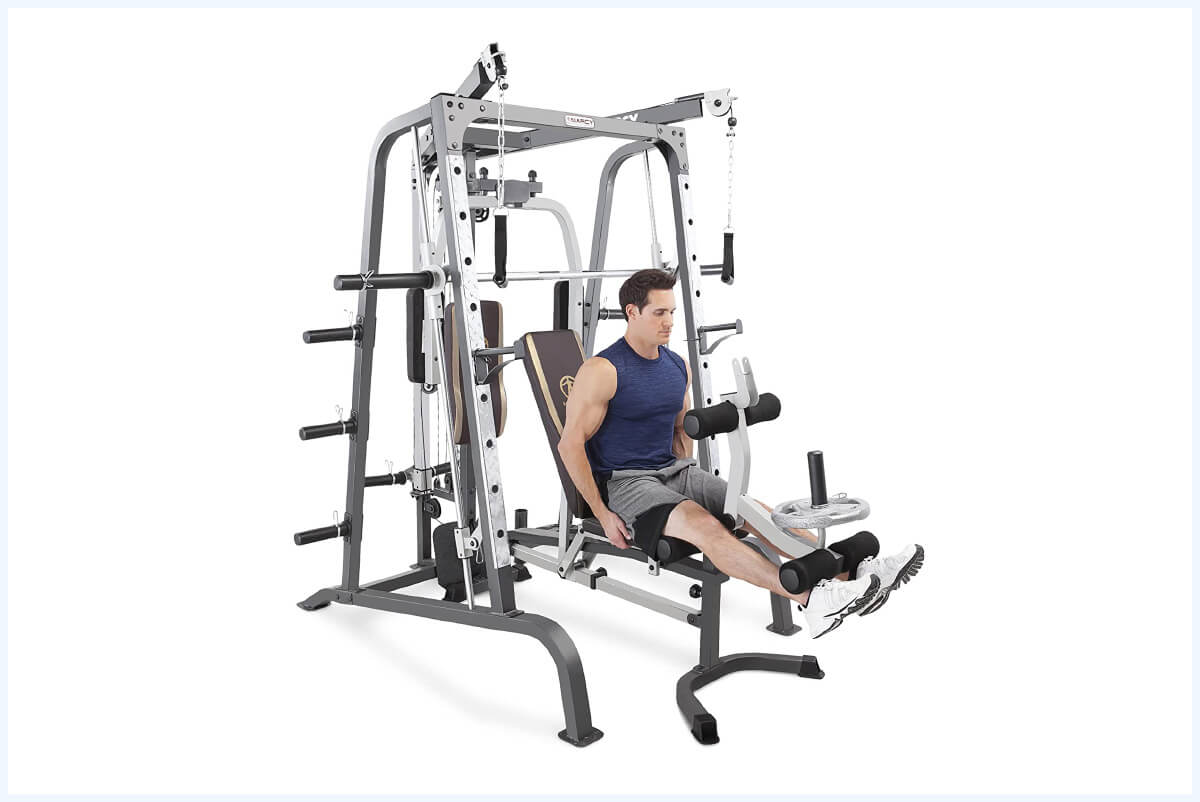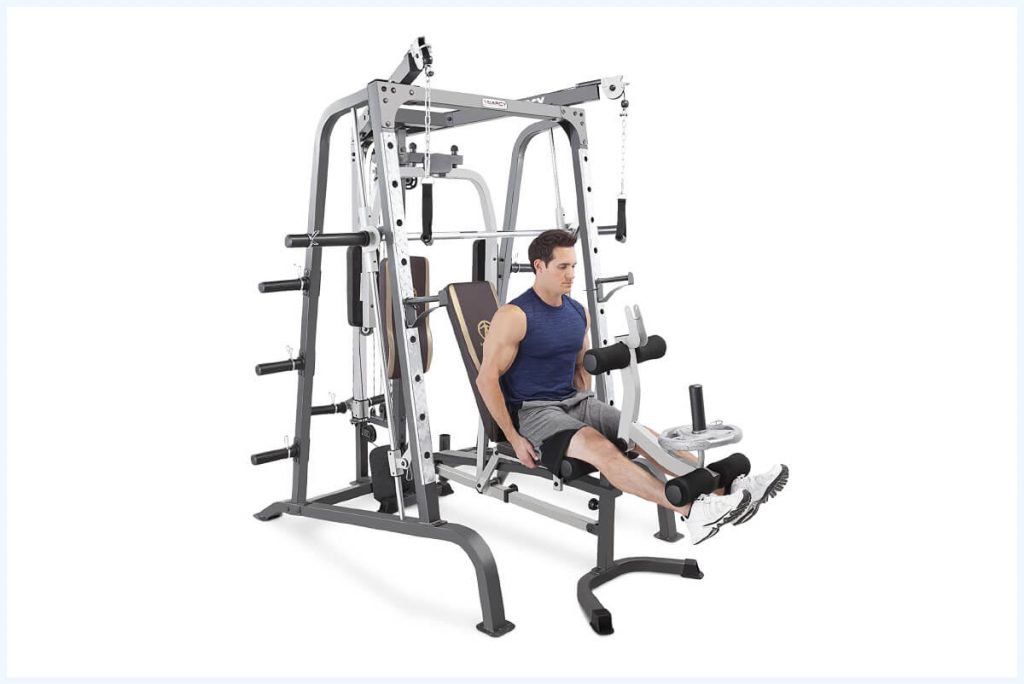 The unit weight and size directly correlate with space, storage, portability, and longevity. Heavier home gyms can take up a lot of space and may not be great for hauling them from one place to another. But they have unrivaled reliability and are more durable.

Lighter home gyms are usually easy to store and transport, making them very convenient. In addition, lightweight home gyms also have affordable pricing, making them suitable for almost everyone, including beginners.

However, they can also be low in terms of durability, and the weight capacity might be lower. Some compact home gyms may also have fewer exercise options.
Weight Capabilities
The weight capabilities of home gyms vary significantly from one to the other.

Your exercises need, and fitness level will determine whether you want a machine with light or heavier weight capacities.

The weight stacks are primarily responsible for this feature with a Marcy home gym system. These weight stacks range from 100 to 300 lbs depending on the model.

If your fitness goal is to stay fit and flexible, a Marcy home gym machine with a lower weight stack will get the job done.

Choose a machine with heavier weight stacks for those serious about building muscle mass and weight training.
Comfort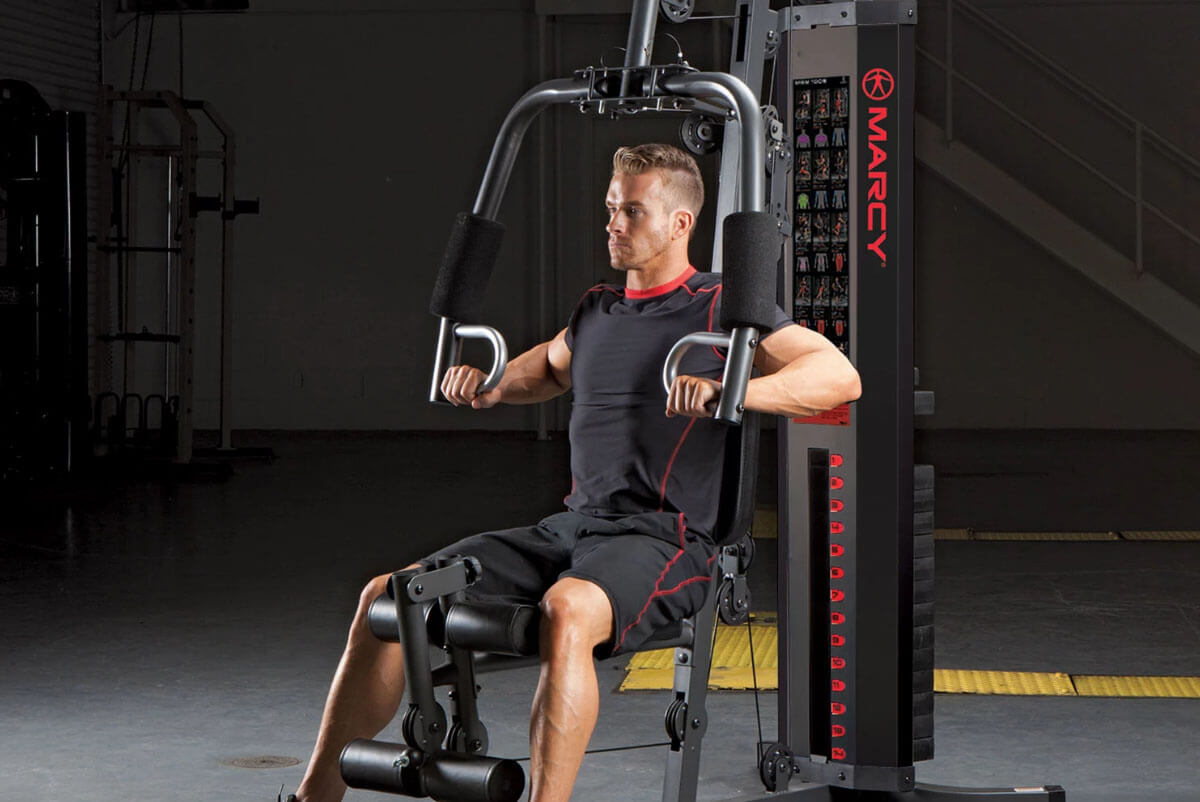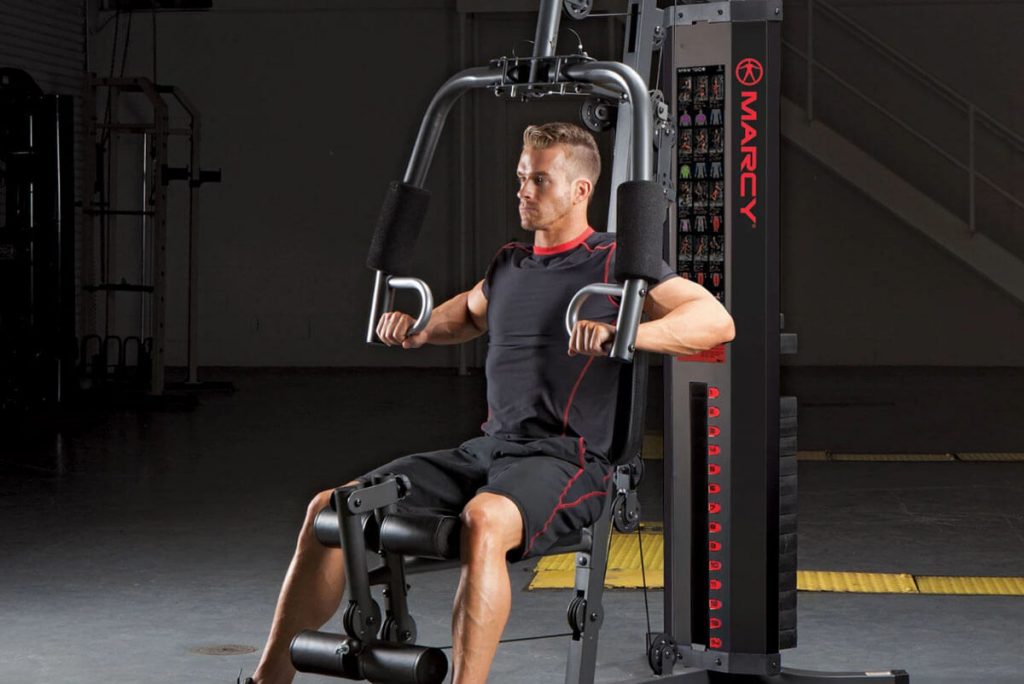 Marcy's home gym systems are relatively comfortable, so you don't need to worry much on this front.

However, Marcy's home gym equipment with foam rollers and foam grip on the handles can make all the difference.

With these features on the hands, you don't have to worry about blisters or sweat accumulation while getting a full-body workout.

You also want to look for the adjustable station and padded seats with dual-density foam for optimum comfort while working out.
Top advantages of having a Marcy home gym
The top advantages of having Marcy home workout equipment at home include:
You do not have to pay for a premium gym membership.
Ability to get a full-body workout in the comfort of your home
Numerous exercise options to work out all major muscle groups without the need for a personal trainer
Privacy to workout out in a calm and quiet environment
You can have an exercise chart/plan and stick to it on your own terms and schedule.
Your family members can also use the home gym at no additional cost.
Workout in an environment that best suits your needs without blaring music, too hot or too cold central system, or the dress code
Wrapping Up
Every home gym from Marcy brings its worth to the table, and you won't be disappointed with the purchase.

However, every model has something unique to offer, whether in the limitless number of exercises, great assembly of attachments, or small details that make them ideal for those with specific needs.

So if you're looking for a Marcy home gym to invest in, the models on this comprehensive list should give you a head start to make one of the most important decisions of your fitness journey.